"There was darkness..."
―Tagline

Thor: The Dark World (also known as Thor 2) is a 2013 American superhero film featuring the Marvel Comics character Thor, produced by Marvel Studios and distributed by Walt Disney Studios Motion Pictures, becoming Disney's first Marvel release not associated with Paramount Pictures. It is the sequel to 2011's Thor and the eighth installment in the Marvel Cinematic Universe. Alan Taylor directed the screenplay by Christopher Yost, Christopher Markus, and Stephen McFeely, which stars Chris Hemsworth, Natalie Portman, Tom Hiddleston, Stellan Skarsgård, Idris Elba, Christopher Eccleston, Adewale Akinnuoye-Agbaje, Kat Dennings, Ray Stevenson, Zachary Levi, Tadanobu Asano, Jaimie Alexander, Rene Russo, and Anthony Hopkins.
Development of Thor: The Dark World began in April 2011, when producer Kevin Feige announced plans for a sequel to follow the crossover film The Avengers. In July 2011, Kenneth Branagh, the director of Thor, withdrew from the project. Brian Kirk and Patty Jenkins were considered to direct the film before Taylor was hired in January 2012. The supporting cast filled out in August 2012, with the hiring of Eccleston, Dennings, and Akinnuoye-Agbaje. Principal photography began in September 2012 in Surrey, England with filming continuing in Iceland and London, before wrapping up in December 2012. Like the first film, Thor: The Dark World was converted to 3D in post-production.
Thor: The Dark World was released on November 8, 2013.
Premise
Set one year after The Avengers, Thor battles to save all the Nine Realms from a mysterious enemy older than the universe itself. A primeval race led by Malekith, who is out for revenge, intends to plunge the universe into darkness. Confronted by an enemy that even Odin and Asgard cannot overcome, Thor must reunite with Jane Foster and set out on a dangerous journey that will force him to make the ultimate sacrifice.
Plot
Eons ago, Bor, father of Odin, vanquished the Dark Elves led by Malekith, who sought to return the universe to its state before creation using a force called the Aether. Fighting off Malekith's enhanced warriors the Kursed, Bor contains the Aether within a stone column. Unbeknownst to him, Malekith, his lieutenant Algrim, and others escape into suspended animation. In the present, in Asgard, Loki stands before Odin in shackles and is sentenced to prison, while Thor, alongside warriors Fandral, Volstagg, and Sif repeal invaders from Vanaheim, home of their comrade Hogun; it is the final battle in a two-year war. In London, astrophysicist Jane Foster, who has not seen Thor in that time, attempts a lunch date with a man named Richard (Chris O'Dowd) but is interrupted by her intern Darcy Lewis. She takes Foster to an abandoned factory where the laws of physics are upended in spots and some children have found that objects thrown down a stairwell reappear above them or else vanish. Foster also learns her colleague Dr. Erik Selvig has apparently gone mad and has been detained after attempting to conduct scientific experiments at Stonehenge naked. Foster, after bringing her own scientific equipment to the factory, is sucked into a vortex where the Aether enters her.
The Asgardians learn a rare alignment of the cosmic Nine Realms is imminent, and at spots where the Realms touch, as at the factory, passages are created. When Heimdall tells Thor that Foster is no longer on Earth, Thor begins a search for her there. She has awakened in the factory after hours in the other realm, and finds herself releasing powerful energy when a police officer on the scene touches her. Sensing the force's unearthly nature, Thor brings Foster to Asgard, but its physicians, including Eir, cannot remove it. Odin realizes she is the Aether's vessel and this heralds a catastrophic prophecy. Frigga - Odin's wife, Thor's mother, and Loki's adoptive mother - takes Foster under her wing. In holographic form, Frigga visits Loki in his cell to convey her love and disappointment.
Malekith and his forces, awakened by the release of the Aether, attack Asgard and turn Algrim into an enhanced warrior called "the last of the Kursed." Malekith and Algrim find Foster in Frigga's chambers, and kill Frigga. Foster there is only a hologram, however; the real Foster is with Thor, who has been ordered to remain and protect Asgard, not pursue the retreating invaders. Following Frigga's funeral, Thor reluctantly teams with Loki, who knows a secret passage out. With Volstagg and Sif guarding his flank, the two commandeer a Dark Elf spaceship and escape with the Foster. With Fandral's help and a separate flying boat, they escape pursuing Asgardian forces.
On Earth, Lewis, who has tried in vain to reach S.H.I.E.L.D., has Selvig released from a hospital's mental ward with the help of her own intern, Ian. Thor, Loki, and Foster confront Malekith and Algrim at a desolate waste, where, after a hoax in which Loki appears to betray Thor, Loki evidently sacrifices himself to keep Malekith from retrieving the Aether. It is to no avail, as Algrim batters Thor and Malekith takes the Aether from Foster. Thor and Foster return to Earth after stumbling to a portal between realms. The battle shifts to London, where Malekith, in a towering space-vessel, will use the Aether at the exact moment and place of the Nine Realms' convergence to destroy the universe and restore the dark-energy state in which the Dark Elves thrive. As Thor battles Malekith, Foster and Selvig use devices they've constructed to shift energy where the Nine Realms meet. At the last moment, they transport Malekith and his ship to another realm, where the crumbling ship crushes him.
In Asgard, Thor declines Odin's offer to take the throne and tells Odin of Loki's sacrifice. As Thor leaves, the image of Odin reverts to the true form of shapeshifter Loki, who, disguised earlier as a warrior, has usurped the throne.
In the first of two post-credits scene, Volstagg and Sif visit the The Collector and entrust to his care the Aether, commenting that - with the Tesseract already in Asgard - having two Infinity Stones so close together would be dangerous. As they leave, the Collector remarks "one down, five to go". In a second coda, Foster and Thor reunite on Earth.
Cast
Additionally, Clive Russell plays Tyr, based on the deity of the same name. Benicio del Toro, who went on to play the Collector in Marvel Studios' Guardians of the Galaxy, appears in a mid-credits scene with Ophelia Lovibond, who plays his aide Carina. Alice Krige portrays Eir, an Asgardian physician. Jonathan Howard plays Ian, Darcy's intern. Tony Curran plays Bor, Odin's father, based on the deity of the same name. Richard Brake portrays a captain in the Einherjar. Chris O'Dowd was cast as Richard, a suitor of Jane Foster's. Chris Evans makes an uncredited cameo appearance as Loki masquerading as Captain America, while Thor co-creator Stan Lee makes a cameo appearance as a patient in a mental ward.
Production
Development
In April 2011 before the release of Thor (2011), Marvel Studios president Kevin Feige stated that following The Avengers (2012), "Thor will go off into a new adventure." Kenneth Branagh, director of Thor, responded to his comments, saying, "It is kind of news to me. Here's what I would say to that: It's that I'm thrilled they're that confident. I shall wait for the audience to tell us whether there should be a second one, and then if that's a nice conversation to be had [among] all of us, that'd be thrilling. But I've got too much Irish superstitious blood in me to assume that Thor 2 will happen. But if Marvel says so, then I guess it must be true". Feige later explained that Marvel Studios would gauge how well Thor did at the box office before announcing sequels, but stated, "Don Payne is working on story ideas for a part two. We've got various options with Ken [Branagh] to discuss coming back, but right now the focus is on the first one. Don is, slowly but surely, thinking about where to take the character next should we be so lucky".
In June 2011, Walt Disney Studios set a July 26, 2013 release date for the Thor sequel with Chris Hemsworth reprising his role as the title hero. It was also reported that Branagh would not be returning as director but would likely be involved in a producing capacity. The Los Angeles Times cited the long commitment necessary for a special effects-heavy epic and the pressure to start the script process right away as reasons for Branagh's departure, although he was initially enthused by the chance to direct the sequel. The following day, Marvel formally hired Payne, one of the credited writers of the first film, to script the sequel.
In August 2011, Brian Kirk entered early negotiations to direct the Thor sequel for Marvel Studios and Disney. The film would be Kirk's first time directing a big-budget motion picture, after having directed television series for HBO, Showtime, and the BBC, including Game of Thrones. Idris Elba, who portrayed Heimdall in the first film, stated that he had plans for the sequel.
In September 2011, Tom Hiddleston confirmed he would return in the sequel, speculating that in the film, "[Loki will] have to take responsibility for what he's done". Patty Jenkins, the director of Monster and the pilot episode of AMC's The Killing, entered early negotiations with Marvel Studios and Disney to direct the film, after Kirk had passed due to contractual sticking points that arose during negotiations. The same month, Feige stated the sequel would "take Thor literally to other worlds" and would "primarily be the journey of that character, of he and Jane Foster and how the new dynamic with his father is working out, as well as what are the broader stakes for The Nine Worlds".
In October 2011, Joshua Dallas, who portrayed Fandral, stated he planned to return to Asgard in the sequel. On October 13, 2011, Disney moved the release date for the film to November 15, 2013. The same day Marvel confirmed that Jenkins would direct the sequel and Natalie Portman would return to star.
Pre-production
In December 2011, Jenkins exited the project, citing "creative differences". She stated, "I have had a great time working at Marvel. We parted on very good terms, and I look forward to working with them again." Three days later, The Hollywood Reporter reported that Marvel was looking at Alan Taylor and Daniel Minahan as prospect directors to replace Jenkins. THR also reported that Marvel was in the midst of hiring a writer to rewrite Don Payne's script and the shortlist of possible writers consists of John Collee, Robert Rodat, and Roger Avary. At the end of the month, Alan Taylor, best known for directing episodes of the HBO fantasy series Game of Thrones, was chosen to direct the sequel.
In January 2012, Tom Hiddleston stated that filming is expected to begin in London in the summer of 2012. Also in January, it was reported that Marvel Studios hired Saving Private Ryan screenwriter Robert Rodat to rewrite the sequel. The following day, Jaimie Alexander who portrayed Sif, stated, "I've had few discussions about Thor 2. I'm definitely going to be a part of it so that will be fun. And we just got Alan Taylor from Game of Thrones to direct so we're really excited. I'm excited to see what he brings".
In April 2012, Hemsworth confirmed that filming is scheduled to begin in August 2012, in London, England. Hemsworth also revealed that the film will have a more Viking-influenced feel, elaborating "I think the science fiction element to Thor … the danger is it falls a little bit into the world of it's 'tough to throw a light to.' I think of big waterfalls and mountains and a Viking influence, where the Norse mythology kind of grew from. Having that in Asgard is going to make it all the more special and that's what Alan [Taylor] wants to bring to it." In an April interview, Feige said "while the relationship between Loki and Thor certainly has changed [after the events of the movie The Avengers] and has progressed, a lot of Thor 2 is picking up where it left off in terms of Jane, who you just saw for a moment on a computer monitor, and also what's been going on in the nine realms without the Asgardians being able to use the Bifrost." Feige also said that while Loki has a part, "there will be a different villain, another big villain". Later in the same month, it was reported that Ray Stevenson would reprise his role as Volstagg.
In May 2012, Mads Mikkelsen began talks to play one of the villains in the film. The same day, Deadline Hollywood reported that Anthony Hopkins, who played Odin in the first film, was committed to returning in the sequel. At the end of the month, Disney moved up the release date for the film a week ahead of the previous date to November 8, 2013.
In June 2012, Joshua Dallas announced that he will not be reprising the role of Fandral due to his commitment on the television show, Once Upon a Time. The same day, The Hollywood Reporter reported that Marvel was eyeing Zachary Levi to replace Dallas. Levi was originally up for the role in the first film but had to bow out due his commitment on Chuck. Levi later confirmed his involvement on The Tonight Show with Jay Leno. Also in June, Stellan Skarsgård confirmed that he would be returning, stating "I will try to combine Thor 2 which starts in August and goes to the end of December with the new Lars Von Trier film".
In July 2012, Mads Mikkelsen stated in an interview that he will not be appearing in the sequel due to prior commitments, "That's not happening unfortunately. I had a meeting with [the filmmakers], but it was a bit too late and then Hannibal came in...It's just not happening". At the 2012 San Diego Comic-Con International, it was announced that the film will be titled Thor: The Dark World. At the end of the month, residents near Bourne Wood in Surrey, England were notified that a film going by the working title, Thursday Mourning would be filming in the area. Comic Book Resources asserted that the film is Thor: The Dark World.
In August of that same year, Christopher Eccleston entered final negotiations to play Malekith the Accursed. A few days later, it was reported that the film will shoot in Iceland, where Alan Taylor shot parts of Game of Thrones. Also in August, it was reported that Kat Dennings would reprise her role as Darcy Lewis. The following day, Adewale Akinnuoye-Agbaje was cast as Algrim the Strong / Kurse. At the end of the month, film crews for Thursday Mourning began set construction at Stonehenge near Amesbury, England.
Filming
Principal photography began on Monday, September 10, 2012 in Bourne Wood, Surrey. Thor co-creator Stan Lee stated at the 2012 Comikaze Expo that he has a cameo appearance in the film. A few weeks later, Clive Russell was cast as Tyr, and Richard Brake was cast as an Einherjar captain. At the end of the month, Jaimie Alexander was injured on the London film set, after she slipped while walking in the rain. In October 2012, production moved to Iceland with filming taking place in Dómadalur, Skógafoss, Fjaðrárgljúfur, and Skeiðarársandur. Iceland Review described the shoot as being among the most extensive film projects to have ever taken place in Iceland. In late October, filming commenced at the Old Royal Naval College in Greenwich, London. Also in October 2012, Disney announced that the film would be released in 3D. Alexander tweeted that principal photography wrapped on December 14, 2012.
Music
In August 2012, Patrick Doyle said that he had discussions with the director about potentially returning to score the film. In April 2013, it was revealed that Carter Burwell would score the film.
Marketing
In March 2013, Marvel announced the release of a two-issue comic book prelude by writers Craig Kyle and Christopher Yost and artist Scot Eaton in June 2013. In April 2013, Marvel released the first trailer for Thor: The Dark World. Forbes said, "This trailer fits nicely into that larger marketing push for Marvel's brand. It puts all of the recognizable characters from the first film front and center, presents the action as a team event reminiscent of the Avengers, and once again Loki — who was quite popular with audiences — makes an appearance." The Los Angeles Times said, "Evident throughout the trailer is director Alan Taylor's influence; the Game of Thrones director's hand can be seen in the battle sequences, and Asgard — a bright and shiny kingdom under Thor director Kenneth Branagh — seems grittier in the sequel."
In July at the 2013 San Diego Comic-Con International, Tom Hiddleston introduced footage from the film to audiences in character as Loki. Also in July, Gameloft announced that a mobile video game titled, Thor the Dark World: The Official Game, would be released in conjunction with the release of the film in November.
In August 2013, Marvel released a second trailer for the film as part of YouTube's Geek Week. Forbes said, "this 150-second trailer is basically just an extended version of last April's 106-second teaser" and that "this trailer fails to showcase what's new this time around... making audiences question if they really don't have much else to offer." The Los Angeles Times said, that the trailer suggests "an ominous, epic scale for the sequel" and that "the collaboration between Thor and Loki promises to be especially interesting." Also in August, producer Kevin Fiege and cast members Tom Hiddleston, Natalie Portman, and Anthony Hopkins presented additional footage at Disney's D23 Expo. Later in the month, Disney announced plans to promote the film with an attraction at Disneyland stating, "guests will be able to visit Asgard this fall and come face-to-face with the Mighty Avenger, Thor."
Release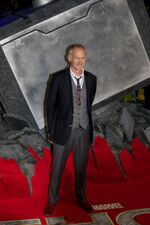 The world premiere of Thor: The Dark World took place on October 22, 2013 at the Odeon Leicester Square in London.
Reception
Critical reaction
Ben Child, writing for The Guardian said, "Thanks to Hiddleston and Hemsworth's impressive collective charisma, Thor: The Dark World is far from a franchise killer." Justin Chang of Variety wrote, "This robust, impersonal visual-effects showpiece proves buoyant and unpretentious enough to offset its stew of otherwise derivative fantasy/action elements." Alonso Duralde of The Wrap said, "Thor: The Dark World delivers the goods — action, otherworldly grandiosity, romance, humor — above and beyond its predecessor".
Conversely, Tim Robey of The Daily Telegraph said, "It feels entirely made by committee — the definition of house style, without a personal stamp in sight."
Box office
Thor: The Dark World earned $8.2 million on its opening day (October 30, 2013) in various territories and was the number-one film in each. The filmed opened stronger in the UK and France than the first Thor film.
Future
While promoting the release of Thor: The Dark World in October 2013, Hemsworth stated that he is contracted for another Thor film and two more Avengers films but would be happy to keep going, if people want more. Also in October 2013, Feige stated that Thor would next be seen in Marvel's The Avengers: Age of Ultron. He added that certain elements at the end of The Dark World hint at a direction for a possible third film, adding, "We definitely have a story we'd like to tell." Additionally, Feige stated that, while Loki would not appear in Age of Ultron and most likely not before a third Thor film, the studio "certainly has ideas of where we would like that to go [with him, but] we have to see how this one does and then go from there."
The Thor film series did continue with Thor: Ragnarok.
Gallery
Trivia
It's revealed the Loki's scepter left lingering effects on Selvig's mind. Making him more erratic and even needing to be pantless to think better.
At the time of it's release, Thor: The Dark World was considered to be the lowest reviewed film in the Marvel Cinematic Universe at 66% from Rotten Tomatoes, until Eternals surpassed it 8 years later.
External links