| | |
| --- | --- |
| | Tiana is a featured article, which means that it has been identified as one of the best articles produced by the Disney Wiki community. If you see a way this page can be updated or improved without compromising previous work, please feel free to contribute. |
"My daddy never did get what he wanted. But he had what he needed. He had love! He never lost sight of what was really important! And neither will I!"
―Tiana.
Tiana is the protagonist of Disney's 2009 animated feature film, The Princess and the Frog. She is a gifted cook living in New Orleans during the Jazz Age, with dreams of opening a restaurant of her own. In a desperate attempt to achieve her goal, Tiana shares a kiss with a prince that had been magically transformed into a frog by an evil voodoo witch doctor. In doing so, however, Tiana also falls victim to the curse, setting off an adventure in the bayou to find a cure.
Tiana is loosely based on the unnamed princess from the Brothers Grimm fairy tale The Frog Prince. She is the ninth official Disney Princess and the most recent to originate from a traditionally-animated film.
Background
Tiana dreams of opening her own restaurant. She works hard to try to make that dream come true. In a twist of fate, she kisses a frog and goes on an adventure through the New Orleans bayou.
Development
Tiana made history as the first African-American princess in the Disney Princess franchise. Early in development, Tiana was originally called Maddy and worked as a chambermaid in the La Bouff household. However, public criticism eventually caused her character's name to be changed to Tiana and her job, a waitress. Disney spokeswoman Heidi Trotta later stated, "Princess Tiana will be a heroine in the great tradition of Disney's rich animated fairy tale legacy, and all other characters and aspects of the story will be treated with the greatest respect and sensitivity." This reworking of the story itself was greatly inspired by the life story of New Orleans chef Leah Chase, and she, in turn, would contribute to the "Tiana's Cookbook" that was published when the film came out.
Mark Henn served as the supervising animator for Tiana. Henn was hired by John Lasseter because he had animated nearly every Disney Princess since The Little Mermaid's Ariel. Describing Tiana, Henn said that she is following "a new trend in our princesses," likening her to Ariel from The Little Mermaid. "When animating Tiana, Henn was inspired by voice actress Anika Noni Rose, borrowing from her dimples and left-handedness. Henn was also inspired by studio employee Jaimie Milner, a film intern who was working in post-production." The fact that Tiana is African American was "never a big issue" for Henn when it came to animating her, but drawing her as both a human and a frog proved difficult." Tiana appears in the movie in different forms - she's a little girl, she's an adult human, and then she's a frog."
Voice
Ron Clements and John Musker, who once worked as animators on The Fox and the Hound, and known for their works like The Great Mouse Detective, The Little Mermaid, Aladdin, and Hercules, decided not to hire "big stars" to voice the film's main characters because "it can help with the identification of that animated character with the voice if you don't get an instant mental picture of the real actor." Several well-known African American actresses and singers had expressed an interest in voicing Tiana, among them, recording artists Beyoncé Knowles, Jennifer Hudson, and Alicia Keys, as well as actress and fashion model Tyra Banks. After enduring three auditions, the role ultimately went to American actress and singer Anika Noni Rose, with whom Hudson and Knowles co-starred in the musical film Dreamgirls.
A long-time fan of Walt Disney Animation Studios, Rose had always wanted to voice a Disney animated character. When the film was brought to her attention, she was drawn to it more by its "story of the young woman" than by the fact that she would be voicing Disney's first African American princess. Rose told The Root that the film "wasn't really pitched to me that way... I don't think the cultural significance hit me until later". Rose was also fairly confident in the role. "To be perfectly honest, I thought it was for me from the moment I got the audition."
Rose described the recording process as "very solitary work" that required her to do much research. To prepare herself for the role, Rose "called people in New Orleans...listened to their voices to hear what they sounded like...did a lot of reading up on the city, and listened to a lot of music in the jazz era." Rose only met with her co-star Bruno Campos twice to record a few scenes together. At her first session, Rose recorded all her dialogue "from top to bottom" in a session that lasted eight hours.
Personality
"She's a strong woman who doesn't need anyone to do things for her. She wants to do things for herself."
―Anika Noni Rose
Tiana is an intelligent, resourceful, and highly talented young woman. However, at the start of the film, and mostly throughout, she can be overly uptight and far too absorbed in work ethics to focus on relaxing, family, and friends. Though she notices this and appears to have some regret over her busy schedule, her obsession with bringing her dream of opening her own restaurant into fruition overshadows it all. She also, for the most part, has appeared to accept that over the years, as seen when she and Eudora visited the old sugar mill in the preparation of its purchase.
With a strong sense of honor and integrity, Tiana firmly believes nothing deserves to be obtained in the world unless it's done through hard work, a view she's brought up when dealing with her excessively dreamy and immature best friend, Charlotte La Bouff, as well as the party-loving Naveen. This fact also makes her somewhat inflexible as she could have asked Big Daddy La Bouff for seed money for her restaurant instead of working extremely hard to slowly gain the capital necessary.
Aside from her workaholic nature, Tiana has another side to her; one that's passionate, imaginative, and ambitious. She enjoys humor, music, quality time with loved ones, and dancing (though not at first). She becomes excitable whenever mentioning her restaurant, lighting up when she does, as Naveen puts it, and although she initially had very little knowledge over romance, she values it highly once she starts to fall for Naveen, to the point where her restaurant was no longer the most important part of her life.
Tiana is also heroic and is shown to be quite capable of dangerous situations and moments of physical conflict. Throughout the course of the film, she continuously rescued Naveen from life-threatening situations, fending off predators within the bayou, and even Dr. Facilier and his hoard of sinister shadow demons. Her heroism is ultimately put into the forefront during the film's climax, where the city of New Orleans is hurdled into a high state of peril, with the only hopes of its survival being Tiana's own will-power and the aforementioned sense of honor.
She's also incredibly strong-willed and doesn't take lightly to being undermined or insulted by anyone. Despite her poor background, she sees something far greater in herself and jumps at every opportunity available to prove so, whether it be to the sleazy Fenner Brothers or the originally arrogant Prince Naveen, who initially looked down upon the woman because of her occupation as a waitress and uptight attitude, only to be proven there's far more to her than meets the eye.
Despite refusing his offer, Tiana is absolutely horrified watching Facilier get dragged to the voodoo world even putting her hand over her heart in sympathy when spotting his gravestone.
Physical appearance
Tiana is a 19-year-old African American woman. She is tall and slender with a sculpted figure. She has brown skin, medium-length, wavy, black hair usually tied in a low ponytail, light brown eyes with pink eye shadow, a bright smile, and dimples. For most of the movie, Tiana is transformed into a frog. Compared to Naveen she's a lighter green, skinnier, and the only physical human features she retains are her voice and brown eyes.
Throughout the movie, Tiana undergoes various outfit changes. The first of which is her work outfits. When working her shifts at Cal's Diner, Tiana wears a blue outfit, and brown shoes as well as a headband style maid's hat. When working her shifts at Duke's Cafe, Tiana wears a yellow dress over a white shirt, a white apron, and brown shoes. She also owns a dark green coat with a matching hat which she wears on her way to the Cafe. With this outfit, Tiana wears her hair in a low ponytail wrapped up in a green band.
Originally, at Charlotte's masquerade ball, Tiana wore a Renaissance costume with honey yellow and a light green/brown as its primary colors. Later that same night, she dons her iconic blue princess gown loaned to her by Charlotte. The dress also came with a matching tiara as well as a necklace complete with a blue diamond and light blue opera gloves. During her confrontation with Dr. Facilier, Tiana was put in a white sleeveless gown with sparkling golden shoulder straps, diamond earrings, a golden necklace, and a white feather resembling the classic 1920s swinger outfits. Along with this came a beige fur shawl.
Tiana's iconic lily pad outfit is a green sparkling strapless sleeveless ball gown. The gown's petticoat is a light yellow color. Along with the gown, Tiana wears light green opera gloves, green shoes to match the gown, a light blue diamond necklace with matching earrings, and a lily pad tiara to top it all off. With this outfit, Tiana's hair is pinned up in an updo bun.
Tiana's wedding outfit was a beige dress that reveals her back, with a matching Juliet cap, and transparent gloves as well as a green tiara. Her dress also consists of green linings with a flower on the shoulder. During the finale opening of Tiana's Palace, she wore another green sweater outfit with a golden tiara complete with an emerald on the top.
Abilities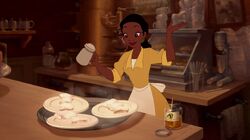 Culinary Expert: From early in the film, it is revealed that Tiana is a natural expert in the culinary arts. She is able to dice and chop a variety of vegetables at incredible speeds and cook a delicious meal out of very little. She can recognize the ingredients needed for the dish, and Tiana was even able to transform Mama Odie's nauseous soup to perfection. The fact that Tiana baked five hundred beignets for Charlotte's masquerade ball that was the next day means Tiana is a competent enough cook. Tiana's gift has been pointed out on several occasions, by her father, and by Naveen.
Physical Coordination: From working as a waitress, Tiana has excellent balance and hand/eye coordination. She could balance four trays of food on her head, hands, and a right foot that were tossed one after the other before balancing three trays on her head and hands.
Ingenuity: Tiana has intelligence, too, because she built a raft when it doesn't appear she was taught how to build one. She was smart enough to flick her tongue out to grab Dr. Facilier's talisman to break it. Tiana is the only princess with a real job, and considering she didn't go to college, she has knowledge of the economy to run her business, even though people underestimated her.
Adaptability: Tiana showcased her relatively quick adaptability as a frog; she could hop fast enough to get away from Stella considering she became a frog not long before that. She avoided getting eaten by a crane, one of the natural predators of frogs. When a group of alligators tried to eat her and Naveen, Tiana swam away without being caught and, unlike Naveen, found a hiding spot. Furthermore, Tiana had enough physical strength as a frog to escape from a hunter's grasp by bending back his fingers with her feet.
Communication with animals: In the chapter book continuation of the film, The Stolen Jewel, it is revealed that both Tiana and Naveen hold the ability to communicate with animals, having kept that ability from their time as frogs.
Appearances
The film begins during Tiana's childhood where she is seen with her best friend Charlotte La Bouff listening to the classic tale "The Frog Prince" read by Tiana's mother Eudora while she finishes Charlotte's newest princess gown. Whilst Charlotte adores the tale and openly wishes to find a prince and one day become a princess, Tiana shows that she's somewhat unamused with the story, considerably the kissing finale between the princess and the frog she was disgusted by. After the story's completion, Tiana, and her mother depart, heading for home where they greet Tiana's father, the hardworking James. Later on, with the help of James, Tiana makes their favorite dinner, gumbo. Tiana gives her father a taste of some of her gumbo, which she hopes to be the prime attraction when she and her father open their very own restaurant, "Tiana's Place". That night, as Tiana was being put to bed, the young girl makes a wish upon the evening star in hopes of getting her restaurant dream to come true. James, however, tells Tiana that wishing can only get her halfway to her dream, and hard work is also needed, which she understands. As her parents say good night to her, she looks at the evening star and sees a frog on her windowsill. Thinking it wants to kiss her, she screams after it croaks, scaring the frog and runs out of her room.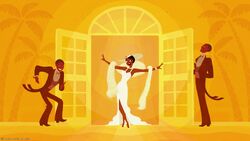 Years later, it is revealed that a now-adult Tiana is still struggling to reach her dream even after her father passed away. Since childhood, she has become a mature young woman, though she has discarded her original childhood imagination of wishing and such, and has become an overly practical workaholic instead. She works as a waitress at two local diners during the day and night. The desire to open the restaurant prevents Tiana from going out with her friends as she must work extra for more pay. Meanwhile, the handsome Prince Naveen who had been cut off from his family fortune arrives in New Orleans to find a way to become rich again. To celebrate, Charlotte plans on throwing a masquerade ball and hires Tiana to make dozens of beignets, paying her with enough money to buy her restaurant. Excited, Tiana and her mother place a bid on an old run down sugar mill that Tiana's father had talked about many times before and had planned to use as the location. Though the building is extremely worn out and practically falling apart, Tiana couldn't have been more excited with her dream coming closer and closer to coming true.
Later that night at the ball, Tiana discovers that she's been outbid and unless she earns enough money in two days by Wednesday, she loses the restaurant (though it is possible the restaurant was being withheld from her due to her race, which is historically accurate given that the movie takes place in the Southern United States, but this is never elaborated on). In a mishap, Tiana ruins her outfit and goes to Charlotte's room to change. Charlotte gives her a princess gown and tiara then heads back down to the ball. Saddened, Tiana heads to the balcony and, in desperation, makes a wish upon the evening star in hopes of making things work out in the end. After her wish, Tiana meets a talking frog who reveals himself to be Prince Naveen (much to her confusion). Due to being cursed by a voodoo witch doctor, Naveen asks for help from Tiana who he believes is a princess. Following the tale of "The Frog Prince", Naveen asks Tiana for a kiss in an attempt to break the spell, but Tiana is incredibly hesitant to kiss a frog. Naveen offers her a reward, telling her that he comes from a fabulously wealthy family. Knowing she needs more money to open her restaurant, Tiana reluctantly kisses Naveen. The only thing it does, however, is change Tiana into a frog as well, since she wasn't actually a princess.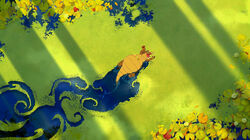 Horrified and enraged by her unexpected transformation, Tiana attacks Naveen, resulting in both of them getting launched out of the room and onto the ball's dance floor. Charlotte's father, Big Daddy, orders their dog, Stella, to get the frogs after they land in Charlotte's dress. Tiana and Naveen luckily escape on a cluster of balloons, which eventually float over to the cold, miserable bayou of New Orleans. While floating down, Naveen reveals to Tiana he was transformed into the frog by the Shadow Man. She then tells him that the only way to get what you want is through hard work and Naveen asks why a princess would need to work hard. Tiana then tells Naveen that she's a waitress, not a princess which explains to Naveen why the kiss didn't work before he reveals that he's completely broke. Suddenly, the balloons pop and the two land in a swamp filled with alligators. In the midst of the chaos, Naveen promises to pay for Tiana's restaurant if she can help him out the swamp. Tiana agrees and they spend the night in an old hollow tree trunk for shelter. During their journey the next morning they meet Louis, a friendly alligator with a gift of playing the trumpet. Naveen and Tiana explain that they are humans turned into frogs via the magic of a voodoo witch doctor. Hearing voodoo, Louis informs them of Mama Odie, a voodoo priest who can help them turn human. Naveen convinces the gator to lead them to Mama Odie so that he can be human, too.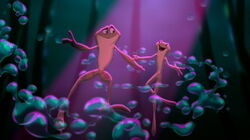 Along the way, they meet Ray. Upon being told of Tiana and Naveen's dilemma, Ray happily decides to light the way and act as their guide to Mama Odie, with the help of his massive family of fireflies. During their journey, Tiana and Naveen gradually become closer, a progression that is kick-started after saving each other from a trio of bumbling frog hunters. During a rest, Naveen helps Tiana cook for the friends by mincing some mushrooms. With that being the first piece of work Naveen has ever done, he reveals that, despite living the charmed life of a prince, he feels deep down that he knows how to do absolutely nothing besides partying, which he is ashamed of. Tiana, feeling sympathy, compliments Naveen's mincing skills, growing the two even closer. Moments later, Ray introduces his friends to Evangeline, singing a love ballad in her honor. During this, Naveen attempts to waltz with Tiana, but Tiana declines, admitting that she's never learned to dance. Naveen however, quickly decides that, to return the favor to Tiana for teaching him how to mince, he will teach her how to dance. After the romantic waltz, Naveen and Tiana officially begin to fall in love with one another. They nearly kiss after their dance but Tiana pulls away because he's supposed to marry Charlotte.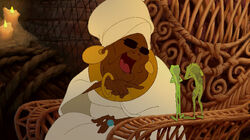 Once Tiana hops away from Naveen, he is captured by a pack of shadow demons sent by the witch doctor Doctor Facilier, who needs Naveen to fulfill his evil scheme to take over New Orleans. Fortunately, he is saved by Mama Odie, who takes them to her home: a boat in a tree. Tiana tries to explain to Mama that all they want is to be human, but Mama Odie knows what Tiana and Naveen really want after the adventure they had, was each other. However, Tiana fails to realize this, and believes Mama Odie's motto of "dig a little deeper" means work extra hard to get her restaurant. Although Naveen completely understands that, instead of riches, what his heart truly desires was Tiana. But with Tiana misunderstanding, Mama Odie decides to put the romance aside and give the two frogs the solution to their problem. Mama Odie tells them that if Naveen were to kiss a princess, they'll both turn human. She then uses her magic brew to locate a nearby princess, which reveals to be Charlotte, who is the princess of the Mardi Gras Parade. Unfortunately, Naveen only has until midnight, when Mardi Gras is over, to kiss Charlotte and break the spell.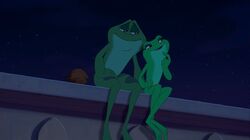 They head off on a riverboat to New Orleans, where Naveen decides he wants to reveal his true romantic feelings to Tiana, figuring he'll merely get a job to help raise money for her restaurant. Naveen sets up a date later that night, under the stars on the riverboat. The prince was far too sheepish to successfully reveal the truth, but Tiana still finds his fumbling to be cute. Just then, the riverboat begins passing the old building Tiana plans on using for her restaurant. Tiana takes the time to tell Naveen about her dreams to open the restaurant. Knowing he can't afford to pay for the restaurant without marrying Charlotte and inheriting her fortune, Naveen decides not to tell her how he truly feels, for the sake of her dream. The riverboat then prepares to dock, and Naveen heads off to find Louis and Ray. Once he's gone, Tiana sadly speaks to Evangeline about her dilemma, revealing that she, too, is actually in love with Naveen, despite the fact that he must marry Charlotte for the money he promised for her restaurant. Meanwhile, right before docking, Naveen is kidnapped by the shadow demons.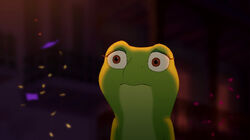 Tiana, Louis, and Ray are oblivious to Naveen's capture, and after getting off the riverboat, Tiana asks Ray if he's seen Naveen. Instead, Ray accidentally tells Tiana that Naveen actually loves her and plans on getting a job to pay for her restaurant. Overjoyed, Tiana and Ray head off to the Mardi Gras parade to find him and return the feelings. Unfortunately, Tiana, instead, finds "Naveen" (who is really Lawrence in disguise) as a human, atop a parade float about to marry Charlotte. Heartbroken, Tiana runs off. Ray follows and tries to convince Tiana that they should go back to look more into what they say, but Tiana discards the idea, losing her faith in wishing and dreams once more, as well as snapping at Ray out of heartbreak when he mentions Evangeline, hurting him by saying that she is nothing more than a star and that he needs to open his eyes before he gets hurt too, but he refuses to believe her. Determined to show Tiana the truth, Ray flies back to the parade, where he learns that the Naveen they saw about to marry Charlotte is actually Naveen's former valet, Lawrence in disguise. It turns out Lawrence was under the disguise as part of a plot by Facilier, who plans on having Lawrence marry Charlotte and steal the La Bouff fortune by doing so, thus making the Shadow Man the richest man in New Orleans. The real Naveen, still a frog, was in captivity until Ray rescues him.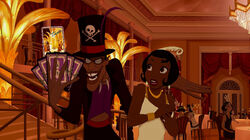 Later, Ray gives it to Tiana and instructs her to keep it away from the Shadow Man at all costs, prompting her to run in fear as the shadow demons were in hot pursuit. Tiana tries to escape, but the Shadow Man meets up with her and conjures up a vision of the fancy restaurant she's dreamt of all her life and even turns her human again. The Shadow Man tries to coerce Tiana into striking a deal with him: hand over the talisman in exchange for her restaurant, but she refuses. The Shadow Man then tries to seal the deal by reminding her of everything she had sacrificed, those who have doubted her ability, and her father James and his struggles to open the restaurant, but this only comes as a help to Tiana in realizing that, while her father never got what he wanted, he had what he needed; he had love, and he never lost sight of what was really important in life. Tiana declares that she won't forget, either, and throws the talisman at the floor, nearly destroying it, but the Shadow Man's shadow catches it and hands it back to him. He then shatters the restaurant manifestation and turns her back into a frog.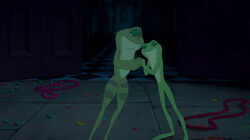 While the Shadow Man holds Tiana down, he taunts her for not accepting his deal and now she'll spend the rest of her life "being a slimy little frog." However, she replies with "I got news for you, Shadow Man — it's not slime... it's mucus!" (which was what Naveen told her when she first became a frog) before using her prehensile tongue to regain the talisman and break it, thus ending the villainous plot for good. After its destruction, Tiana watches in shock as the Shadow Man is dragged to his demise by his "friends" (though before, he mentioned still having Naveen locked away, revealing that Ray had been right the whole time). Once the coast is clear, Tiana heads back to the concluded Mardi Gras parade, where she witnesses Lawrence being arrested — learning that he was the "Naveen" Charlotte had been hanging out with the whole time. Not too far away, Tiana finds Naveen, who was in the process of making a deal with Charlotte. If she turns him human through a kiss, he'd marry her, so long as she pays for Tiana's restaurant. Tiana intervenes and confesses her feelings for Naveen. Touched by the romantic sight, Charlotte agrees to kiss Naveen, but only for Tiana's dream to come true. But the clock strikes twelve, and Charlotte is no longer a princess, as Mardi Gras was officially over. Nevertheless of the curse supposedly becoming permanent, Tiana and Naveen were content being frogs so long as they could stay together.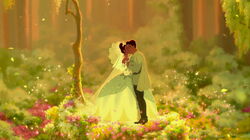 Suddenly, Louis arrives and explains that Ray was fatally wounded by the Shadow Man during the battle against the voodoo witch doctor's demons. Ray manages to have a conversation with all three of his friends one last time before passing away. Tiana attends his funeral, but joins in the jubilation after Ray becomes a star right beside Evangeline. Shortly afterward, Tiana and Naveen marry in the bayou, with Mama Odie taking charge of the ceremony and many animals and fireflies attending. As they kiss, they turn back into humans, as Tiana is now a princess by marrying Prince Naveen. After having a royal second wedding as humans back in New Orleans, Tiana and Naveen use the money that she saved to open the restaurant (with a little intimidation help from Louis, who frightens the snooty bidders into accepting what Tiana had). The restaurant, as hoped, is a big success with people from all around attending, just as Tiana and her father dreamed. She renames it "Tiana's Palace", and enjoys a dance with Naveen to Louis and his band's music as Ray and Evangeline watch over them on what was a truly magical evening.
Tiana appears in the episode "Winter's Gift", where Sofia is assisting a young faun named Winter in breaking an icy curse that constantly harms her loved ones. In order to do so, the faun must present a gift to the choleric Glacia the Ice Witch, in hopes that she will break the curse in exchange for the gift provided.
After being informed of the dilemma by Mama Odie, Tiana arrived and told Sofia that she was cooking a special meal as her perfect gift for her family and then sings the song "From the Heart", telling Sofia the perfect gift is one conjured from the heart, giving the young princess the idea on how to break the curse: That the gift should come from Winter's own heart.
Like Princess Aurora before her, she is also only seen wearing a winter cape in the Season 2 Christmas special TV episode.
In "Forever Royal" when Sofia is battling Vor inside her amulet, Tiana appears to Sofia in spirit form along with all the other princesses who have been summoned to help Sofia in her times of need, and they encourage her to be brave and strong for they all believe in her.
In Ralph Breaks the Internet, Tiana is a netizen in Oh My Disney where she and the other Disney Princesses meet their fans. She is first seen on the website's floor greeting visiting net users. Later, Vanellope becomes targeted by First Order Stormtroopers and glitches into the princesses' backstage room to evade them; when she does, Tiana can be seen admiring her dress at her vanity. Upon noticing Vanellope, Tiana and the other princesses leap into action under the belief that Vanellope is a threat; Tiana arms herself with a rolling pin. Vanellope tries to calm them down and explains that she's also a princess, which prompts Pocahontas to ask her what kind of princess she is. Tiana and Aurora (while the former is pulling the latter away from the spinning wheel) ask Vanellope if she has been cursed, which she denies.
Eventually, Vanellope is declared a true princess. Cinderella and Ariel come to admire Vanellope's "gown", and they change into comfortable modern clothes to match. Tiana's hair is loose and wears a chartreuse top with a graphic that reads "NOLA" in green letters which has a crown in the center of the letter "O", yellow pants and brown shoes with yellow shoelaces, and is seen lounging next to Anna while drinking an iced coffee. After Ariel sings about her dream to wear a shirt which confuses Vanellope, Tiana explains what happens when a princess sings about her dreams. When C-3PO enters the room to inform the princesses that another quiz is about to start, Tiana tells them that they should go back to their gowns, or regular outfits for those girls who don't wear a gown as their trademark attire.
In the climax of the film, Tiana and the princesses witness Ralph about to fall to his death and work together to save him. After Ralph is saved and laid to rest on a mattress while unconscious, Tiana brings Naveen (in his frog form) to awaken Ralph with a classic, fairy tale kiss. Once Ralph is awakened, and mistakes Naveen for Frogger, Tiana and the princesses introduce themselves as friends of Vanellope and befriend Ralph as well.
Other appearances
In the animated short Electric Holiday, Tiana makes an appearance in Minnie Mouse's fantasy. She was a popular model in Paris and was first seen in the makeup room and was later seen on the runway.
In the series finale of At Home With Olaf, a short clip of The Princess and the Frog featuring a younger version of Tiana appears during a montage of heartwarming moments from Disney films playing in Olaf's song "I Am with You".
Tiana, in her frog form, makes a brief cameo in Chip 'n Dale Rescue Rangers as one of the various toons that were kidnapped and bootlegged by Sweet Pete. In Tiana's case, she appears in her frog form with Tinker Bell's wings. She is seen escaping from a large crate in which she and several other bootlegged toons were trapped in after being freed by Chip and Dale.
Live-action appearances
Tiana appears as a main character in the seventh season of the series, portrayed by Mekia Cox.
Living in the Magical Forest, Princess Tiana lives in a castle with her mother after her father died. When the King of their land raises taxes, Tiana and her family is forced to auction their items. In order to solve their financial problems, Tiana seeks help from Dr. Facilier, but finds out it was a ruse, but loses her father's war medal to him. Tiana attends a ball at the Prince's castle and witnesses Cinderella and Henry dueling the knights after Cinderella is accused of murdering the Prince. When Cinderella is attacked by a palace guard after fleeing the ball, Tiana knocks him out. She reveals to Cinderella that she knew it was Lady Tremaine who killed the Prince and that she is leading a revolt against Cinderella's stepmother. Cinderella is confused about why Tiana and her followers weren't there for her after her father died. Tiana apologizes and tells her they are doing their best. Tiana also reveals to Cinderella that Lady Tremaine had worked with the Prince when Cinderella's Father was murdered. She then takes Cinderella to a safe haven where they meet up with Henry, Captain Hook, and Regina Mills.
On the day of her coronation, Tiana is nervous as she receives help from Ella and Regina in the dressing room. Dr. Facilier arrives with news of a threat to her kingdom that she must see to, and as proof of his claims, he directs her into going to the Fairy Docks near the southern edge of the bayou. Despite the probability that Facilier is lying, Tiana decides to investigate if there is a chance her people's lives are at stake. She goes with Hook and Ella to the location, where they see teeth markings left behind by a massive beast. A lone hunter approaches them with claims that the beast is an alligator, which Tiana is doubtful of. When the man suggests she can go if she is skeptical, she coldly retorts that he should be the one leaving. The man laughs and remarks that her fiery temper is similar to his, but when criticized by Hook for his uncouth manner in speaking to a future Queen, he formally introduces himself as Prince Naveen. After learning the prince has an enchanted spear which can kill the gator, Tiana remains unimpressed but allows Naveen to come along, so she can show him what a real hero is like. Into the night, she becomes impatient with Naveen's tracking skills, believing he is getting her and her friends lost, however, Naveen spots drag marks on the ground that imply someone was taken by the beast. Soon, the group find a wounded man who tells them the gator is hiding in the bog. Tiana sends Hook and Ella to bring the man to a healer while she and Naveen lure out the gator by waiting for it on a rowboat. During this, Naveen questions why she tried to control the hunt earlier, and she tells him of her responsibility to protect her people as their Queen and not knowing who she can truly trust. Tiana believes he wouldn't understand, however, Naveen explains he is not after the gator for glory but because it killed his older brother, whom he intended to rule with, and now being alone is difficult and lonely with no one he can count on. Seeing as she is in a similar dilemma and not knowing who she can trust, Tiana suggests they start an alliance. Naveen agrees to this by taking a swig of his drink, but Tiana sees something of his that resembles one of Dr. Facilier's possessions, making her suspicious of him. As Naveen denies any involvement with Facilier, the gator rocks the boat and sends him into the water. Tiana uses the spear to kill the gator, though Naveen has already been fatally injured by then. As Naveen is dying, Facilier retrieves a necklace from the gator's corpse, revealing this was why he wanted Tiana to hunt down the beast. Tiana demands he revives Naveen since she helped to get his bauble, which Facilier follows through with, but he takes away Naveen because the prince now owes him a debt for saving him. Afterward, Tiana goes home, unable to help Naveen, but refocuses her attention on what she can do for her kingdom. Before going out to greet her subjects, she asks her mother, Regina, Ella, and Henry join her as she can't protect her people on her own and trusts they will help her. Eight years later, after the Dark Curse is cast, however, Tiana is sent to the Land Without Magic.
In Hyperion Heights, Tiana is known as Sabine, Jacinda's roommate and worker at Mr. Cluck's. In order to get Jacinda closer to Lucy after Victoria takes Lucy away, Sabine convinces Jacinda to both get a job as waitresses at a charity event where Lucy would be performing. After the performance, Sabine witnesses Detective Weaver interrogating Henry Mills of stealing Victoria's bracelet. Sabine later tries to sell her famous beignets, but after Mr. Cluck's Chicken Shack burns down, Jacinda buys a food truck for them both to sell them.
After Victoria Belfrey's unexpected death, Sabine finds a newspaper by the fence outside her food truck which features an article about the woman's real estate deals. She is in the midst of listening to the first episode of Henry's podcast H-Town when Jacinda and Lucy come visiting. They offer to help with her truck for the upcoming food fair, but Sabine prefers to do it herself, citing that she is a perfectionist, though Jacinda lovingly describes her as a control freak. Sabine instead suggests the mother-daughter pair spend more time together, and she further encourages Jacinda to say yes when Lucy wants to invite Henry over for game night. While Sabine sets up her beignets and gumbo soup, her old cooking classmate Drew arrives to catch up with her. Drew praises her exceptional skills but tells her she can be a bit controlling when it comes to food, and he demonstrates this by trying to dunk one of her beignets in a soup dish, which freaks Sabine out to the point she stops him from ruining his lunch. When Sabine learns Drew is also partaking in the food fair with his own truck, Flamin' Cajun, she samples his beignets to see what she is up against. She finds that the treat is too sugary and tells herself she will "kill him dead", which a police officer overhears after coming to her truck to look over her licenses and permits. After regaining her composure, Sabine shows him her permits, however, the officer states her food safety permit is missing. She explains she mailed in her paperwork but haven't received it back yet, but that she desperately needs to be at the fair. The officer refuses to turn a blind eye and reveals someone gave him an anonymous tip about her missing permit.
Suspecting Drew tattled on her, Sabine confronts him, to which he admits his associate, Mr. Samdi, is likely the one who did it as he offered him guaranteed success with his food truck. Sabine is furious, berating Drew for having everything while she has had to work for it only to lose it all in one swipe. To make it up to her, Drew gives her his food safety permit so she can continue running her truck. He agrees with her earlier assessment of him getting everything handed to him and reveals he actually flunked out of cooking school instead of dropping out. Drew admits he was not good at cooking, and he would rather help her succeed instead. As customers line up at Rollin' Bayou, Sabine serves the officer, who previously declined her food because he was on a diet, a bag of beignets and a bowl of gumbo soup. Later that night, Drew helps dump the garbage, during which Samdi approaches him to insist he continue deceiving Sabine. When Sabine comes to drop off the last garbage bag, she asks if he was talking to someone, which Drew plays off by saying he was just congratulating himself.
After the Dark Curse is broken, she remembers Drew as Naveen and happily reunites with him after helping him and Jacinda defeat Facilier.
Tiana, wearing her winter outfit, and joined by her fellow Disney Princesses in Cinderella, Moana, Rapunzel, and Jasmine, who brought Aladdin with her, along with Anna and Elsa, with Minnie as captain alongside her crew of Mickey, Goofy, Donald, Pluto, Chip 'n' Dale, ride on the Disney Wish float in the 2021 Macy's Thanksgiving Day Parade with special guest singer Jordan Fisher as he sings "Together We Set Sail" to the crowd when they reach Herald Square on 34th Street, joined by backup dancers of either Cast Members or Macy's volunteers. During the journey from Central Park West to 34th Street, Tiana waved to the crowd and danced to the song as it played over the float's loudspeakers, adding that bit of Disney magic to the parade and putting smiles on the faces of all the adults and children in attendance as the threat of the SARS-CoV-2 virus and its mutations still loomed over NYC.
Printed media
Something Old, Something New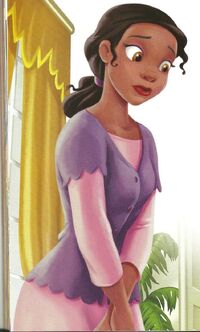 Centered around Tiana and Naveen's wedding, the entire town of New Orleans was prepared to celebrate the happy royal couple's lovingly, romantic mingling as beloved wife and husband. The King and Queen of Maldonia arrived on a ship and bestowed upon Tiana a few royal servants, who would prepare the festivities for her, much to Tiana's dismay. However, in secrecy so not to upset Naveen's parents, Tiana, Eudora, and Charlotte (who was given the role of the maid of honor) began preparing the wedding ceremony themselves, and the next day, the princess-to-be finally revealed her true feelings to her royal visitors, telling them she appreciates the help but would rather prepare things personally. The Queen of Maldonia visited Tiana afterward, and instead of being upset like the girl feared, she decided to bestow a gift for the wedding; the crown she wore the day she married the King.
The night before the big day, Tiana gazed into the stars in loving memory of her father, and the next morning, things were begun and was a dream come true for both Tiana and her prince.
One Magical Feast
In this story, Tiana and Naveen were preparing Tiana's Palace for the upcoming Christmas Eve feast. After handling the groceries and preparing the meals for the guests, Tiana took Naveen out into the bayou, teaching him of Papa Noel, an equivalent of Santa Claus. Afterward, they returned to the restaurant, where the party began. At the feast, a mysterious man arrived and was soon revealed to be Papa Noel himself.
A Hidden Gem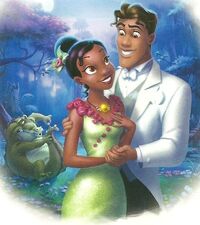 Here, Tiana is preparing for her upcoming birthday, and Naveen struggles to find her the perfect gift. During a talk, Tiana mentioned to Charlotte how she and her father would occasionally go into the bayou to find swamp amber, which was said to be the most precious things, in her opinion. More beautiful than any diamonds or pearls. Overhearing this, Naveen and Louis immediately rushed out into the bayou to find some. They encountered Mama Odie, hoping she could help them locate some swamp amber, but the woman told them to find it themselves.
Meanwhile, back the restaurant, Tiana's birthday bash had begun, but Naveen was nowhere in sight. Despite her mother and Charlotte's advice to remain calm, Tiana worried about the prince's safety and ran out to find him upon hearing he was last seen near a mossy tree in the bayou. There, Tiana witnessed Naveen take a dive into the murky waters to find the amber, where he ended up tangled in tree roots. Tiana dove down to save him. Once rescued, Naveen presented Tiana's birthday gift; swamp amber. The princess was overjoyed and the couple, as well as Louis, returned to Tiana's Palace. After arriving, Mama Odie grabbed hold of the mucky amber and worked her magic on it, transforming it into a shimmering necklace of beauty.
The Grand Opening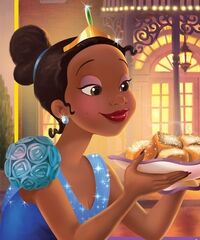 This story follows the events of the opening of Tiana's Palace. As Tiana and Naveen marveled the finishing touches on the former sugar mill, Charlotte arrived with a message, telling the royal couple Big Daddy arranged for Jono La Crème, a famous critic, to be a guest of the opening night for the restaurant. However, various problems begin to arise as the night continues forth. For one thing, Louis' trumpet goes missing, which renders the gator a broken wreck, feeling it's impossible to play any music without his particular trumpet. Later on, as the evening began, the lights from the chandelier blew out, leaving the restaurant in darkness.
Charlotte, Tiana's friend Georgette, and Eudora are able to re-lit the building with several candles, whilst Louis played music in order to keep the guests calm. Having become overwhelmed, Tiana begins to lose hope in having a perfect evening until Naveen arrives. He reminds her that all will be well, and considering how far she's come from her poor, yet humble backgrounds, now where the time to celebrate and rejoice, especially for the happiness of her father. Feeling better, Tiana heads back into the scene, preparing gumbo for Jono La Crème. Fortunately, his thoughts on Tiana's Palace are beyond successful, and the next day, Tiana is greeted with a wonderful review courtesy of Jono, sparking the eventual success of Tiana's dream come true.
Video games
Taking place after the events of the film, Tiana is in the process of opening her restaurant with her closest friends by her side to help and celebrate alongside her. Throughout the game, Tiana interacts with various characters from the film, revealing their current relationships, as well recapping some of the events from the movie, acting as the game's mini-games and playable levels. Throughout the game, it is revealed that Tiana has even made amends with former adversaries such as her former boss, Buford, and the frog hunters, Reggie, Darnell, and Two Fingers.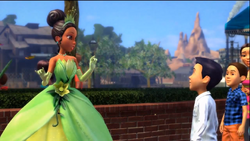 Tiana appears as a meet-and-greet character in New Orleans Square. She assigns a few tasks to the player, including asking for help with her restaurant.
At one point, Naveen secretly makes Tiana a native Maldonian dish and asks the player to serve it to her. Once the player makes the delivery, Tiana feels the need to add a special ingredient, so the player distracts Naveen while she does. Later on, Tiana's ingredients for her highly-popular gumbo have nearly run out, prompting Tiana to ask the player to find more of its ingredients.
She also participates in the Mickey's Soundsational Parade and Princess Fantasy Faire mini-games.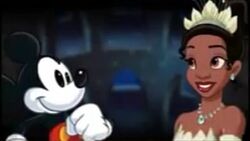 In the 3DS game, Tiana is one of the many still-popular Disney characters captured and placed inside the world of illusion by an evil witch known as Mizrabel who plans on stealing the essence of these famous Disney characters to become one herself and dominate their world. Tiana, along with Aurora, becomes trapped within the phony kingdom of Prince Eric. Fortunately, Tiana is eventually rescued by Mickey Mouse. Tiana originally believed it was Dr. Facilier who was behind the devious plot until the heroic mouse explains the situation and allows for Tiana to retreat to safety with the other rescued characters. However, before she departs, Tiana asks if Mickey could hurry and help her find her way home so she could help save Naveen, who was said to be in danger the longer she's in the illusion world.
It is revealed that, whilst in the Fortress (the safe haven for the other captive characters) Tiana decided to cook the others meals as they waited for Mickey to complete his mission. In the end, after Mizrabel's defeat, Tiana thanks Mickey for the rescue and heads back to New Orleans, commenting that she needs to help Naveen show the Shadow Man a thing or two.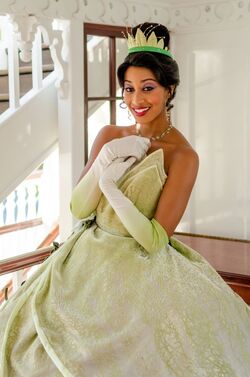 Tiana is a meetable character at the Disney parks, dressed in her "lilypad/flower" gown from the movie. She made her debut in the temporary 2009 boat show, Tiana's Showboat Jubilee in promotion for the film.
In California, Tiana makes meet-and-greet appearances in New Orleans Square.
Tiana also appears in Mickey's Soundsational Parade, within her own float, alongside Louis.
Near the end of Mickey and the Magical Map, Yen Sid's apprentice Mickey Mouse travels to New Orleans for one final adventure with Tiana and many other citizens as they perform "Dig a Little Deeper".
Animatronic versions of Tiana (as a human and frog) can also be seen in the Enchanted Window display along Main Street, U.S.A.
In Florida, Tiana makes appearances in Fantasmic! and Festival of Fantasy Parade.
For meet-and-greets, Tiana is currently available primarily at the Magic Kingdom's Princess Fairytale Hall.
Tiana plays a major role in Sorcerers of the Magic Kingdom. In Frontierland and Liberty Square, Doctor Facilier returns from his death via Hades and plans to turn Tiana back into a frog permanently as revenge for his demise. He kidnaps her and takes her to his parlor, where the park guests free her and allow her to escape. After Facilier is defeated, Tiana meets up with Mama Odie, Louis, and Merlin aboard the Liberty Square Riverboat to celebrate the guests' success. Tiana also has her own spell card known as "Tiana's Hot Sauce".
At the Disney's Port Orleans Resort, Tiana is the central character because of its ties to New Orleans between her film and the resort. A story was given to the resort after its refurbishment. Disney Princesses Snow White, Cinderella, Aurora, Ariel, Belle, Jasmine, and Rapunzel gathered together to grant gifts to Tiana. Some include carpets resembling the Magic Carpet from Jasmine, shower curtains with artwork of "dinglehoppers" and "snarfbalts" from Ariel, mirror frames with wood carvings of woodland creatures from Snow White and much more.
Daily, Tiana appears as one of Goofy's invited guests in Mickey's Royal Friendship Faire at the Magic Kingdom, dressed in a 1920s flapper dress. During her segment, she teaches Goofy how to dance to the rhythm of jazz.
Tiana plays a major role in the castle spectacular, Happily Ever After. She is the first Disney character to appear, and starts off the show by singing "Down in New Orleans" on the castle balcony. She appears a few times afterward, including the stain-glass finale; her image can be spotted at the highest point of the castle.
Although Tiana does not do meet-and-greet sessions in the resort, she appears alongside Naveen in the Tokyo DisneySea version of Fantasmic! as animated characters during the princess segment.
In Disneyland Paris, Tiana is found at the Princess Pavilion in Fantasyland. She holds a mask while enter The Starlit Princess Waltz at 25th Anniversary. Princesses hold fans and switch them and dance with Naveen and princes.
She appears in the show Mickey and the Wondrous Book, performed in Storybook Theater at Hong Kong Disneyland on November 17, 2015. Here, she performs renditions of "Almost There" and "Dig a Little Deeper". On November 20, 2020, she appeared with all the other princesses (in her regular dress) at the opening ceremony of the Castle of Magical Dreams. As well, she has made occasional appearances as a meetable character after the COVID-19 pandemic.
In Shanghai, Tiana's likeness is featured on the The Princess and the Frog mosaic mural in Enchanted Storybook Castle, as well as one of the castle's walls carving displays. She also appears during the finale of Ignite the Dream. As well, she has made meetable appearances since 2021.
In Believe, Tiana, Naveen, Charlotte, and several New Orleans residents assist Mama Odie in her job to help a stiff father believe in magic. In the show, Tiana performs "Dig a Little Deeper" and "Gonna Take You There".
Tiana also has a restaurant in her honor; appropriately named Tiana's Place aboard the Disney Wonder. When she makes appearances, she dons her outfit featured in "Almost There" and engages in meet-and-greets with guests.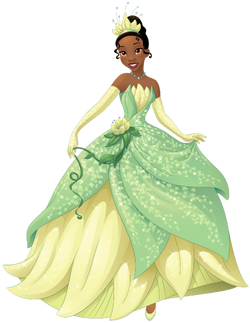 Tiana was officially welcomed into the Disney Princess Royal Court on March 14, 2010, to coincide with the Blu-ray and DVD release of The Princess and the Frog. The coronation event took place in The New York Palace, in New York City. Joining the festivities were the original eight Disney Princesses, as well as Prince Naveen.
A similar event in the Magic Kingdom park at Walt Disney World also took place, welcoming Tiana into the massive group of Disney characters in front of Cinderella Castle.
Redesign
The only major change Tiana received in the Disney Princess redesign is that there are two more wavy strands of hair by her face. Her dress has not changed except that glittery designs of reeds have been added.
Tiana's Palace Pets are Lily, Bayou, Birdadette, and Olive.
Differences from the source material
Tiana is an original character for Disney, going on a unique, originally written adventure, though she was partly inspired by E. D. Baker's 2002 novel The Frog Princess, and the original fairy tale "The Frog Prince". Of course, Disney enacted some changes to make the story their own.
The heroine is already a princess and triggers the frog prince's shapeshifting by tossing him against her bedroom wall. In later adaptations, it was changed to into a kiss.
The frog prince and the princess met at a well that lay under an old linden tree deep in a great dark wood near the castle.
An exchange was made if the frog retrieved the princess' golden ball that fell into the well, that being if he would be loved as a companion and playfellow and sit at the table to dine with the princess and eat from her plate and drink from her cup and sleep on her bed.
The princess doesn't have a dream to fulfill.
She had four older sisters.
No mother is mentioned, but only the father who is the king.
The enchanted prince has a servant named Henry who travels to the castle of the princess who has married the disenchanted prince to escort them back to the kingdom of the prince's father.
The Frog Princess by E. D. Baker
Rather than marrying into royalty, the main character Emmeralda (nicknamed Emma) was born the princess of the fictional Greater Greensward.
Emma's transformation into a frog when she kissed the prince, named Eadric, was caused by a magical charm bracelet given to her by her aunt. Similarly, they both regain their human forms by kissing each other again while she is wearing it.
Emma and Eadric do not marry until a later installment in the book series.
Unlike Tiana, who was known for her strong work ethic, Emma was clumsy, socially awkward, and dissatisfied with her life as a princess, particularly an upcoming arranged marriage to a prince from another land. She also could practice magic, although this skill of hers was not fully developed until the later books.
Relationships
Gallery
Trivia
Tiana is (to date) the only Disney Princess to have her father dead and her mother alive; it is typically the other way around.
Her name 'Tiana' is of Slavic origin that means "fairy queen".
Tiana is the first Disney Princess to defeat her film's villain, Dr. Facilier.
During her quest to own her business, it is a notable trend that the male characters in the movie constantly undermine and demean Tiana to become a successful female entrepreneur.
Tiana as the protagonist is present and relevant for almost the entire film, but her screen time as a human was limited to about 19 minutes.
Tiana is left-handed (like her voice actress is). However, despite being left-handed, Tiana is showing signing a paper with her right hand in her fantasy during the "Almost There" number, but this is likely just a goof.
Tiana's story is immensely inspired by the life of Leah Chase. Chase is a highly-respected, African American chef in New Orleans. She is known as the Queen of Creole Cuisine. Chase even contributed recipes to "Tiana's Cookbook" that was released after the film.
Tiana is one of five Disney Princesses who do not have a sequel to their film. The other four are Snow White, Aurora, Merida, and Moana.
Tiana is the Disney Princess seen wearing the most outfits. In total, she wore 11 on different occasions in her debut film (10 if you don't count the dress she wore as a child).
Several other African American celebrities wanted the role of Tiana before Anika Noni Rose was cast, including model and television personality Tyra Banks, singer-songwriter Alicia Keys and recording artist Jennifer Hudson (Hudson would later pose as Tiana in the Disney Dream Portrait Series).

Beyoncé was also under consideration for Tiana; notably she, Anika and Jennifer all starred together in the 2006 film adaptation of the musical Dreamgirls.

In the first act of the film, Tiana's clothes are mostly in dull subdued colors, symbolizing her overly serious workaholic personality. After she's turned into a frog, she slowly learns to lighten up and live life to the fullest. After she returns to her human form, Tiana's clothes become noticeably brighter, mirroring her change of heart.
For much of the film, Naveen calls Tiana "Princess" and later "Waitress", symbolizing his objectification of women as a whole. He doesn't call her by her real name until after the song 'Ma Belle Evangeline', when he starts to fall in love with her.
She is the first Disney princess to be proposed to on screen in the film, unlike the other princesses as they only kiss their love interests and then get married. The second Disney couple to do this is in Frozen II when Kristoff proposes to Anna.
Tiana didn't go to college, but she is the only Disney Princess with an actual job that makes money. What's more, the fact that she doesn't trust banks, which explains why she never attempted to get the loan from the bank to open her restaurant and keeps her money in jars seems ironic considering the Great Depression occurred only a few years later.
She is also the only princess with a wedding ring.
Tiana and Naveen kiss each other five times in the film, more than any other couple in a Disney princess movie.
The streetcar Tiana takes to work, during an early scene, is labeled with the number "A113". A113 was the room for the animation department at the California Institute of the Arts (CalArts; the room now houses graphic design classes). During the 1970s, directors John Musker and Ron Clements, in addition to Disney/Pixar animation executive John Lasseter and Pixar director Brad Bird, studied animation in room A113. "A113" labels are hidden in Disney and Pixar films.
According to Disneystrology, her birthday would be on December 25th.
On the Disney Princess line-up, Tiana is franchised with her green bayou wedding gown, but without the veil.
Tiana along with Elsa, Daisy Duck and Meg is one of the few Disney heroines to sport eye shadow.
Tiana is the first African American character and princess to make appearances at Disney theme parks.
Tiana is currently the last Princess shown in traditional, hand-drawn animation.
Since launching her restaurant Tiana's Palace, she is the only Disney royal with a legitimate business prior to her marriage to Naveen.
Prior to the release of Ralph Breaks the Internet, there was some controversy regarding Tiana's redesign, specifically her lightened skin tone and sharper features. In response, Tiana's scenes in the film were reanimated so that she more closely resembled her original depiction.[3]
Tiana makes a mistake in saying, "There is no way I am kissing a frog and eating a bug on the same day," because she says that on the day after she kissed Naveen. However, if she kissed Naveen at the party after midnight then her statement about both events happening on the same day would be correct.
Tiana will be the first Princess to have a film and TV series to be both produced by Walt Disney Animation Studios.

Additionally, Tiana will be the fifth Disney Princess to have her own TV series.

The blue dress Charlotte lends Tiana at the masquerade ball bears a striking resemblance to the ballgown worn by the titular character in Rodgers & Hammerstein's Cinderella.
References
External links
v - e - d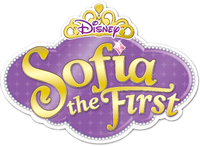 Characters
Princess Sofia • Queen Miranda • King Roland II • Prince James • Princess Amber • Princess Hildegard • Cedric the Sorcerer • Wormwood • Baileywick • Robin • Mia • Clover • Whatnaught • Goodwyn the Great • Winifred the Wise • Jade • Ruby Hanshaw • Princess Clio • Prince Zandar • Princess Jun • Prince Hugo • Minimus • Princess Vivian • Crackle • King Marcus and Queen Cecily • Trolls• Lucinda • Prince Jin • Magic Carpet • Jasper • Prince Khalid • Meg and Peg • Madam Ubetcha • Prince Desmond • Miss Nettle • Sir Gillium • Professor Popov • Helen Hanshaw • Oona • Queen Emmaline • Cora • Plank • Aunt Tilly • Wilbur the Wombeast • Sven • Emperor Quon • Empress Lin-Lin • Rex • Prince Axel • King Garrick • Electra • Vaughan and Vance • Marla • Sir Bartleby • Sir Maxwell • Sir Finnegan • Gwen • Chef Andre • Sofia the Worst • Lady Joy • Lord Gilbert • Wu-Chang • Jade Jaguar • Sir Dax • Boo • Princess Lani • Mamanu • Kamea and Halia • Praline • Freedo • Princess Zooey • Princess Astrid • Slickwell • Greylock the Grand • Princess Ivy • Dragons of Enchancia • Winter • Whiskers • Glacia the Ice Witch • Elliot, Amy, and Kurt • Tizzy • Master Erwin • Bryce Twigley • Button, Benngee, and Brody • Mossy • Carol of the Arrow • Jane • Princess Kari • Miss Elodie • Fluke • Slim • Shelly • Flip • Mantacorn • Onyx and Opal • Wendell Fidget • Mrs. Fidget • Saffron • Muck, Gunk, and Grime • Spruce • Ballerina • Mazzimo • Prince Roderick • Gavin • Kazeem • Sergeant Fizz • King Habib and Queen Farnaz • Chief Gnuckles • Flinch • Grotta • Elfonso • Elfred • Milo the Snake • King Henrik • Cordelia the Conjuror • Calista • Morgana • Crispy • Barley • Sassofras • Professor Zacharias Fleeber • Grand Mum • Gemina and Argus • Count Barnstorm • Sir Oliver • Sir Jaxon • Willawing • Kai • Princess Charlotte • Morris • Zinessa • King Philip and Queen Everly • Lily • Indigo • Marty and Maple • Mandy • Grimtrix • Wriggley, Pumpkin, and Chester • Skye • Piccolo • Baron Von Rocha • Professor Pecullian • Sea Monsters • Malachite and Fig • Omar • Prisma • Azurine • Orion • Vega • Chrysta • Sizzle • Cinder • Singe • Mare of the Mist • King Roland I • Roma • Giggling Goblin • Captain Quivers • Twitch • Vor • Nerissa


Elena of Avalor: Princess Elena • Princess Isabel • Francisco • Luisa • Shuriki • Alacazar • Zuzo • Mateo • Migs, Luna, and Skylar • Rafa • Chancellor Esteban • Armando • King Raul and Queen Lucia • Naomi Turner
Guest Characters: Flora, Fauna, and Merryweather • Cinderella • Jasmine • Magic Carpet • Belle • Ariel • Aurora • Snow White • Mulan • Rapunzel • Tiana • Merida • Olaf • Merlin • Archimedes
v - e - d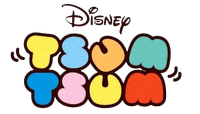 Disney
Mickey & Friends:

Mickey • Minnie • Donald • Daisy • Goofy • Pluto • Chip and Dale • Oswald • Ortensia • Duffy • ShellieMay • Gelatoni • StellaLou • CookieAnn • 'Olu Mel • Huey, Dewey, and Louie • José Carioca • Panchito Pistoles • Clarabelle Cow • Horace Horsecollar • Max Goof • Clarice • Pete • Scrooge McDuck • Ludwig Von Drake • Dr. Frankenollie • Julius

Pooh and Pals: Pooh • Tigger • Piglet • Eeyore • Rabbit • Owl • Roo • Kanga • Gopher • Christopher Robin • Lumpy
Lilo & Stitch: Stitch • Lilo • Scrump • Pleakley • Jumba • Angel • Leroy • Dr. Hämsterviel • Ugly Duckling • Sparky • 627 • Gigi • Babyfier • Yang • Slushy • Shortstuff • 625 • Amnesio • Dupe • Sample • Clip • Tank • Yin • Hunkahunka • Plasmoid
Silly Symphonies: Donald Duck • Big Bad Wolf • Practical Pig • Fiddler Pig • Fifer Pig • Ugly Duckling
Snow White and the Seven Dwarfs: Snow White • Evil Queen • Doc • Grumpy • Happy • Bashful • Sneezy • Sleepy • Dopey
Pinocchio: Pinocchio • Jiminy Cricket • Figaro • Cleo • Geppetto • Blue Fairy • Honest John and Gideon • Lampwick • Monstro
Fantasia: Mickey • Yen Sid • Chernabog • Hyacinth Hippo • Ben Ali Gator
Dumbo: Dumbo
Bambi: Bambi • Thumper • Miss Bunny • Friend Owl • The Great Prince of the Forest
The Three Caballeros: Gauchito • Burrito
The Adventures of Ichabod and Mr. Toad: Mr. Toad
Cinderella: Cinderella • Jaq and Gus • Prince Charming • Fairy Godmother • Lady Tremaine • Lucifer • Suzy • Perla • Bruno
Alice in Wonderland: Alice • Mad Hatter • March Hare • Dormouse • White Rabbit • Cheshire Cat • Tweedle Dum and Tweedle Dee • Queen of Hearts • King of Hearts • Caterpillar • Dinah • Oysters
Peter Pan: Peter Pan • Tinker Bell • Wendy Darling • John Darling • Michael Darling • Captain Hook • Mr Smee • Nana • Tick Tock • Tiger Lily
Lady and the Tramp: Lady • Tramp • Si and Am • Jock • Trusty • Peg
Sleeping Beauty: Aurora • Phillip • Maleficent • Flora • Fauna • Merryweather • Diablo • Samson • King Stefan • Goon • Owl • Rabbit
Mary Poppins: Mary Poppins • Bert • Penguin Waiter • Carousel Horse
One Hundred and One Dalmatians: Cruella De Vil • Lucky • Patch • Rolly
The Jungle Book: Mowgli • Baloo • Bagheera • Shere Khan • Kaa • King Louie • Hathi, Jr. • Raksha
Pete's Dragon: Elliott
The Fox and the Hound: Tod • Copper
The Aristocats: Marie • Berlioz • Toulouse • Duchess • Thomas O'Malley
The Rescuers: Bernard • Bianca
Oliver & Company: Oliver • Dodger • Tito • Rita • Francis • Einstein
The Little Mermaid: Ariel • Flounder • Sebastian • Eric • Ursula • Triton • Max • Scuttle
Beauty and the Beast: Belle • Beast • Lumiere • Cogsworth • Mrs. Potts • Chip • Maurice • Philippe • Gaston • LeFou
Aladdin: Aladdin • Abu • Genie • Jasmine • Jafar • Sultan • Iago • Rajah
The Nightmare Before Christmas: Jack Skellington • Sally • Zero • Lock, Shock, and Barrel • Oogie Boogie • Dr. Finkelstein • Mayor of Halloween Town • Santa Claus
The Lion King: Simba • Nala • Timon • Pumbaa • Zazu • Rafiki • Scar • Ed
Pocahontas: Pocahontas • John Smith • Meeko • Flit • Percy
Hercules: Hercules • Megara • Hades
Mulan: Mulan • Li Shang • Mushu • Fa Zhou • Khan
The Emperor's New Groove: Kuzco • Yzma • Kronk
Mickey, Donald, Goofy: The Three Musketeers: Mickey Mouse • Minnie Mouse • Donald Duck • Goofy
Chicken Little: Chicken Little
The Princess and the Frog: Tiana • Dr. Facilier
Tangled: Rapunzel • Flynn Rider • Pascal • Maximus • Mother Gothel • Queen Arianna • King Frederic • Cassandra • Fidella • Pub Thug
Wreck-It Ralph: Wreck-It Ralph • Fix-It Felix Jr.
Frozen: Anna • Elsa • Olaf • Kristoff • Sven • Hans • Snowgies • Bruni
Big Hero 6: Hiro • Baymax • Fred • Wasabi • Honey Lemon • Go Go Tomago • Tadashi Hamada • Yokai • Mochi
Zootopia: Judy Hopps • Nick Wilde • Mayor Lionheart • Flash • Yax • Gazelle • Chief Bogo • Clawhauser • Finnick • Mr. Big • Bellwether • Jerry Jumbeaux Jr.
Moana: Moana • Maui • Pua • Heihei • Tamatoa • Kakamora
Chip 'n Dale Rescue Rangers: Chip • Dale • Gadget • Monterey Jack
Phineas and Ferb: Perry
The Lion Guard: Kion • Ono • Bunga • Beshte • Fuli
DuckTales (2017): Scrooge McDuck • Huey, Dewey, and Louie • Webby Vanderquack
Kingdom Hearts: Sora • Riku • Kairi • Aqua • Xemnas • Ansem, Seeker of Darkness • Ventus • Terra • Chirithy • Lea • Young Xehanort
UniBEARsity: Mocha • Pudding • Whip • Puffy • Mont • Blanc • Souffle • Blue Rose • Charmant • Portiron • Rogue Rose • Fauve • Lucien • Horloge • La Mer • Ma Puce
Sofia the First: Sofia • Minimus • Skye
Elena of Avalor: Elena
Enchanted: Giselle
Disney Fairies: Periwinkle • Rosetta • Silvermist
The Sword in the Stone: Wart • Merlin
Oliver & Company: Oliver
Raya and the Last Dragon: Raya • Sisu
Twisted Wonderland: Grim • Riddle Rosehearts • Azul Ashengrotto • Leona Kingscholar • Kalim Al-Asim • Vil Schoenheit • Idia Shroud • Malleus Draconia • Dire Crowley • Mirror of Darkness