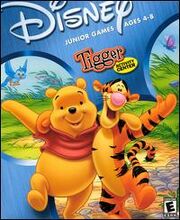 Tigger's: Activity Center
is a PC game on March
2001
.
Description
Designed for children ages 4–8, Disney's Tigger Activity Center lets players control either Tigger or Pooh in five activities located in the 100-Acre Woods. Two of the activities, Tigger's Bushels of Fun and Travels with Tigger, offer two-player action, while the former, along with Turtle Hurdles, feature three difficulty levels. Activities are designed to promote logic and pattern recognition, music appreciation, and coordination skills (using the mouse for point-and-click actions). Specific activities include sequencing colors and object placement in Turtle Hurdles, sorting vegetables in Tigger's Bushels of Fun, and a race between Tigger and Pooh through the 100-Acre Woods using a "spinner" in Tigger's Travels. Spot the Dot is a connect-the-dot activity in which Tigger must complete paintings provided by Christopher Robin, while Tiggerific Tunes involves creating songs using color-coded notes and a variety of instruments. Pictures completed in Spot the Dot can be printed in either line art form for offline coloring or a fully finished color version.
Disney's Tigger's Activity Center offers kids the opportunity to hang out with Tigger and his friends in a variety of locations around the 100 Acre Wood. Five challenging and exciting activities will provide fun and sharpen problem-solving skills. Some of the activities are multilevel, providing a continuing challenge as the user's skill level rises. There are both single- and multiple-player modes for two of the activities.
Five activities designed for kids in the 4-8 age range
Activities include logic, pattern recognition, and music appreciation
Adventure through the hundred-acre wood with Tigger, Pooh, and Christopher Robin
Disney's Tigger Activity Center features characters from the Winnie the Pooh universe and includes five activities that focus on certain educational aspects. This title is akin to other Disney Interactive educational products with voice actors, colorful animation, and a hub where the activities are chosen.
Community content is available under
CC-BY-SA
unless otherwise noted.