House of the Dragon Trailer - The Loop
Play Sound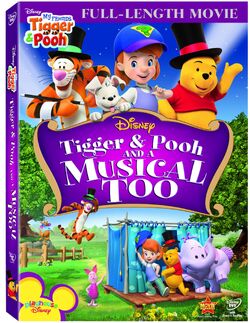 Tigger & Pooh and a Musical Too is a direct-to-video film that was released on April 7, 2009 on DVD and originally broadcast on television on the Disney Channel's Playhouse Disney block just four days later on April 11, 2009. The film was directed by David Hartman and written by Nicole Dubuc, Brian Hohlfeld, with a story by Brian Hohlfeld, story-edited by Nicole Dubuc. It is a musical focused on Tigger and Rabbit having an argument that leads them to split the Hundred Acre Wood into two sides and declare themselves mayors of their respective sides.
Story
After Rabbit organizes a fun picnic in the Hundred Acre Wood, his friends decide to express their appreciation for him by giving him the title of mayor of the Hundred Acre Wood. Rabbit is greatly honored, but quickly lets power go to his head and puts a restrictive set of new rules in place for the Wood that include putting Pooh on a strict diet and greatly limiting the amount of time that Tigger is allowed to bounce. Tigger quickly becomes annoyed by all of the new rules and declares that he would be a better mayor.
To try to prove their points, Tigger and Rabbit get Beaver to draw a big white line dividing the Hundred Acre Wood and order everyone except Darby and Buster (whom they consider guests in the Wood) to take sides. This quickly becomes a problem for those that live in particular areas and also creates an obstacle for Tigger & Pooh in their duties as Super Sleuths, for they have to cross over to Rabbit's side of the Wood to use the Changing Tree, but they don't have the needed password.
Everyone soon becomes fed up with the new rules, especially Roo and Lumpy who find it difficult to play with each other because they are trapped on opposite sides. Darby decides that it's time to do something about the problem and hatches a plan to bring everyone together by pretending that Buster has become lost in a dark cave. The plan works and Rabbit admits that he went overboard and that it would be best for the Hundred Acre Wood to be united.
Characters
Only the first six characters are credited by character name, for all others, only the names of the voice actors are shown.
Dialogue Director - Ginny McSwain
Crew
Executive Producer - Brian Hohlfeld
Directed by David Hartman
Written by Nicole Dubuc and Brian Hohlfeld
Story by Brian Hohlfeld
Story-edited by Nicole Dubuc.
Line Producer - Angi Dyste
Storyboard - Kurt Anderson, Holly Forsyth, Sharon Forward, Robert Griffith, Ken Laramay, Jay Oliva
Production Manager - Craig Simpson
Film Editor - Jhoanne Reyes
Produced by Walt Disney Television Animation
Songs and Music
The film's instrumental score was composed by Andy Sturmer
The music and songs were released, though only digitally, on the MP3 album Tigger & Pooh and a Musical Too.
Reception
Fans of My Friends Tigger & Pooh generally reacted favorably to this release. The film has an average rating of four stars on Amazon.com with a total of 15 reviews, with only one review rating the film less than four stars posted after its release. Viewers were impressed that the film engaged the interest of kids while also providing a strong storyline that would please adult viewers as well.
Fast Facts
Length: 60 Minutes
U.S. DVD Release Date: April 7, 2009 (1.78:1)
U.S. TV Premiere Date: April 11, 2009 (1.33:1)
Tagline: A Singin', Dancin', FUN-tastic Pooh Classic!
The DVD release includes three options for watching the film-- a sing along option, easy play and active play with your remote.
Bonus Features include Rabbit's "Think, Think, Think Theatre Game" and a Kenny Loggins music video of the song "Underneath the Same Sky"
The role of the Darby character is minimal in this film compared to most My Friends Tigger & Pooh stories, allowing more room for a focus on other characters.
A digital soundtrack of the film is available through iTunes. The songs are also available for individual purchase on Amazon.com.
The DVD release includes a protective slipcover.
The U.S. DVD release includes English, French and Spanish audiotracks, which include all songs from the film in those languages, with the exception that the end credits song, "Together Again," is not provided in French.
In the U.K. this film released on DVD with Kimberlea Berg as Darby one day before the U.S. DVD release date.
Part of the Disney Movie Rewards program-- entering the code found with the film earns 100 points.
More to Explore
Gallery
v - e - d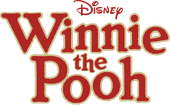 Songs
Movie Songs
Winnie the Pooh and the Honey Tree: "Winnie the Pooh" • "Up, Down, Touch the Ground" • "Rumbly in My Tumbly" • "Little Black Rain Cloud" • "Mind Over Matter"
Winnie the Pooh and the Blustery Day: "A Rather Blustery Day" • "The Wonderful Thing About Tiggers" • "Heffalumps and Woozles" • "Rain, Rain, Rain Came Down, Down, Down" • "Hip-Hip-Hooray!"
Boo to You Too! Winnie the Pooh: "I Am Not Afraid" • "I Wanna Scare Myself"
Pooh's Grand Adventure: The Search for Christopher Robin: "Forever & Ever" • "Adventure is a Wonderful Thing" • "If It Says So" • "Wherever You Are" • "Everything is Right"
The Many Songs of Winnie the Pooh: "It Really Was a Woozle, Yes it Was"
Sing a Song with Pooh Bear: "Kanga Roo Hop" • "You're the One and Only One" • "Harvest What You Grow" • "My Song"
Winnie the Pooh: A Valentine for You: "Girls are Like Boys" • "When the Love Bug Bites" • "Places in the Heart"
Winnie the Pooh: A Very Merry Pooh Year: "Jingle Bells" • "Snow Snows" • "Merry Pooh Year" • "Hunny, Not for Me" • "Auld Lang Syne"
The Tigger Movie: "Someone Like Me" • "Whoop-de-Dooper Bounce" • "Lull-a-Bee" • "Round My Family Tree" • "How to Be a Tigger" • "Your Heart Will Lead You Home"
Piglet's Big Movie: "If I Wasn't So Small" • "A Mother's Intuition" • "With a Few Good Friends" • "Sing-Ho (For the Life of a Bear)" • "The More It Snows (Tiddely-Pom)" • "The More I Look Inside" • "Comforting to Know"
Springtime With Roo: "We're Huntin' Eggs Today" • "Sniffley Sniff" • "Easter Day With You" • "The Way It Must Be Done"
Pooh's Heffalump Movie: "Little Mr. Roo" • "The Horribly Hazardous Heffalumps" • "The Name Game" • "Shoulder to Shoulder" • "In the Name of the Hundred Acre Wood/What Do You Do?"
Pooh's Heffalump Halloween Movie: "Trick 'R Treating With Our Friends" • "Brave Together"
Winnie the Pooh: "The Tummy Song" • "A Very Important Thing to Do" • "The Winner Song" • "The Backson Song" • "It's Gonna Be Great" • "Everything is Honey" • "Pooh's Finale"
Christopher Robin: "Goodbye, Farewell" • "Busy Doing Nothing" • "Christopher Robin"
Television Songs
Welcome to Pooh Corner: "Welcome to Pooh Corner Theme Song" • "Try a Little Something New" • "The Right Side" • "Yes, I Can" • "You're the Only You" • "I Hum to Myself" • "Please and Thank You" • "Responsible Persons" • "Welcome to Pooh Corner Ending Theme"
The New Adventures of Winnie the Pooh: "Pooh Bear" • "'Cause It's Make Believe" • "The Floating Song" • "Nothing's Too Good for a Friend" • "Under the Bed" • "I Don't Have A Name" • "King of the Beasties" • "The End" • "Pirates is What We'll Be" • "Tigger, the Private Ear is Here"
The Book of Pooh: "Everyone Knows He's Winnie the Pooh" • "Goodbye for Now" • "Your Best Wishes" • "On the Double" • "Who is Me" • "Think, Think, Think" • "What Piglets Are" • "I Watch for Signs" • "We're Making a Cake" • "If I Could Be Big" • "Isn't That Funny?" • "Everyone Wants a Valentine" • "That's What We Do" • "Keep it Simple" • "Have You Got a Book For Me?" • "Give It a Try" • "On Your Way Back Home" • "The Birdbird Song" • "Nightmare Wranglers" • "Carry On" • "What's Your Name, River" • "Where Do Words Go?" • "Under a Spelling Bee's Spell" • "Adventure" • "Mental Altitude" • "I Want to Know Everything Now" • "Happy Tailiversary" • "Get Growin'" • "Tigger's Lullaby" • "Perfect Party" • "If We Were Talkin'" • "Someone New to Meet" • "My Hero" • "Broken Friendships" • "Do the Roo" • "Call Me Buck-a-Roo" • "At Chez Piglet" • "Nothing Ever Happens" • "Too Much Honey" • "Lost in a Book"
My Friends Tigger and Pooh: "A Few Simple Rules" • "Bouncin'" • "The Grass is Greenier" • "The Password Song" • "Underneath the Same Sky" • "One Big Happy Family" • "Think, Think, Think" • "The Question Song" • "Floating in a Cloud" • "Different Can Be Good" • "The Little Things You Do" • "There's a Party" • "No More Fun In the Snow" • "Butterflies" • "What Makes a Pony a Pony" • "When We Work Together" • "Christmas Comes Tomorrow" • "Time to Go (On a Trek Through the Snow)" • "Snowman Song"
Miscellaneous: "Luv-a-bye" • "Playtime Song" • "Learning Song" • "Friendship Song"