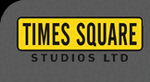 Times Square Studios (TSS) is an American television studio located in the Times Square neighborhood of the Manhattan borough of New York City, New York City. The studio is best known as the production home of ABC News' Good Morning America (GMA), a morning news and talk program and segments for GMA on ABC News Now.
Background
Times Square Studios is owned by the Walt Disney Company, a media and entertainment conglomerate, which also owns ABC. It was designed by Walt Disney Imagineering, Disney's design and development arm. The original concept for the studio was conceived by Harry Grossman. His plan called for the studio to broadcast many shows twenty-four hours a day for both Disney-owned and non-Disney programs.
The building's outer facade consists of over 9 LED ribbons of lights. The 8th LED ribbon of lights from the top is used as a ticker for ABC News, while the 9th is a sports ticker for ESPN. Also on the facade is a large TV display made by Mitsubishi - Diamond Vision despite the visual that states Siemens. This screen mainly broadcasts the late SportsCenter, along with WABC-TV and ABC News newscasts during non-GMA hours, along with high-profile sports events, series and films on the ABC and ESPN family of networks for both the convenience of Times Square visitors and to provide a simple venue for crowd photo ops for those high-profile events.
The studio is primarily used for productions of ABC News. When Good Morning America is not on the air, the studios have been used regularly to produce programming (such as special week-long New York weeks for international morning shows) for other companies including:
Australia Network
BBC World News
Cartoon Network
Discovery Channel
CCTV-4
CCTV News
DW-TV North America
CNN International
ESPN
France 24
Formosa TV
GMA Pinoy TV
HBO
KBS World
NHK World Television
Nine Network Australia
Rai Italia 1
Rossiya 24
RT America
RTP Internacional
RTR Planeta
SIC Internacional
The Filipino Channel
TVB1
TVB2
TVBe
TVE Internacional
TV5MONDE États-Unis
The core management staff is Jeff Hartnett, Robert Agnello and Maura Hayes.
The studio's site is the former National Theater and Beefsteak Charlie's.
Productions at Times Square Studios
Good Morning America — an ABC News morning news and talk program
Nightline — an ABC News late-night news program
Dick Clark's New Year's Rockin' Eve with Ryan Seacrest (Times Square segments) — a television program that airs every New Year's Eve on ABC
ABC Vote '08: Election Night — ABC News' coverage of the 2008 U.S. presidential election
ABC 2000: The Vote — ABC News' coverage of the 2000 U.S. presidential election
ABC 2000 Today — ABC News' coverage of the turn of the millennium from December 31, 1999, into January 1, 2000
Good Afternoon America - an ABC news afternoon news and talk program
Previous Productions at Times Square Studios
20/20 — an ABC News television-newsmagazine program
Primetime — an ABC News television-newsmagazine program
Geraldo (1987-1989)
Great Getaway Game (1990-1991) - the only game show ever produced for the Travel Channel
| | |
| --- | --- |
| | This page uses content from the English Wikipedia. The article or pieces of the original article was at Times Square Studios. The list of authors can be seen in the page history. As with Disney Wiki, the text of Wikipedia is available under the GNU Free Documentation License. |
Community content is available under
CC-BY-SA
unless otherwise noted.