This article is about the television series. For the House of Mouse episode, see "Timon and Pumbaa".
The Lion King's Timon & Pumbaa, often simply referred to as Timon & Pumbaa, is an American animated television series made by the Walt Disney Company, which ran from September 8, 1995 to September 24, 1999. It is a spin-off to the 1994 Disney animated feature film, The Lion King, as it centers on Timon the meerkat and Pumbaa the warthog, as they live their problem-free philosophy, Hakuna Matata.
The show ran for three seasons, with the first two seasons debuting simultaneously on The Disney Afternoon and CBS in the United States and on BBS in Canada, and the third season debuting on Toon Disney on January 1, 1999.
Premise
The show stars Timon and Pumbaa, both characters from the film, The Lion King. Taking place after the events of the film, the characters are normally seen having misadventures in the jungle and across the globe in various settings.
Background Information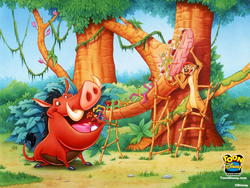 The show notably has several different voice actors from the films. Nathan Lane and Ernie Sabella reprised their roles as the titular characters, respectively. Both actors were featured early in the television show; however, Lane is not the only voice actor who played his respective role. The role was also played by Quinton Flynn, in some episodes, and Kevin Schon, in most episodes. Jim Cummings and Robert Guillaume also reprised their roles as Ed and Rafiki. However, Matthew Broderick, Rowan Atkinson, and Whoopi Goldberg and Cheech Marin did not return for the show, and were all replaced by Cam Clarke, Michael Gough, and Tress MacNeille and Rob Paulsen.
During the final season (1998), there was a change in writers and a new director, which seems to have lead to the show being cancelled by Disney in 1998 (Disney's purchase of ABC in 1996 may have also been a factor in the cancellation).
In 2012, the show began airing on the Disney Junior block on Disney Channel as well as the Disney Junior channel. As of 2014, reruns of the series were removed from the Disney Junior channel. However, only several select episodes are shown, and some episodes are also abruptly edited.
This show currently airs on:
Characters
From the 1994 film
Supporting characters
Villains and antagonists
Episodes
Main article: Timon & Pumbaa episode list
Home video releases
Main article: Timon & Pumbaa videography
Trivia
Unlike the Lion King movies, which are already out on DVD, this TV show has only appeared on VHS, and has for a time faded from existence shortly afterwards in terms of official airings. However, as of 2019, the show has since been made available on the Disney+ streaming service.
The Lion King serves as the backdoor pilot for this show.
The series is the first installment in the Lion King franchise to feature onscreen appearances by humans.
This was the first animated series by Walt Disney Television Animation to be co-produced overseas with Rough Draft Korea.
External links