The Tin Woodman (also known as the Tin Man or the Tin Woodsman) is a man who was turned into a being made entirely of tin and resides in the Land of Oz. He is one of Dorothy Gale's companions in L. Frank Baum's novel The Wonderful Wizard of Oz.
Appearances in Oz media produced by Disney
The Tin Woodman does not appear in Oz the Great and Powerful, but his creator, the Master Tinker, appears.
After Dorothy returned home to Kansas in Return to Oz, the Tin Woodman had been turned into stone by the Nome King, but thankfully Dorothy defeats him and restores the Tin Woodman to his regular form. Among many other Ozians, he celebrates Dorothy's victory and witnesses the return of Oz's true ruler, Ozma. He also says goodbye to Dorothy when she departs but knows that she can return anytime if she wants.
Appearances in other Disney media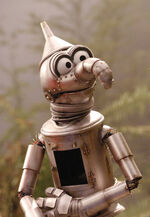 In The Muppets' Wizard of Oz, Gonzo plays a character called the Tin Thing, an obvious spoof of the Tin Woodman. Like the story, he was turned into a robotic, computerized being without a heart by the Wicked Witch so that he could not love Camilla. Despite the handicap, he proves to be a useful companion to Dorothy and the others, showing great friendship throughout.
The Tin Woodman made a brief cameo in the Phineas and Ferb episode "Wizard of Odd". However, Candace Flynn, in the Dorothy role, quickly ignores him in favor of the talking tree played by Jeremy Johnson.
In the Mickey Mouse Clubhouse episode "The Wizard of Dizz", the Tin Woodman is portrayed by Mickey Mouse.
The Tin Woodman made a brief cameo in the show. When Robin of Locksley meets Will Scarlet in the Land of Oz, the Tin Woodman rests along the Yellow Brick Road nearby. He appears again in the episode "Where Bluebirds Fly".
Gallery
External Links