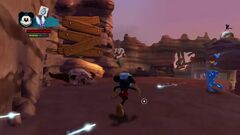 Tints are blue primal guardians in Epic Mickey that appear whenever Mickey Mouse uses Paint. They are attracted to Mickey when he gets near them and float around him as they await his command. The Tints can show Mickey which direction he needs to go and can also turn Blotlings into friends instantly. However, tougher enemies tend to need more Tints (Slobbers need two, for example).
The Tints resemble glowing blue balls with a light blue trail made of Paint for a tail. They will always show you the good way. You can attract Tints by using Paint and making good choices. These guardians exist to help you using the good way. If you want the Tints to show you where to go next, hold the Wii-mote upright. They will charge themselves and then leave a glowing trail around the area where you should go next. When you want the Tints to befriend enemies, shake the Nunchuk up and down to send a single Tint towards the enemy. If you want to unleash all your guardians, flick the Wii remote and the Nunchuk up and down.
See also
Community content is available under
CC-BY-SA
unless otherwise noted.