"To Catch a Hiccup" is the second segment of the first episode of second season of The New Adventures of Winnie the Pooh made by Walt Disney Television Animation. It originally aired on September 9, 1989.
Plot
Piglet is humming happily. He's inviting Pooh for a friendship lunch. Pooh wants to give a best friend gift (honey) to Piglet. But Piglet has the hiccups and can't say so and then, when Pooh came, he heard a something and he thought that there was something in his red shirt. But Pooh thinks it's a game. And Piglet bounces all over with the hiccups. Pooh thinks he insulted Piglet and leaves. Tigger 'encounters' him and wants to help. He makes Piglet drink a bucket of water to no avail. Owl helps, but his method fails too. Rabbit makes a hiccup trap, with a cake, but it catches Eeyore. He likes cake, you see. Pooh wants to get Piglet some honey for offending him. He walks off with the jar of honey. But now at night, Tigger, Owl, Rabbit, and Piglet are working at it again. Tigger puts Piglet in a mine cart, saying that hiccups are cowardlings and they try to SCARE them out. Owl and Rabbit make a 'monster' and dress up as it, with a white cloak, and a jack-o-lantern with a carrot nose for a head, and call it the Stumpety Bumpety. Tigger thinks it isn't scary enough. Pooh nears a cliff edge, and the others hear him screaming. Tigger gasps in horror exclaiming, "it's the REAL Stumpety Bumpety!" and he and the Stumpety Bumpety run off screaming, and it bumps into a tree and separates into a Rabbit and a caped Owl. The head falls on Tigger's tail, and he screams that it's after them. Piglet thinks it's very quiet until he sees everyone ambush him by jumping out of the bushes screaming. Piglet is so startled his hiccups move the minecart down the hill and crashes into Pooh. Piglet thanks Pooh for saving him and removing his hiccups. He then explains what happened earlier, and Pooh understands. Rabbit and Owl and Tigger are still on the run until they can't go anymore. The Stumpety Bumpety crashes through the bushes at them, but it turns out to be Piglet and Pooh. Piglet says he lost the hiccups. Tigger asks where they went, and he, Rabbit, and Owl start hiccuping. Piglet again suggests water, and they take off screaming! (Actually, theses misspelled words should be stumpy, bumpy, and cowering.)
Characters
Home video
UK
The Magical World of Winnie the Pooh Volume 7: Share Your World (DVD)
Trivia
v - e - d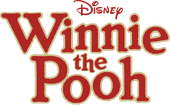 Songs
Movie Songs
Winnie the Pooh and the Honey Tree: "Winnie the Pooh" • "Up, Down, Touch the Ground" • "Rumbly in My Tumbly" • "Little Black Rain Cloud" • "Mind Over Matter"
Winnie the Pooh and the Blustery Day: "A Rather Blustery Day" • "The Wonderful Thing About Tiggers" • "Heffalumps and Woozles" • "Rain, Rain, Rain Came Down, Down, Down" • "Hip-Hip-Hooray!"
Boo to You Too! Winnie the Pooh: "I Am Not Afraid" • "I Wanna Scare Myself"
Pooh's Grand Adventure: The Search for Christopher Robin: "Forever & Ever" • "Adventure is a Wonderful Thing" • "If It Says So" • "Wherever You Are" • "Everything is Right"
The Many Songs of Winnie the Pooh: "It Really Was a Woozle, Yes it Was"
Sing a Song with Pooh Bear: "Kanga Roo Hop" • "You're the One and Only One" • "Harvest What You Grow" • "My Song"
Winnie the Pooh: A Valentine for You: "Girls are Like Boys" • "When the Love Bug Bites" • "Places in the Heart"
Winnie the Pooh: A Very Merry Pooh Year: "Jingle Bells" • "Snow Snows" • "Merry Pooh Year" • "Hunny, Not for Me" • "Auld Lang Syne"
The Tigger Movie: "Someone Like Me" • "Whoop-de-Dooper Bounce" • "Lull-a-Bee" • "Round My Family Tree" • "How to Be a Tigger" • "Your Heart Will Lead You Home"
Piglet's Big Movie: "If I Wasn't So Small" • "A Mother's Intuition" • "With a Few Good Friends" • "Sing-Ho (For the Life of a Bear)" • "The More It Snows (Tiddely-Pom)" • "The More I Look Inside" • "Comforting to Know"
Springtime With Roo: "We're Huntin' Eggs Today" • "Easter Day With You" • "The Way It Must Be Done"
Pooh's Heffalump Movie: "Little Mr. Roo" • "The Horribly Hazardous Heffalumps" • "The Name Game" • "Shoulder to Shoulder" • "In the Name of the Hundred Acre Wood/What Do You Do?"
Pooh's Heffalump Halloween Movie: "Trick 'R Treating With Our Friends" • "Brave Together"
Winnie the Pooh: "The Tummy Song" • "A Very Important Thing to Do" • "The Winner Song" • "The Backson Song" • "It's Gonna Be Great" • "Everything is Honey" • "Pooh's Finale"
Christopher Robin: "Goodbye, Farewell" • "Busy Doing Nothing" • "Christopher Robin"
Television Songs
Welcome to Pooh Corner: "Welcome to Pooh Corner Theme Song" • "Try a Little Something New" • "The Right Side" • "Yes, I Can" • "You're the Only You" • "I Hum to Myself" • "Please and Thank You" • "Responsible Persons" • "Welcome to Pooh Corner Ending Theme"
The New Adventures of Winnie the Pooh: "Pooh Bear" • "'Cause It's Make Believe" • "The Floating Song" • "Nothing's Too Good for a Friend" • "Under the Bed" • "I Don't Have A Name" • "King of the Beasties" • "The End" • "Pirates is What We'll Be" • "Tigger, the Private Ear is Here"
The Book of Pooh: "Everyone Knows He's Winnie the Pooh" • "Goodbye for Now" • "Your Best Wishes" • "On the Double" • "Who is Me" • "Think, Think, Think" • "What Piglets Are" • "I Watch for Signs" • "We're Making a Cake" • "If I Could Be Big" • "Isn't that Funny?" • "Find the X" • "Everyone Wants a Valentine" • "That's What We Do" • "Keep it Simple" • "Have You Got a Book For Me?" • "Give It a Try" • "On Your Way Back Home" • "The Birdbird Song" • "Nightmare Wranglers" • "Carry On" • "What's Your Name, River" • "Where Do Words Go?" • "Under a Spelling Bee's Spell" • "Adventure" • "Mental Altitude" • "I Want to Know Everything Now" • "Happy Tailiversary" • "Get Growin'" • "Tigger's Lullaby" • "Perfect Party" • "If We Were Talkin'" • "Someone New to Meet" • "My Hero" • "I Want To Be Scary" • "Broken Friendships" • "Do the Roo" • "Call Me Buck-a-Roo" • "At Chez Piglet" • "Nothing Ever Happens" • "Too Much Honey" • "Lost in a Book"
My Friends Tigger and Pooh: "A Few Simple Rules" • "Bouncin'" • "The Grass is Greenier" • "The Password Song" • "Underneath the Same Sky" • "One Big Happy Family" • "Think, Think, Think" • "The Question Song" • "Floating in a Cloud" • "Different Can Be Good" • "The Little Things You Do" • "There's a Party" • "No More Fun In the Snow" • "Butterflies" • "What Makes a Pony a Pony" • "When We Work Together" • "Christmas Comes Tomorrow" • "Time to Go (On a Trek Through the Snow)" • "Snowman Song"
Miscellaneous: "Luv-a-bye" • "Playtime Song" • "Learning Song" • "Friendship Song"

Community content is available under
CC-BY-SA
unless otherwise noted.