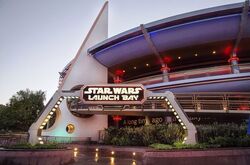 The Tomorrowland Expo Center is an attraction at Disneyland Park in Anaheim, California. The attraction replaced Innoventions and opened November 16, 2015. The first floor of the building hosts Star Wars Launch Bay, a Star Wars exhibit featuring peeks behind the scenes and character meet and greets with Darth Vader, Kylo Ren, Boba Fett, and Chewbacca. When it initially debuted, the second floor hosted the "Super Hero HQ", featuring meet and greets with Marvel characters Thor Odinson and Spider-Man and an exhibit featuring Iron Man's suits based on the film.
Star Wars Launch Bay
Main article: Star Wars Launch Bay
The lower level gives Guests the opportunity to enter a "Galaxy Far Far Away", with character meet-n-greets such as, the evil dark lord of the Sith, Darth Vader, Han Solo's sidekick and lovable wookie, Chewbacca, and the mysterious bounty hunting Boba Fett. The location opened with said characters in the winter of 2015, but in January 2016 saw the introduction of new foe, Kylo Ren (who actually replaced Darth Vader until mid October 2016). Guests are given a variety of exhibits, such as props and costumes used in the films/TV shows, and an area to buy Star Wars merchandise.
Super Hero HQ
Individual portions of the attraction opened in 2013 as part of Innoventions, but Super Hero HQ was a standalone attraction when it reopened on November 16, 2015.
Guests were able to participate in meet-n-greets with characters such as,the man in red, white, and blue, Captain America; the God of Thunder, Thor Odinson, and the friendly neighborhood Spider-Man. Guests were also able to embody The Invincible Iron Man in The Iron Man Experience, which had guests partake in a simulator that enabled them to fly, and use gadgets like Iron Man. Finally, with the meet-n-greets and the Iron Man Experience, guests were able to purchase Marvel merchandise at their own expense.
Super Hero HQ closed on April 2, 2016, leaving the top floor only used for storage of the Tomorrowland Skyline Experience.
Community content is available under
CC-BY-SA
unless otherwise noted.