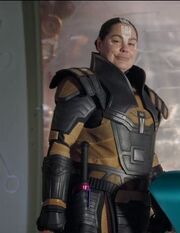 Topaz is a Marvel Comics character that appears in Thor: Ragnarok, played by Rachel House. She is the personal guard of Grandmaster, acting as his personal assistant. Much like the Grandmaster herself, Topaz is morally ambigous, but is still loyal to the Grandmaster. While on the service of the Grandmaster, she carries around a staff that can fire energy blasts powerful enough to melt her enemies, something she is often eager to do, much to the Grandmaster's chagrin. Topaz also dislikes Valkyrie, another subordinate of the Grandmaster, for receiving the Grandmaster's favor. After the revolution on Sakaar begins, Topaz leads the chase after Thor Odinson, Bruce Banner, and Valkyrie trying to escape in fighter ships. A distraction in the battle disorients her and she perishes when her fighter crashes.
Community content is available under
CC-BY-SA
unless otherwise noted.