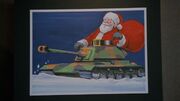 Total Tank was a proposed toy by the B and R Toy Company in The Santa Clause.
Premise
Santa was preparing to go through the Christmas season as usual. However, this year, he decided to ditch the sleigh and reindeer in favor of the Total Tank.
Reception
Scott Calvin (who at the time was undergoing massive changes into becoming Santa Claus thanks to the Santa Clause coming into effect) was initially dismayed by the depiction of the elves, largely because he felt the elves should be made a bit more like how elves actually look, namely younger with sparkles on their cheeks. However, after he saw the premise of the total tank, he protested heavily against the concept, due to it not fitting with the concept of Christmas at all. One of his biggest complaints was that Santa was not using his sleigh and reindeer, also pointing out the negative implications of Santa "rolling down the block in a panzer" and giving a story where Santa apparently demolished at least one house with the Total Tank that was implied to be on the naughty list for added effect, and that the toy, even if it were to be released, would probably come in several parts, and if assembled would break apart and require time and effort for the company to make new more durable parts. Whether the toy was actually made as a result is unknown, due to Scott being forced to take a leave of absence for medical reasons due to his earlier outburst.
Trivia
There was accompanied text for the two pages of concept visible for the Total Tank.

On the first page, it said "Santa waves goodbye to Mrs. Santa in their North Pole chalet–Wizened elves stand by as Santa heads for his trusty tank 'sleigh'."
On the second page, it said "A jolly Santa lumbers along on his appointed rounds. 'On Panzer!..'"
Community content is available under
CC-BY-SA
unless otherwise noted.