"Totally into Your Body" is the twenty-fourth episode of the first season of Penn Zero: Part-Time Hero. It premiered on June 22, 2015.
Synopsis
When Boone fools around on the zap platform, he and Penn swap roles, making Boone the Hero.
Trivia
This episode shows that the zap platform have designated spots for each role, and users will take on different roles if they zap into a dimension on a spot that's designated for someone else's role.
Though not the first time for switched roles of the main cast (the villains do this in "Hail Larry"), this is the first episode where the part-time heroes switch roles, Boone becoming the hero and Penn becoming the wise man.
The specs are shown to have the ability of recording everything that the user sees, like Sashi's time at school.
Sashi is revealed to have a crush on a student named Teddy.
The Body World is a reference to the 1966 film Fantastic Voyage.
Penn almost dies in this episode, triggering his newfound fear of death.
This episode reveals Boone can play a keytar.
Gallery
v - e - d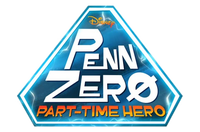 Locations
Middleburg • Middleburg Central High • The Odyssey • Fish Stick on a Stick • North Pole • Knight World • Superhero World • Arabian World • Plush Toy World • Clown World • Dinosaur Cowboy World • Cereal World • Old English World • Giant Monster World • Zombie World • Space World • Ocean World • Color World • Musical Fairy Tale World • Caveman Spy World • Future Barbarian World • Ultrahyperball World • Demon World • Alien World • Galaxy World • Temple World • Dragon World • Gothic Mystery World • Plant World • Animal Barbarian World • Toy World • Outer Space Court World • Robot World • Pirate World • Fairymania World • Steampunk World • Ball World • Ghost World • Rock, Paper, Scissor World • Beast World • Anime World • Sitcom World • Nothingness • Most Dangerous World Imaginable • Least Dangerous World Imaginable
Objects
Multi-Universe Hologram Uplink • Multi-Universe Transprojector • Pigoilet • The QPC Unit • Vortex Tops • Specs