This article is about the fictional episode that is the premise of The Twilight Zone Tower of Terror attraction. For the 1997 TV film adaptation, see Tower of Terror (film).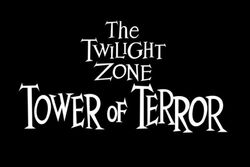 "You are the passengers on a most uncommon elevator about to ascend into your very own episode of...The Twilight Zone.'"
―Rod Serling, (Florida version)

"Tower of Terror" is the fictitious "lost episode" of the original American television anthology series The Twilight Zone and the set up for the Disney Parks drop tower attraction, The Twilight Zone Tower of Terror.
Opening Narration
"Hollywood, 1939. Amid the glitz and the glitter of a bustling, young movie town at the height of its golden age, the Hollywood Tower Hotel was a star in its own right; a beacon for the show business elite. Now, something is about to happen that will change all that."
In the lobby of the Hollywood Tower Hotel, 5 people (Gilbert London, Carolyn Crosson, Emeline Partridge, Sally "Sally Shine" Gregory and Dewey Todd) board one of the elevators. As they ascend, the hotel is suddenly struck by a large bolt of lightning and whole wings of the building vanish including the one carrying their elevator. The 5 guests are electrified as they disappear into thin air and the elevator plummets. As the second half of the narration begins, we see the elevator, as well as the hotel, have been put out of commission since the accident.
The camera then pans to the Twilight Zone narrator in the hotel boiler room with a service elevator behind him.
"The time is now, on an evening very much like the one we have just witnessed. Tonight's story on The Twilight Zone is somewhat unique and calls for a different kind of introduction. This, as you may recognize, is a maintenance service elevator, still in operation, waiting for you. We invite you, if you dare, to step aboard because in tonight's episode, you are the star, and this elevator travels directly to…the Twilight Zone."
"Plot"
For the "plot details", see The Twilight Zone Tower of Terror#Attraction storyline and description.
Closing Narration
"A warm welcome back to those of you who made it, and a friendly word of warning, something you won't find in any guidebook: the next time you check into a deserted hotel on the dark side of Hollywood, make sure you know just what kind of vacancy you're filling, or you may find yourself a permanent resident...of the Twilight Zone."
―Rod Serling.
"Cast"
Trivia
Lindsay Ridgeway was the only cast member to appear in both the pre-ride show and the 1997 film.
References