Toy Box Cafe (previously known as Celebration Cafe) is a quick service restaurant located in Disney·Pixar Toy Story Land at Shanghai Disneyland.[2]
Development
Celebration Cafe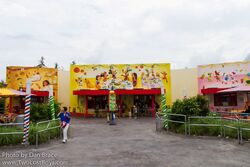 Celebration Cafe opened with the park on June 16, 2016, located behind Fantasyland and near Tomorrowland. The restaurant closed on July 31, 2017.[3]

Toy Box Cafe
Now as Toy Box Café, the first experience to open at the new Toy Story Land, welcomes its first official guests on February 9, 2018, giving guests a taste of big toy fun as they dine on freshly inspired meals and beverages themed to the hit Toy Story film series. Toy Box Café is a playful outdoor restaurant in the park's highly anticipated Toy Story Land, which will immerse guests in a world of toys.
The story is inspired by the imaginative play that Toy Story's fun loving little boy, Andy Davis, always enjoys. Andy was out in his backyard playing with his beloved toys, when he noticed he was hungry. Before going back into his house for a snack, he set up a café playset for his toys to enjoy, by arranging some of his favorite toy packages and toy furniture into his very own Toy Box Café. These giant toy packages for Buzz Lightyear, Mr. and Mrs. Potato Head, and Lots-o'-Huggin' Bear, are the perfect serving areas for this playful restaurant offering a wide variety of meals. This brand new immersive dining experience will transport the guests into a world of toys while they enjoy delicious delights in a picnic-like area dining at oversized toy tables and chairs.
The restaurant offers a diverse menu with delightful tastes for guests. Upon arrival, guests will have the choice of four themed foods on the menu represented by characters from the beloved franchise: Buzz Lightyear, Mr. Potato Head, Mrs. Potato Head and Lotso. For example, guests can order the Alien Spicy Seafood Pizza at Mrs. Potato Head's counter or have Lotso's Financier Cake at Lotso's "Toy Box". Guests will also be able to choose from a mix of both traditional Chinese cuisine and western treats such as Gong Bao Chicken with Rice, Sichuan Spiced Chicken with Potato Chips, Braised Pork Rib, Baked Seafood with Rice and Sweet Potato with Marshmallows. Inspired by Lotso and his signature strawberry scent, guests can also enjoy special beverages and desserts, including Strawberry Milk and Bubble Waffle with Strawberry Ice-cream.
See also
References