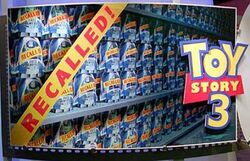 Toy Story 3 was the original screenplay for the third Toy Story film that would have been produced by Circle 7 Animation.
Background
In January 2004, Pixar CEO Steve Jobs announced that The Walt Disney Company had chosen not to renew its contract with Pixar. However Michael Eisner stated that he was okay with this because he believed that the company could produce sequels to Pixar's films that would be just as good as the originals. With that in mind, Eisner opened a new animation studio in Glendale, California whose sole purpose was to produce sequels to movies that Pixar had produced. This new studio was named Circle 7 Animation, after the street on which it was located, Circle 7 Drive.
In addition to creating screenplays for sequels to Monsters, Inc. and Finding Nemo, the animators at Circle 7 also began developing ideas for a third Toy Story film. Among the rejected ideas was a script written by Teacher's Pet writers Bill and Cheri Steinkellner that involved Woody and the gang finding toys that had been stolen out of Andy's grandmother's attic in a whodunit-style mystery.[1]
Finally, Disney chose a draft that had been submitted by Jim Herzfeld. However, they felt it needed some rewriting and gave Bob Hilgenberg and Rob Muir, writers of the sequel to Monsters, Inc., the task of doing so. Concept artists that worked on developing the look and character designs for the film included Ric Sluiter, Jim Martin and Shane Zalvin.
However, in January 2006, when new Disney CEO Robert Iger decided that Disney was better off with Pixar than they were without them, Disney bought Pixar for $7.4 billion and subsequently closed down Circle 7 Animation, ending production on all their films.
Plot
After Buzz Lightyear inexplicably starts to malfunction, Andy's mom sends him back to the factory in Taiwan where he was made in the hopes that they will fix him. However, upon learning that a worldwide recall had been issued on all Buzz Lightyear toys and that Buzz will merely be replaced, Woody, Jessie, Bullseye, Hamm, Mr. Potato Head, Rex and Slinky all ship themselves to Taiwan and set out to rescue him.
Meanwhile, at the factory, Buzz is placed on a conveyor belt which he learns leads to a giant toy-crushing machine known as "The Smasher" that destroys all unwanted toys. He jumps off and proceeds to escape, only to be found by some workers who take him to a boardroom. There, he meets the new toys whom the company intend to replace him with: a Transformers-esque action figure named Daxx Blastar and his cat, Comet.
Elsewhere in the city, Woody and the gang are in a box on a truck. They have a flashlight with them so that it won't be pitch black, but the batteries suddenly die. Due to her fear of the dark, Jessie jumps off of the truck and the other toys follow. Not knowing where the factory is, they proceed to jump into the basket underneath a passing stroller.
Back at the factory, Buzz is taken to an archive room for recalled toys where he meets two dolls: Cindy Scissors, who has blades hidden in her legs and Rosey, a bed warmer who was recalled because she had a high risk of over-heating. They tell him that Mr. Kagoy, the founder of the company would have fixed every toy there long ago if not for the fact that the board members have always kept him in the dark about The Smasher. Buzz decides to take a letter to Mr. Kagoy's office that will notify him about it and Rosey and Cindy agree to help him.
Meanwhile, the mother pushing the stroller takes her son to a daycare center on the top floor of the Taipei 101. There, Woody and the gang are discovered by other children and are put through a number of humiliating scenarios (i.e. Hamm and Potato Head are made the bride and groom in a wedding, Rex has a diaper and bonnet put on him etc.) After the daycare closes, the toys proceed to construct an escape vehicle using a shopping cart, a bubble machine and some balloons. They use this to float out of a window, down to the street below and proceed to make their way to the factory.
At the same time, Buzz, Rosey and Cindy run into Daxx Blastar. Not wanting Buzz to reclaim his spot as the number one toy, Daxx tricks them by placing them in what he claims is the mail delivery chute to Kagoy's office when in reality, it is the one that leads to the destroying room. At the moment the toys end up on the conveyor belt, Andy's other toys arrive and quickly shut down the Smasher, but not before one of Buzz's legs gets cushed. Luckily, with Cindy and Rosey's help, they are able to get Buzz to the toy repair room where they not only fix his leg but put in a new chip so he won't malfunction any longer.
While Slinky, Hamm, Bullseye, Mr. Potato Head and Rex prepare a delivery box to get the toys home, Woody, Jessie, Buzz, Cindy and Rosey run to Mr. Kagoy's office. When they get there, they learn that the man is aware that toys are alive, which both shocks and pleases them. Upon learning what the executives have been doing, Kagoy goes to the unveiling of Daxx Blastar and tells everyone present that from now on, all recalled toys will be repaired and sent back to their owners. While this is happening Buzz goes behind a curtain where Daxx is waiting for his big reveal and knocks him off a pedestal so that when the curtain opens, only Comet is seen. However, all the audience members say they love Comet and will definitely buy him, much to Daxx's chagrin.
Later, when all the toys are preparing to head back to the U.S.A., Daxx tries to stop Buzz one final time. However, he is thrown into a box which Andy's toys write Sid's address on. After they have successfully made it home, a montage of all of the now-repaired toys, including Cindy and Rosey happily being bought by new owners is shown.
Gallery
References