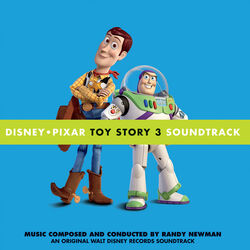 Toy Story 3 is the soundtrack album for the 2010 Disney/Pixar animated film of the same name. It was released through Walt Disney Records on June 15, 2010, three days before the movie. It was composed and conducted by Randy Newman, his sixth for Pixar after Toy Story, A Bug's Life, Toy Story 2, Monsters, Inc., and Cars.
Initially, Disney released the soundtrack only as digital download. This was the second instance where Disney did not release the award-winning soundtrack of a Pixar film on CD, with the first being Up. Intrada Records released the Toy Story 3 soundtrack on compact disc in January 2012.
All songs written and composed by Randy Newman.
Track listing
We Belong Together - performed by Newman
You've Got a Friend in Me (para Buzz Español) (Hay Un Amigo En Mi) - performed by The Gipsy Kings
Cowboy!
Garbage?
Sunnyside
Woody Bails
Come to Papa
Go See Lotso
Bad Buzz
You Got Lucky
Spanish Buzz
What About Daisy?
To The Dump
The Claw
Going Home
So Long
Zu-Zu (Ken's Theme)
1M1 Blue Sky
1M2 Blue Sky Pt. 2
1M3 Keep Playing
1M3Fix Keep Playing
1M5 One Last Playdate
2M1A That Went Well
2M1B I'm Callin' It
2M1B Rev I'm Callin' It
2M1C Sarge?
2M2-3 You Guarantee It?
2M4 8 Ball
2M5 Trash Bag
2M5New Trash Bag
2M6 Garbage Truck
2M7 Off to Sunnyside
2M8 Barbie's Meltdown
2M9 Sunnyside
2M10 New Home
2M11 Lotso
2M13 Ken
2M15 Lotso Walk
2M17 In My Dreams
3M1 Woody Bails
3M2 Woody in the Hall
3M2Rev Woody in the Hall
3M3 Kite
3M4 Backpack
3M5 Come to Papa
3M5a Insert
3M6 The Witch
3M7 Space Ship
3M7Fix Space Ship
3M8 Kink on My Slink
3M8a Go See Lotso
3M8aRev Go See Lotso
3M9 Shhh!
3M10 Card Game
3M11 Map Hunt
3M12 Intro
3M12 Bad Lotso
3M13 Insert
3M13 Not Going Home
3M13New Not Going Home
4M1 Sunnyside March
4M2 Escape?
4M3 Lotso's Story
4M5New Playdate with Destiny
4M6 In the Bag
4M7 You Were Lucky
4M7ARev Get the Monkey
4M8 Woody Returns
4M9Revised The Plan Begins
4M10Fix Bag the Monkey
4M11(Pickup) Zu-Zu
4M13Rev Got Monkey
4M14Rev Mr. Tortilla
4M15 Karate
4M16 No More Games
4M18 The Pigeon
5M1 Buzz Brain Drain
5M2 Fix
5M3 Across the Playground
5M4 Luz y Amor
5M5 More Plan
5M6 Sneak Out
5M7 Venga Conmigo
5M8 Chute
5M9 You Lost
5M10 Daisy
5M10 Ending Revised
5M11 Insert Revision
5M11 Truck
5M12 I'm Back
5M13 Daylight
5M14Rev The Claw
5M15 Lotso's Exit
6M1Rev To the Attic?
6M2 Note for Andy
6M3R Take Care
6M4 So Long
6m5as We Belong Together
6m5bs You've Got A Friend In Me (para el Buzz Español)
In addition to the tracks included in the soundtrack album, the film also uses several other tracks such as "Dream Weaver" by Gary Wright, "Le Freak" by Chic, and Randy Newman's original version of "You've Got a Friend in Me." Furthermore, tracks "Cowboy!" and "Come to Papa" included material from Newman's rejected score to Air Force One. The song "Losing You" from Newman's own album Harps and Angels was also used in the first trailer for the film. The Judas Priest song "Electric Eye" was also used in the film in the temp score for the opening scene of Toy Story 3. The aliens are playing the tune in their sports car, but the song was ultimately replaced by another piece of music.
Chart positions
Chart (2010)
Peak
position
Mexican Albums (Top 100 Mexico)

8
Music awards
Award
Category/Recipient(s)
Result
16th Annual BFCA Critics Choice Awards
Best Original Song "We Belong Together" (Randy Newman)
Nominated
2011 Grammy Awards
Best Score Soundtrack Album for a Motion Picture, Television or Other Visual Media
Won
83rd Academy Awards
Best Original Song – "We Belong Together"