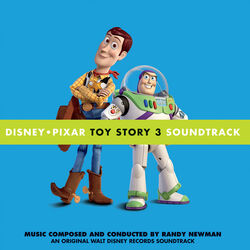 Toy Story 3 is the soundtrack album for the 2010 film of the same name. It was released through Walt Disney Records on June 15, 2010, three days before the movie. It was composed and conducted by Randy Newman, his sixth for Pixar after Toy Story, A Bug's Life, Toy Story 2, Monsters, Inc. and Cars.
Initially, Disney released the soundtrack only as digital download. This was the second instance where Disney did not release the award-winning soundtrack of a Pixar film on CD, with the first being Up. Intrada Records released the Toy Story 3 soundtrack on compact disc in January 2012.
All songs written and composed by Randy Newman.
Track listing
We Belong Together - performed by Newman
You've Got a Friend in Me (para Buzz Español) (Hay Un Amigo En Mi) - performed by The Gipsy Kings
Cowboy!
Garbage?
Sunnyside
Woody Bails
Come to Papa
Go See Lotso
Bad Buzz
You Got Lucky
Spanish Buzz
What About Daisy?
To The Dump
The Claw
Going Home
So Long
Zu-Zu (Ken's Theme)
In addition to the tracks included in the soundtrack album, the film also uses several other tracks such as "Dream Weaver" by Gary Wright, "Le Freak" by Chic, and Randy Newman's original version of "You've Got a Friend in Me." Furthermore, tracks "Cowboy!" and "Come to Papa" included material from Newman's rejected score to Air Force One. The song "Losing You" from Newman's own album Harps and Angels was also used in the first trailer for the film. The Judas Priest song "Electric Eye" was also used in the film in the temp score for the opening scene of Toy Story 3. The aliens are playing the tune in their sports car, but the song was ultimately replaced by another piece of music.
Chart positions
Chart (2010)
Peak
position
Mexican Albums (Top 100 Mexico)

8
Music awards
Award
Category/Recipient(s)
Result
16th Annual BFCA Critics Choice Awards
Best Original Song "We Belong Together" (Randy Newman)
Nominated
2011 Grammy Awards
Best Score Soundtrack Album for a Motion Picture, Television or Other Visual Media
Won
83rd Academy Awards
Best Original Song – "We Belong Together"
| | |
| --- | --- |
| | This page uses content from the English Wikipedia. The article or pieces of the original article was at Toy Story 3#Music. The list of authors can be seen in the page history. As with Disney Wiki, the text of Wikipedia is available under the GNU Free Documentation License. |