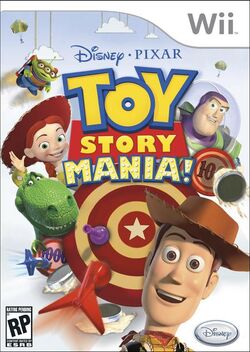 This article is about the video game. For the similarly-named attraction at Disney's Hollywood Studios and Disney California Adventure, see Toy Story Midway Mania!
Toy Story Mania! is a multiplayer game for various consoles. It was developed by Papaya Studio and was published by Disney Interactive Studios. It is based on the Toy Story Midway Mania! attraction in Disney's Hollywood Studios theme park. The game was released on September 15, 2009 for the Nintendo Wii. It was released for PC on April 9, 2010, and PlayStation 3 and Xbox 360 on October 30, 2012. The game is packaged with two sets of 3D glasses in every copy of the game, which can be used in six shooting gallery games. The European release has a Ray Gun peripheral packaged with it. The thematically-connected levels are designed for up to four players of all ages with competitive and co-operative multiplayer options.
Games
It had a variety of games of target shooting, Pinball, cup switching or doing certain tasks.
Practice Game
Western (Woody and Jessie's Games)
Rootin' Tootin' Shootin' (Also in 3D)
Woody's Rootin' Shootin' Targetin'
Mine Cart Spelunk
Woody's Lasso Trick Ropin'
Jessie's Sarsaparilla Slide
Woody's Gold Rush
Space (Buzz and the Aliens' Games)
Tossed in Space (Also in 3D)
Tossed in Deep Space
Flying Discs... in Space
Hammer Launch
Space Hoops
Space Pinball
Tea Party (Bo Peep's Games)
Bo Peep's Baaa-Loon Pop (Also in 3D)
Bo Peep's Pop Party
Hot Air Balloon Show
Butterfly Picnic
Tea Cup Switch
Frog Hop
Animal (Hamm and Rex's Games)
Hamm and Eggs
Bacon and Eggs
Dino-Rama
What's Shakin Bacon?
Gone Fishin'
Army (Green Army Men's Games)
Green Army Men Shoot Camp
Grren Army Men Plate Break
Army Skeet Shoot
Mine Field Maze
Army Air Field
Characters in the Game
Trivia
This game is compatible with the Xbox 360 Kinect and the PlayStation Move.