This article is about the episode from Penn Zero: Part-Time Hero. For other episodes, see Trading Faces.
"Trading Faces" is the twentieth episode of the second season of Penn Zero: Part-Time Hero. It premiered on July 26, 2017.
Synopsis
When an incident with the multiverse portal goes awry, Rippen and Larry end up swapping bodies. Now Rippen must be stopped before he ends up ruining Middleburg High.
Trivia
This episode reveal that Matilda used to love Penn, until she start to date Alex in the final episode At the End of the Worlds.
Tony have a birthmark of a broccoli on his left ear.
After "Larry Manor" and "The QPC", this episode is the third to mainly be set in Middleburg.
In the part of the episode where Penn try to open the safe until a drop of sweat dripped of his face. He let out his tongue to reach for it. Same as to Oggy and the Cockroaches episode is "Mission Oggy".
v - e - d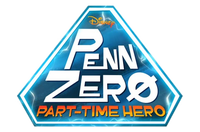 Locations
Middleburg • Middleburg Central High • The Odyssey • Fish Stick on a Stick • North Pole • Knight World • Superhero World • Arabian World • Plush Toy World • Clown World • Dinosaur Cowboy World • Cereal World • Old English World • Giant Monster World • Zombie World • Space World • Ocean World • Color World • Musical Fairy Tale World • Caveman Spy World • Future Barbarian World • Ultrahyperball World • Demon World • Alien World • Galaxy World • Temple World • Dragon World • Gothic Mystery World • Plant World • Animal Barbarian World • Toy World • Outer Space Court World • Robot World • Pirate World • Fairymania World • Steampunk World • Ball World • Ghost World • Rock, Paper, Scissor World • Beast World • Anime World • Sitcom World • Nothingness • Most Dangerous World Imaginable • Least Dangerous World Imaginable
Objects
Multi-Universe Hologram Uplink • Multi-Universe Transprojector • Pigoilet • The QPC Unit • Vortex Tops • Specs