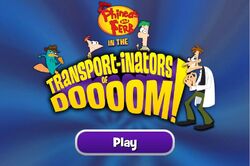 Transport-inators of Doooom!
is a free, online
Phineas and Ferb
game on the
Disney XD
and
Disney Channel
websites. In it, the player controls
Ferb
and
Agent P
as they make their respective ways through 9 levels for each character that set inside the
Doofenshmirtz Evil Incorporated
building.
Plot
Mom leaves Phineas and Ferb a "huge list of chores" to do. In order to get the list completed faster, they decide to build teleporters to get around the house faster. Meanwhile, the evil scientist Dr. Doofenshmirtz, looking for a Peglegged Hemisphingus to complete his Official Tri-State Area Bird Watching Sticker Book, notices the teleporters and zaps one with a Duplicat-inator to copy it just as Phineas is going through it, inadvertently teleporting Phineas into his building. Ferb grabs a plunger and follows after his brother.
Meanwhile, the boys' pet platypus Perry is revealed to be a secret agent; he dons his secret identity and is given the assignment to stop Dr. Doofenshmirtz. As he kicks his way through a window and into the DEI building, Doofenshmirtz locks him inside a cage (which he is mass producing). He shows him the teleporters which he duplicated, which he calls the Transport-inators of Doom (pretending that he made them all by himself), which will allow how to produce more evil inventions, a scheme which he calls "Evil 2.0." Perry puts his hand in a teleporter; his hand then comes out of another teleporter and grabs the key near it to free himself. Seeing Perry escape, Doofenshmirtz escapes through a teleporter with Perry in pursuit. Perry is not able to catch him, and Doof returns to his lab. Angry that Perry escaped, he decides to activate his conveyor belts of doom, therefore giving Perry a harder time getting around the building, and hindering Ferb's attempts to reach Phineas as well. Perry makes his way to Dr. Doofenshmritz's lab, but Ferb makes no progress in his search.
Doofenshmirtz taunts Agent P that he's almost finished building 10,000 Transport-inators. Meanwhile, Phineas tries to look for a map but he presses a button at a computer terminal, activating the building's Freeze-inator freeze rays and setting off its intruder alert, causing Doofenshmirtz's security robots to capture Phineas and put him in a force field cage. Ferb successfully locates the three switches to reconstruct the bridge between Phineas's cage and the exit, disabling the cage and allowing he and his brother to successfully escape, although they do not see each other.
Meanwhile, Dr. Doofenshmirtz tries to freeze Agent P by firing a Freeze-inator at him (actually having a dentist appointment across town in half an hour, but staying "just for him"). Perry disables his two Transport-inator production lines, stopping any further production of the "Transport-inators" and then use a well-placed transport-inator to turn the Freeze-inator against Doofenshmirtz, freezing him and knocking him backwards into an infinite Transport-inator loop to defeat him and Evil 2.0.
Phineas and Ferb are reunited in their backyard, and Perry joins the boys shortly thereafter. Meanwhile, Dr. Doofenshmirtz is still stuck in the infinite loop, looking for someone to help him break it.
Gameplay
Ferb and Agent P control mostly the same with a few minor differences. The main difference is that Ferb can use his rocket boots to perform a double jump, while Agent P has a glider that allows him to glide. Along the way, each encounters a series of robotic enemies; cleaning robots require only one hit to defeat them, while security robots will charge when you get close to them and take two hits to defeat (in level 8, it takes three hits to defeat the large Hockey-inator robot). On each level, there are also anywhere from 100 to 400 gears or O.W.C.A. badges to collect, although it is not necessary to do so.
There are three types of power-ups in the game: a magnet that attracts nearby gears or badges towards you; a lightning bolt icon that turns Ferb or Agent P invincible and allows them to instantly defeat any enemies they touch; and a red stop sign, which stops all of the robots from moving for a limited time.
There are also several TV monitors that appear in both versions of each level. If you go near them, you will get a tip or a comment; to listen to it again, press enter in front of it. For Ferb, the people on the monitor are Isabella, Ginger, and Milly. For Perry, Major Monogram and Dr. Doofenshmirtz will appear.
Songs
The game features instrumental versions of a wide selection of songs from Season 1, most of which must be unlocked by finding the hidden CD in each of the game's 10 levels (including the tutorial).
Background Information
Starting in late November 2010, the graphics of the game were given a special look for Christmas. Among the graphical additions include snow falling in the stages, Perry wearing a Santa Claus hat, and Ferb wearing reindeer antlers and a candy cane for a weapon. As of January 6, 2011, the holiday look disappeared, but is available by going to the setup menu and turning on "Holiday". The Holiday style was restored for December 2011.
Several of the elements of this game are similar to that of the popular video game Portal.
On level 9, it is possible for Ferb to jump onto the platform that Phineas is stuck on, though he does not acknowledge the fact that you are there.
Continuity
Doofenshmirtz steals another invention from Phineas and Ferb. ("Undercover Carl")
Doofensmhirtz speaks whale again. ("Perry Lays an Egg")
Doofenshmirtz says the following lines throughout the game:
In the last cutscene, Phineas comments, "Pithy." ("Are You My Mummy?")
Many pictures of different episodes are seen throughout the game.
Cast
External Links
v - e - d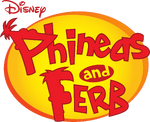 Episodes
Season One: "Rollercoaster" • "Candace Loses Her Head" • "The Fast and the Phineas" • "Lawn Gnome Beach Party of Terror" • "The Magnificent Few" • "S'Winter" • "Are You My Mummy?" • "Flop Starz" • "Raging Bully" • "Lights, Candace, Action!" • "Get That Bigfoot Outta My Face!" • "Tree to Get Ready" • "It's About Time!" • "Jerk De Soleil" • "Toy to the World" • "One Good Scare Ought to Do It!" • "A Hard Day's Knight" • "I, Brobot" • "Mom's Birthday" • "Journey to the Center of Candace" • "Run Away Runway" • "I Scream, You Scream" • "It's a Mud, Mud, Mud, Mud World" • "The Ballad of Badbeard" • "Dude, We're Getting the Band Back Together" • "Ready for the Bettys" • "The Flying Fishmonger" • "Phineas and Ferb Get Busted!" • "Greece Lightning" • "Leave the Busting to Us!" • "Crack That Whip" • "The Best Lazy Day Ever" • "Boyfriend From 27,000 B.C." • "Voyage to the Bottom of Buford" • "Put That Putter Away" • "Does This Duckbill Make Me Look Fat?" • "Traffic Cam Caper" • "Bowl-R-Ama Drama" • "The Monster of Phineas-n-Ferbenstein" • "Oil on Candace" • "Unfair Science Fair" • "Unfair Science Fair Redux (Another Story)" • "Out to Launch" • "Got Game?" • "Comet Kermillian" • "Out of Toon" • "Hail Doofania!"


Season Two: "The Lake Nose Monster" • "Interview With a Platypus" • "Tip of the Day" • "Attack of the 50 Foot Sister" • "Backyard Aquarium" • "Day of the Living Gelatin" • "Elementary My Dear Stacy" • "Don't Even Blink" • "Chez Platypus" • "Perry Lays an Egg" • "Gaming the System" • "The Chronicles of Meap" • "Thaddeus and Thor" • "De Plane! De Plane!" • "Let's Take a Quiz" • "At the Car Wash" • "Oh, There You Are, Perry" • "Swiss Family Phineas" • "Hide and Seek" • "That Sinking Feeling" • "The Baljeatles" • "Vanessassary Roughness" • "No More Bunny Business" • "Spa Day" • "Phineas and Ferb's Quantum Boogaloo" • "Phineas and Ferb Musical Cliptastic Countdown" • "Bubble Boys" • "Isabella and the Temple of Sap" • "Cheer Up Candace" • "Fireside Girl Jamboree" • "The Bully Code" • "Finding Mary McGuffin" • "Picture This" • "Nerdy Dancin'" • "What Do It Do?" • "Atlantis" • "Phineas and Ferb Christmas Vacation!" • "Just Passing Through" • "Candace's Big Day" • "I Was a Middle Aged Robot" • "Suddenly Suzy" • "Undercover Carl" • "Hip Hip Parade" • "Invasion of the Ferb Snatchers" • "Ain't No Kiddie Ride" • "Not Phineas and Ferb" • "Phineas and Ferb-Busters!" • "The Lizard Whisperer" • "Robot Rodeo" • "The Beak" • "She's the Mayor" • "The Lemonade Stand" • "Phineas and Ferb Hawaiian Vacation" • "Summer Belongs to You!" • "Nerds of a Feather" • "Wizard of Odd" • "We Call it Maze" • "Ladies and Gentlemen, Meet Max Modem!" • "The Secret of Success" • "The Doof Side of the Moon" • "Split Personality" • "Brain Drain" • "Rollercoaster: The Musical!" • "Make Play" • "Candace Gets Busted"
Season Three: "The Great Indoors" • "Canderemy" • "Run, Candace, Run" • "Last Train to Bustville" • "Phineas' Birthday Clip-O-Rama!" • "The Belly of the Beast" • "Moon Farm" • "Ask a Foolish Question" • "Misperceived Monotreme" • "Candace Disconnected" • "Magic Carpet Ride" • "Bad Hair Day" • "Meatloaf Surprise" • "Phineas and Ferb Interrupted" • "A Real Boy" • "Mommy Can You Hear Me?" • "Road Trip" • "Tour de Ferb" • "Skiddley Whiffers" • "My Fair Goalie" • "Bullseye!" • "That's the Spirit" • "The Curse of Candace" • "Escape from Phineas Tower" • "Lotsa Latkes" • "Ferb Latin" • "A Phineas and Ferb Family Christmas" • "Tri-Stone Area" • "Doof Dynasty" • "Excaliferb" • "Phineas and Ferb and the Temple of Juatchadoon" • "Monster from the Id" • "Gi-Ants" • "The Remains of the Platypus" • "Mom's in the House" • "Perry the Actorpus" • "Let's Bounce" • "Bully Bromance Break Up" • "Quietest Day Ever" • "Doonkleberry Imperative" • "Meapless in Seattle" • "Delivery of Destiny" • "Buford Confidential" • "The Mom Attractor" • "Cranius Maximus" • "Agent Doof" • "Minor Monogram" • "What a Croc!" • "Sleepwalk Surprise" • "Sci-Fi Pie Fly" • "Sipping with the Enemy" • "Tri-State Treasure: Boot of Secrets" • "Doofapus" • "Norm Unleashed" • "Where's Perry?" • "Ferb TV" • "When Worlds Collide" • "What'd I Miss?" • "Road to Danville" • "This is Your Backstory" • "Blackout!"
Season Four: "For Your Ice Only " • "Happy New Year!" • "Fly On the Wall" • "Bully Bust" • "My Sweet Ride" • "Der Kinderlumper" • "Sidetracked" • "Primal Perry" • "Mind Share" • "Backyard Hodge Podge" • "Bee Day" • "Bee Story" • "Great Balls of Water" • "Where's Pinky?" • "Phineas and Ferb Musical Cliptastic Countdown Hosted by Kelly Osbourne" • "Knot My Problem" • "Just Desserts" • "La Candace-Cabra" • "Happy Birthday, Isabella" • "Love at First Byte" • "One Good Turn" • "Mission Marvel" • "Thanks But No Thanks" • "Troy Story" • "Druselsteinoween" • "Terrifying Tri-State Trilogy of Terror" • "Face Your Fear" • "Cheers for Fears" • "Steampunx" • "Just Our Luck" • "Return Policy" • "Live and Let Drive" • "Phineas and Ferb Save Summer" • "Father's Day" • "Imperfect Storm" • "The Return of the Rogue Rabbit" • "It's No Picnic" • "The Klimpaloon Ultimatum" • "Operation Crumb Cake" • "Mandace" • "Phineas and Ferb: Star Wars" • "Lost in Danville" • "The Inator Method" • "Night of the Living Pharmacists" • "Tales from the Resistance: Back to the 2nd Dimension" • "Doof 101" • "Act Your Age" • "Last Day of Summer" • "O.W.C.A. Files"
Community content is available under
CC-BY-SA
unless otherwise noted.