This article is about the weapon owned by King Triton. For other uses, see Trident (disambiguation).
The Trident is a magical weapon that is featured in The Little Mermaid franchise. It serves as the personal weapon of King Triton. It has vast magical abilities capable of controlling the sea and it's foils, and thus has been strongly desired by malevolent forces, most notably Ursula.
Background
The trident is demonstrated to have various applications, depending on the will of the user. When its power is activated, it illuminates with a bright, shining golden or blue glow (green in Morgana's case) and is heard to make a deep humming sound punctuated with high-pitched melodious tunes. Since whoever wields it has command over the oceans, it affords tremendous power.
Most commonly seen is its ability to fire destructive energy bolts. These energy bolts, however, must be fired immediately upon the ready, or they will cause the built up energy to backfire on the user. This is how Ursula's body was destroyed, as she attempted to fire an energy bolt at Ariel, but was (mortally) impaled seconds before she could fire by prince Eric and one of the ships, causing the energy to backfire on her. Though these energy bolts may destroy many things, the trident is incapable of destroying or undoing magical binding contracts; due to these said contracts being legal and binding. 
Triton has also used it to summon rain storms, and transform his daughter, Ariel, into a human, he is also seen creating a rainbow in the first film, and disintegrating the sea wall in the second film, Ariel uses it herself in one episode of the television show, to thaw dinosaurs that have been trapped in a glacier, and it is revealed that the trident is activated simply by the will of the user. When the trident is in Ursula's possession, she grows to gigantic size and creates a giant whirlpool in the ocean that has such force that it raises sunken ships from the ocean floor (which Eric uses to kill Ursula). In the television series, the trident can be mentally controlled by Triton's will and called to him as well.
In The Little Mermaid II: Return to the Sea, introduced several powers that are contradictory to the rest of the franchise. For one, the film claims that only members of the royal bloodline can remove the trident, despite this, others have been able to; for instance, Urchin in the TV series was able to lift the trident out of it's resting place at one point despite him not being related to Triton at all. It can even be used against the Royal Family of Atlantica, seen when Ursula misuses its powerful lightning bolts (meant to defend Atlantica) to instead try to murder Ariel.
In The Little Mermaid II: Return to the Sea, according to Morgana, the trident's powers has no direct effect on pure-blooded humans or in Melody's case, human-merpeople hybrids.
Powers and abilities
Powers
Energy Bolts: The trident can generate, create and project powerful bright gold, pink, green or blue energy bolts, that can destroy or disintegrate almost any substance known to humans, merpeople, cecaelias and sharkanians respectively. According to Triton, at full power; the trident's energy bolts are more destructive and devastating then lightning itself, but only in the hands of the current monarch of Atlantica.
Mégethoskinesis: The trident can increase or decrease the size of the user, other merpeople, aquatic/marine creatures, etc.; while preserving body proportion.
Conjuring: The trident can generate, create and project a rainbow.
Shapeshifting: The trident can transform it's user or other merpeople into humans and vice versa.
Levitation: The trident can levitate other merpeople, objects, aquatic/marine creatures, etc.
Corporikinesis: The trident can manipulate the bodies of other merpeople or aquatic/marine creatures; forcing them to do the user's bidding against their free will.

Immobilization: The trident can temporarily incapacitate other merpeople, aquatic/marine creatures, etc.

Atmogenesis: The trident can generate, create and project all aspects of the weather; such as rain storms, thunderstorms, etc.
Atmokinesis: The trident can manipulate the weather.
Cryogenesis: The trident can generate, create and project ice.
Cryokinesis: The trident can manipulate ice.
Invulnerability: Due to it being comprised of an unknown metal alloy; the trident is almost completely indestructible.
Abilities
Melee Combat: The trident can be wield in combat; like any other melee weapon.
Weaknesses
Limitations: Despite being an immensely powerful mystical weapon, the trident's powers has it's limits;

Human(s): The trident's powers has no direct effect on humans; due to the fact that they are not aquatic/marine creatures.
Human-Merpeople Hybrid(s): The trident's powers has no direct effect on human-merpeople hybrids, due to the fact that they are not pure-blooded aquatic/marine creatures; as they are biologically more human then merpeople.
Magical Contract(s): The trident cannot destroy or undoing an individual's deal on magical contracts once they have signed it; due to the fact that these said contracts are legal and binding.
Trivia
In A Twisted Tale: Part of Your World, when Ariel becomes Queen after Triton is captured by Ursula, she is able to turn the trident into a comb when she assumes human form to search for her father. It is also established that the trident only has power when in the sea or in contact with sea water, with the result that Ariel cannot use it's powers when on land (although she is able to channel it's power when she makes contact with a fountain that takes it's water directly from the sea).
Gallery
v - e - d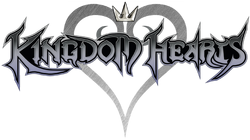 Characters
Main Characters: Sora • Riku • Kairi • King Mickey • Donald Duck • Goofy • Roxas • Axel/Lea • Naminé • Xion • Aqua • Terra • Ventus


Villains: Xehanort • Ansem • Xemnas • Maleficent • Pete • Vanitas • Xigbar/Braig • Xaldin • Vexen • Lexaeus • Zexion • Saïx/Isa • Demyx • Luxord • Marluxia • Larxene • Terra-Xehanort • Young Xehanort • Xehanort's Guardian
Other Characters: Jiminy Cricket • Ansem the Wise/DiZ • Yen Sid • Master Eraqus • Dilan • Even • Aeleus • Ienzo • Lingering Will • Hayner • Pence • Olette • Kairi's Grandma • Riku Replica • Jiminy's Journal • Foretellers • Master of Masters • Luxu • Ephemer • Skuld • Chirithy
Original Monsters: Heartless • Nobodies • Unversed • Dream Eater
Disney Characters and Villains: Queen Minnie • Daisy Duck • Pluto • Chip and Dale • Scrooge McDuck • Huey, Dewey, and Louie • Horace Horsecollar • Clarabelle Cow • Clara Cluck • Merlin • Alice • White Rabbit • Doorknob • Cheshire Cat • Queen of Hearts • Card Soldiers • Mad Hatter • March Hare • Tarzan • Jane Porter • Clayton • Terk • Kerchak • Kala • Sabor • Hercules • Philoctetes • Pegasus • Megara • Hades • Pain and Panic • Cerberus • Titans • Hydra • Zeus • Apollo • Athena • Hermes • Aladdin • Abu • Jasmine • Genie • Carpet • Jafar • Iago • Peddler • Sultan • Razoul • Royal Guards • Cave of Wonders • Ariel • Flounder • Sebastian • Ursula • King Triton • Prince Eric • Flotsam and Jetsam • Attina • Andrina • Glut • Pinocchio • Geppetto • Blue Fairy • Monstro • Cleo • Jack Skellington • Zero • Sally • Oogie Boogie • Lock, Shock, and Barrel • Dr. Finkelstein • Mayor of Halloween Town • Santa Claus • Skeletal Reindeer • Peter Pan • Tinker Bell • Captain Hook • Mr. Smee • Wendy • Lost Boys • Crocodile • Magic Brooms • Chernabog • Chernabog's Minions • Winnie the Pooh • Tigger • Piglet • Eeyore • Rabbit • Owl • Kanga • Roo • Gopher • Lumpy • Bees • Pongo • Perdita • Dalmatian Puppies • Dumbo • Bambi • Mulan • Mushu • Li Shang • Shan Yu • Hayabusa • Yao, Ling, and Chien Po • The Emperor • Belle • Beast • Lumiere • Cogsworth • Mrs Potts • Chip • Wardrobe • Maurice • Gaston • Jack Sparrow • Elizabeth Swann • Will Turner • Captain Barbossa • Gibbs • Tia Dalma • Davy Jones • Kraken • Cutler Beckett • Jacoby • Cursed Crew • Simba • Timon • Pumbaa • Nala • Rafiki • Scar • Shenzi, Banzai, and Ed • Mufasa • Kiara • Pridelanders • Hyenas • Tron • Master Control Program • Commander Sark • Chicken Little • Flora, Fauna, and Merryweather • Aurora • Prince Phillip • Maleficent's Raven • Maleficent's Goons • Samson • Snow White • Doc • Grumpy • Happy • Sleepy • Bashful • Sneezy • Dopey • The Prince • Evil Queen • Magic Mirror • Cinderella • Prince Charming • Fairy Godmother • Jaq • Lady Tremaine • Anastasia • Drizella • Lucifer • Grand Duke • Stitch • Grand Councilwoman • Captain Gantu • Jumba • Experiment 221 • Quasimodo • Esmeralda • Phoebus • Judge Claude Frollo • Victor, Hugo, and Laverne • Kevin Flynn • Sam Flynn • Quorra • CLU • Rinzler • Black Guards • Beagle Boys • Julius • Little Chef • Woody • Buzz Lightyear • Rex • Hamm • Sarge • Green Army Men • Little Green Men • Rapunzel • Flynn Rider • Pascal • Maximus • Mother Gothel • Sulley • Mike Wazowski • Boo • Randall Boggs • The CDA • Trailer Son and Mom • Anna • Elsa • Kristoff • Olaf • Sven • Marshmallow • Hans • Hiro Hamada • Baymax • Go Go Tomago • Honey Lemon • Wasabi • Fred • Wreck-It Ralph • Fix-It Felix Jr. • Sergeant Calhoun • Cy-Bugs • Hero's Duty Troops
Square Enix Characters: Leon • Cloud • Moogle • Others
Community content is available under
CC-BY-SA
unless otherwise noted.