Trixie Carter[1][2] is one of the main characters of the Disney Channel animated series American Dragon: Jake Long.
Background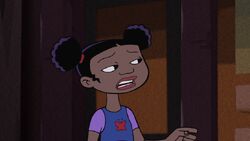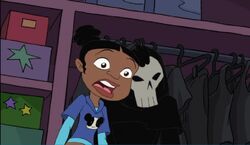 Trixie is an African-American girl living in New York City. Her best friends are Jake Long and Spud. She is Jake's best bud and the only female friend. She is fully New York City. Carter currently attends Millard Fillmore Middle School. Trixie loves helping Jake protect the magical community.
Personality
She is sassy, vivacious, feisty, and somewhat of a tomboyish character. Although initially annoyed at Jake for how long he kept his secret from her, she loves helping to protect the magical community. She is supportive of both Jake and Spud, but for a while, she has shown a dislike and distrust toward Rose and was a bit unsupportive of Jake's feelings for her,[3] but soon started to accept their relationship. She even comforted Jake when the two of them broke up during the school's Valentine's Day field trip event.[4] After Rose nearly sacrificed herself to save Jake and every magical creature in the world,[5] she tried to help Jake to move on.
She is also a trustworthy friend because even though Jake's grandfather did not initially trust her and Spud, they kept Jake's dragon secret.[6]
She can be very rude and inconsiderate because she threw away her long time friendship with Spud and Jake just to be with the "cool" girls and have girl talk with the cheer squad. But in the end, she saves both of her friends and proves to be considered loyal.[7]
Talents, Interests, and Abilities
Trixie has a great talent in cheerleading and acrobatics, although her fiasco with the Millard Fillmore Middle School cheer squad has turned her off from using them.[8] She enjoys skateboarding and hanging out with her friends. She also has a big interest in money, as well as great interest in biology, and aspires to become "Doctor Trixie Carter".[9][10] She is also able to hold her bladder for a long time as seen in a camping episode where she holds it a whole weekend.[11]
Relationships
Family
Trixie lives at home with her mother and grandmother, although her mother is sometimes away for long periods as she is either an airplane attendant or an airline pilot. At these times, her grandmother acts as Trixie's primary caregiver, always asking her if she or her friends want something to eat. It has never been confirmed, but Trixie's grandmother may live with her.
It is established in that her father works for the military and is a fighter pilot.[12] Trixie's family appears to be wealthy. It is shown that her mother often buys Trixie designer clothing when she is in other countries, but Trixie rarely wears them as they are not her style.[13]
Love Interests
Early on, she maintained a celebrity crush on Denzel Washington, often calling out his name and asking him to "wait for me".
Later she developed a more realistically obtainable obsession with another student in her school named Kyle Wilkins.[14] She constantly boasts about her crush and will let everyone know about it.
She also once accidentally flirts and date with this one boy at a video game convention who she doesn't know and who is wearing a costume so she doesn't know who he is, thinking he was someone her age. She totally freaked out when she found out the truth about him. He turns up to be around 8 years, his height was boosted up by the help of his bulky costume, and the little brother of Kyle Wilkins.[15]
However, some fans speculate that she has a crush on Spud. Going with the cliché of friends who started dating, there was constant hinting that she might actually have romantic feelings for Spud, but she and Spud say flat out that they are "friends and nothing more."[16]
Gallery
Trivia
In the Season 1 intro, Trixie plays the electric guitar in Jake's imaginary band.
Her hairstyle is very similar to that of Holly from Phineas and Ferb, also an African-American girl.
She uses the word "baby" a lot.
Trixie bears a close resemblance to, and shares last name with, Cleo Carter from Tutenstein, which is believed to also be set in (or around) New York.
Trixie pukes whenever she's on boats or ships.
References