Doctor Strange in The Multiverse o Madness - The Loop
Play Sound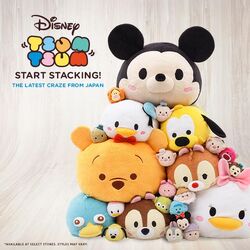 Tsum Tsum is the name of a range of collectible stuffed toys based upon popular Disney characters (including characters from the Disney-owned Star Wars and Marvel franchises). The name is derived from the Japanese verb tsumu, meaning "to stack", because the toys are designed to stack on top of each other, forming a pyramid shape. The toys were first released in Japan in 2013 as a tie-in to the Tsum Tsum arcade and mobile games developed by Konami and Line Corporation. Disney began to sell them in the United States in July 2014, and in Disneyland Paris the following month. Around the same time, Disney released Tsum Tsum to the South Korean market, giving away icons for use on online chat systems. As of 2014, 1.8 million Tsum Tsum toys have been sold.
Shorts
Many shorts involving Tsum Tsum were posted on Youtube and were also on Disney Junior in the past. The full list of shorts are here: Disney Tsum Tsum (shorts) | Disney Wiki | Fandom Be aware this heading isn't related to the history or subject about the toys.
Design
Initially, the toys were released in three different sizes: "mini" (3.5 inches long), "medium" (11 inches), and "large" (17 inches). In June 2014, a new "mega" size (21.5 inches) was released to the Japanese market. In October 2015, Disney announced a subscription-only "small" size (7.5 inches). In November 2015, during the Japanese D23 Expo, a new "micro" size (2 inches) was introduced.
Franchises
Mickey Mouse & Friends
Click "expand" for full gallery
Mini
Medium
Large
Mega
Micro
Click "expand" for full gallery
Mini
Medium
Large
Click "expand" for full gallery
Mini
Medium
Large
Miscellaneous
Click "expand" for full gallery
Click "expand" for full gallery
Click "expand" for full gallery
Click "expand" for full gallery
Click "expand" for full gallery
Mini
Medium
Large
Mega
Click "expand" for full gallery
Mini
Medium
Click "expand" for full gallery
Click "expand" for full gallery
Click "expand" for full gallery
Series One
Mini
Medium
Large
Series Two
Mini
Medium
Click "expand" for full gallery
Click "expand" for full gallery
Mini
Medium
Click "expand" for full gallery
Mini
Medium
Click "expand" for full gallery
Click "expand" for full gallery
Mini
Small
Click "expand" for full gallery
Mini
Medium
Large
Click "expand" for full gallery
Mini
Click "expand" for full gallery
Mini
Click "expand" for full gallery
Micro
Click "expand" for full gallery
Click "expand" for full gallery
Mini
Medium
Large
Click "expand" for full gallery
Click "expand" for full gallery
Mini
Small
Click "expand" for full gallery
Click "expand" for full gallery
Click "expand" for full gallery
Click "expand" for full gallery
Micro
Mini
Click "expand" for full gallery
Click "expand" for full gallery
Click "expand" for full gallery
Click "expand" for full gallery
Click "expand" for full gallery
Click "expand" for full gallery
Click "expand" for full gallery
Click "expand" for full gallery
Mini
Micro
Click "expand" for full gallery
Mini