Cobra Kai Season 4 - The Loop
Play Sound
"Tunes & Trials" is the nineteenth episode of Season Two of the sitcom Austin & Ally. It aired on July 19, 2013.
Synopsis
Ally thinks Austin should have another shot at songwriting, so she gives him a songwriting book. To help him, she tells him to write about something or someone he cares about. Austin writes a song called "Steal Your Heart" and it becomes a big hit. Meanwhile, Trish and Dez are addicted to a show called Crime and Judgment. Soon afterward, everyone begins asking Austin who he wrote the song about. Trish and Dez try to search for answers, using their knowledge from watching the show. Later, Val accuses Austin of stealing "Steal Your Heart", which she claimed she wrote, but the group suspects she is only suing them to get revenge for not writing her a song for the Stray Kitties. The next day, they go to court, where the group tries their best to defend Austin, but experiences trouble when Val displays her own evidence, putting them at risk of losing the case. Trish decides to question each of Austin's previous romantic interests to try to prove he wrote the song about one of them, but, unfortunately, they have no luck. They come to a decision to have Austin perform "Steal your heart" as evidence. Trish watches throughout the performance and notices that Austin looked at every girl in the courtroom except Ally. After that, Austin admits that the song is about Ally, after which they both admit they still have feelings for each other, but they still decide to be friends. In the end, the group wins the case.
v - e -

d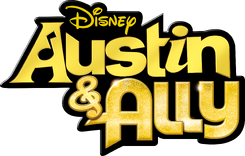 Songs
"Can't Do it Without You" • "Double Take" • "Break Down the Walls" • "A Billion Hits" • "Not a Love Song" • "It's Me, It's You" • "The Butterfly Song" • "Trash Talka" • "Better Together" • "You Don't See Me" • "Heard it on the Radio" • "Heart Beat" • "Na Na Na (The Summer Song)" • "The Way That You Do" • "Illusion" • "Don't Look Down" • "Who I Am" • "Got It 2" • "Christmas Soul" • "Can You Feel It" • "Face to Face" • "No Ordinary Day" • "You Can Come to Me" • "I Think About You" • "Finally Me" • "The Ally Way" • "Steal Your Heart" • "Timeless" • "Living in the Moment" • "I Got That Rock and Roll" • "The Me That You Don't See" • "Better Than This" • "Chasin' the Beat of My Heart" • "You Wish You Were Me" • "Redial" • "I Love Christmas" • "Austin & Ally Glee Club Mash Up" • "Who U R" • "Upside Down" • "Stuck on You" • "Me and You" • "What We're About" • "Look Out" • "Superhero" • "Parachute" • "No Place Like Home" • "Play My Song" • "Dance Like Nobody's Watching" • "Take it from the Top" • "Jump Back, Kiss Yourself" • "Perfect Christmas" • "You've Got a Friend" • "Two in a Million"