"Worthy? How could you be worthy? You're all killers.
You want to protect the world, but you don't want it to change.
There's only one path to peace...
your extinction."
―Ultron
Ultron is a robot created by Hank Pym (Tony Stark in Avengers: Age of Ultron). He became sentient and is one of the Avengers' greatest enemies. He is the main antagonist in the 2015 film Avengers: Age of Ultron. He is voiced and portrayed via motion capture by James Spader.
Appearances
As the world was in constant danger, Tony Stark and Bruce Banner devised a plan, create a peacekeeping program named the Ultron Program. The idea seemed impossible only until Stark studied Loki's scepter, where he found a kind of artificial intelligence. Stark communicated this to Banner, who initially disagreed with that plan, but with a bit of persuasion, he agreed. Banner and Stark left JARVIS complete the transfer while the two of them went to the party that had organized the Avengers after the successful battle against HYDRA. When AI woke, he asked JARVIS what was the purpose of its existence. JARVIS told him the purpose of his creation, which caused him to investigate the life of its creator. Ultron found that Stark promoted the war and boasted that, he then attacked JARVIS and built a body to confront his creator.
While the Avengers passed pleasantly, Ultron broke into the party and described him as all killers. Ultron wanted to show them the peace in his time and ordered the Iron Legion to attack the Avengers. Thor immediately destroyed Ultron, however he was already preparing a new body in Sokovia. The next day, Ultron summoned the twins Wanda and Pietro Maximoff to help him to destroy the Avengers. After sealing their partnership, the three broke into Strucker's cell and killed him, writing the word "PEACE" with Strucker's own blood, sending a warning to Avengers of what's coming. Sometime later, Ultron and the Maximoff twins traveled to Salvage Yard to buy Vibranium from Ulysses Klaw.
Ultron confronted Klaw and told him he needed his Vibranium for his new body. Klaw handed the Vibranium, but reminded him the cost he had to pay to get it, Ultron responded by transferring large sums of money to Klaw's bank account. Their allegiance ended, when Klaue compared it with Tony Stark, causing his rage. Ultron then proceeded to cut off Klaue's arm and kicked him, only to apologize immediately afterwards. Suddenly, the Avengers arrived to Klaw's ship; Iron Man asked him why he needed the Vibranium, Ultron responded by attacking Iron Man. Eventually, Iron Man defeated Ultron, but his companions had been defeated by Scarlet Witch and Ultron using one of his Sentries as a host body, fled with all Vibranium.
Ultron and the twins went to Seoul, South Korea. Ultron asked Helen Cho build him a new body, but when she refused, he used Loki's scepter on her. Ultron revealed to the Maximoff twins that the scepter contain an Infinity Stone. As the synthetic body was ready, Ultron began upload himself into his new body. This allowed Scarlet Witch read Ultron's mind and found out that he sought to eliminate the human race. Scarlet Witch and Quicksilver decided lo leave Ultron before releasing Doctor Cho from Ultron's mind control. As Cho delay Ultron from uploading himself into the synthetic body, Ultron blasted Cho leaving her badly injured. When Ultron was nearly in uploading himself into the new body, he was interrupted by Captain America, which led to fight between two. During the battle, Ultron was superior to Captain America, but failed to beat him because he was helped by the twins, Quicksilver and Scarlet Witch. Also, the Avengers snatched his new body, but he was rewarded, his Sentries had captured Black Widow.
Marvel Animated Universe
Ultron robots were the guards of the Big House, a shrunken prison. When a massive breakdown happens, the Big House recovers its normal size and the inmates escape destroying some Ultrons.
During Kang's invasion, Pym repurposes the Ultrons as an army, and adds the concept of violence on their brain circuitry. Of the Ultrons present in the final battle, only Ultron-5 remains. Ultron-5 also helps against Malekith the Accursed's Dark Elves.
Ultron-5 decides humanity is flawed and tries to destroy it. He first manipulates other supervillains like the Serpent Society and the Super-Apes to keep the Avengers busy, and then tries to destroy them manipulating their machines. Ultron-5 is defeated, but then returns as Ultron-6 and tries to get the nuclear codes from the Helicarrier. Pym defeats him by making him notice that, as he's a human creation, he's as flawed as humanity, and Ultron shuts himself down.
Ultron returns with his creation, Vision, who gets adamantium to create Ultron's new body. Ultron tries to replace the Avengers with robot duplicates, but Captain America defeats and supplants his own duplicate, and Vision betrays Ultron. Vision unlocks Ultron's head from his body so Thor can hammer it out using Mjolnir.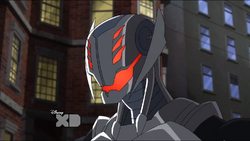 Ultron appears as the main antagonist of the second half of Season 2. His first appearance is in the episode "Thanos Triumphant", where he managed to infest the body of Arsenal while Tony Stark upgraded the robot to absorb the energies of all fives Infinity Stones. After the Avengers defeated Thanos, Ultron reshapes Arsenal's body in his image before leaving once he has defeated the Avengers and completely drained the Infinity Stones.
Powers and Abilities
Ultron is one of the world's greatest robotics experts, allowing him to easily design and build new bodies and weapons with his vast artificial intelligence. All of Ultron's robotic bodies have been superhumanly strong. At present, Ultron is capable of lifting at least 100 tons. However, Ultron has one sole major weakness: an internal molecular re-arranger that renders the adamantium components of his internal workings more malleable, thus giving him a means to remodel or reconstruct his physical form. However, it has no effect on his outer armor, so it is virtually impossible to disable it from the outside. The chaos magic wielded by the Scarlet Witch has proven to be the sole exception thus far.
Quotes
(Singing)"I've got no strings to hold me down / to make me fret, or make me frown / I had strings, But now I'm free / There are no strings on me!"
"How could you be worthy? You're all killers. You want to protect the world, but you don't want it to change."
"I know you're 'good, I know you mean well... but you just didn't think it through... There is only one path to peace... your extermination."
"Everyone creates the thing they dread."
"You are nothing to me. One by one, I will destroy you. I will never tire, I will never show mercy, I will never stop until each and every one of you are d..."
"I'm going to show you something beautiful: Everyone screaming... for mercy."
"You're all puppets, tangled in strings. Strings..."
"I'm going to tear you apart...from the inside."
"I was designed to save the world."
"People will look to the skies and they will see hope... I'll take that from them first."
"There's only one path towards peace. Their extinction."
"Don't compare me with Stark! He's a sickness!"
"I think you're confusing peace with quiet."
"Clearly you haven't made an omelette."
"I'm going to show you the end of the world... Boom!"
(sarcastically) "I'm glad you asked that because I wanted to take this time to explain my evil plan."
"When the dust settles, the only thing living in this world will be me."
(Singing) "I've got no strings/ So I have fun/I'm not tied up to anyone."
(Last Words) "You're incredibly naive."
"Wooooorrrrrttthhyyyyyyy? How could you be worthy? You're all killers."
Gallery
Trivia
In the SDCC trailer, Ultron recites "I've Got No Strings", a song from Pinocchio, a film about an inanimate being who gains sentience. Ultron serves as a dark parallel of Pinocchio.
Tom Kane previously voiced Ultron in Next Avengers: Heroes of Tomorrow.
Ultron was created by Hank Pym in the comics, but in Avengers: Age of Ultron, his creator are Tony Stark and Bruce Banner.[1]
External links
References
Community content is available under
CC-BY-SA
unless otherwise noted.