"Un-Valentine's Day" is the fifth episode of the second season of The New Adventures of Winnie the Pooh.
Plot
It's Valentine's Day again, and Rabbit holds a meeting to decide how to avoid a repeat of the "terrible fiasco" that was last year's Valentine's Day. Tigger agrees but then asks Rabbit what "terrible fiasco" are they talking about. Rabbit refreshes Tigger's memory by explaining to him that ten zillion Valentines had been given out, last year, more than any one animal can use. Gopher's tunnels and Tigger's house were getting overflowed and so messy by them that not even one could find one card. Rabbit explains to the others that most of the blame can be placed on just one of them -- a certain bear who shall remain nameless but whose initials are "Winnie the Pooh". Pooh tells Rabbit that it sounds familiar but he can't quite place the face. Rabbit states to everyone that whenever he or anyone else gave Pooh one Valentine, he responded with three. Gopher says that he had forty bushels, Owl says that he have received two hundred thousand bushels at least and Tigger says that he got "quadzillion" and one bushels (which he thinks it is even, except that it is odd), but he wonders how many that is. Since Pooh forgets the situation and gives Rabbit a Valentine and greets him a happy Valentine's Day, Rabbit forced by Pooh, tells him that the only option left. Pooh thinks that Rabbit is going give him a Valentine, and he thanks him for that, but Rabbit states to him that the option he is talking about is to cancel Valentine's Day, which shocks him and leaves everyone else in confusion. He declares to him and everyone else that there is no other way, this calls for drastic measures and they should follow the example set by Eeyore, last year. Piglet told Rabbit that he did not send any Valentines, and Rabbit agrees with him, and he tells him and the others that that way, nobody will have their feelings hurt or be buried by unwanted cards. He exclaims to him and everyone else that he wants them to promise that not even a teeny, tiny Valentine gift will be given. Everybody (except Pooh) had been forced by Rabbit to agree with this, which makes the suggestion approved and official.
A short while later, Pooh answers a knock on his door to find an anonymous valentine gift of a pot of honey. He decides that it must have been Piglet who gave him the gift, and walks off to give Piglet one in return. When Piglet gets the gift from Pooh, he feels very ungrateful since he wasn't actually the one who gave Pooh a valentine, and decides to bake him a cake as a thank-you valentine.
After baking the cake, he runs out to deliver it to Pooh as fast as possible, but runs into Tigger on the way. In surprise and fear of Rabbit finding out about the valentine, he throws the cake high into the air, where it lands on Owl, who initially thinks that the cake is snow. When he realizes it's a cake, with "Frum Piglet" written in icing, he thinks Piglet gave him a valentine and goes to give him one in return, "in secret of course".
Owl accidentally knocks the cake out of his tree and it lands on Tigger, who thinks it is a gift from Owl since there's a feather stuck in it. A chain reaction starts with everyone getting gifts that are for other people and they give each other valentines in secret because of this, with Pooh, dressed as a giant mailbox, acting as the delivery centre. When Rabbit gets a carrot wrapped in a bow delivered to his door, he sets out to find whoever is doing it. Everybody starts sending boxes and boxes of Valentines, but act like they are not Valentines. Rabbit eventually discovers them all at the mailbox.
Rabbit calls another meeting at his house to ask Pooh why he sent the Valentines. He reveals that someone else broke Rabbit's promise first. He just broke it more. He founds out that it was Christopher Robin who sent his Valentine, the only one who didn't know about Rabbit's promise, and everyone (including Rabbit) shockingly agrees with him. Pooh has a new Valentine that they can use, which is "terrifical", but it is kind of on the scrawny side. Tigger says that they need a Valentine so "gigantical", that it will hold all their friends ship and then some. Piglet says that if they act out Pooh's card, it'd be a real life Valentine with all of them in it.
With Rabbit as self-appointed leader they decide to make a play. They plan and rehearse the play, with Pooh and Kenga acting as a couple in love, Piglet acting as Cupid, Gopher and Roo as the orchestra, and Tigger doing the "specialty fects". They present the play to Christopher Robin a short while later, but everything goes wrong, with Piglet swinging from a rope all over the stage while forgetting his line and due to Owl's rope handling, Piglet sets off a giant fan (presumingly put there by Tigger) being turned on and blowing everything away, and finally with Tigger doing the "grand finale" by blowing up barrels of gunpowder and basketballs.
Christopher Robin thinks it was a huge success, calling it "the greatest comedy ever". Christopher then reveals that he wasn't the one who gave the original Valentine to Pooh by giving them all Valentines at that moment. On their way home, Piglet and Pooh run into Eeyore, and it's revealed that EEYORE was the one who gave the original Valentine, inspired by how Pooh "got everybody running around, all excited like, showing how much they cared for each other". He wanted to do the same kind of thing, but says that "An Eeyore never really could, mind you". The episode ends with Piglet saying "Oh, but you did, Eeyore!"
Characters
Home video
Un-Valentine's Day (VHS and Laserdisc)
A Valentine for You Special Edition (DVD)
v - e - d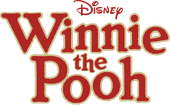 Songs
Movie Songs
Winnie the Pooh and the Honey Tree: "Winnie the Pooh" • "Up, Down, Touch the Ground" • "Rumbly in My Tumbly" • "Little Black Rain Cloud" • "Mind Over Matter"
Winnie the Pooh and the Blustery Day: "A Rather Blustery Day" • "The Wonderful Thing About Tiggers" • "Heffalumps and Woozles" • "Rain, Rain, Rain Came Down, Down, Down" • "Hip-Hip-Hooray!"
Boo to You Too! Winnie the Pooh: "I Am Not Afraid" • "I Wanna Scare Myself"
Pooh's Grand Adventure: The Search for Christopher Robin: "Forever & Ever" • "Adventure is a Wonderful Thing" • "If It Says So" • "Wherever You Are" • "Everything is Right"
The Many Songs of Winnie the Pooh: "It Really Was a Woozle, Yes it Was"
Sing a Song with Pooh Bear: "Kanga Roo Hop" • "You're the One and Only One" • "Harvest What You Grow" • "My Song"
Winnie the Pooh: A Valentine for You: "Girls are Like Boys" • "When the Love Bug Bites" • "Places in the Heart"
Winnie the Pooh: A Very Merry Pooh Year: "Jingle Bells" • "Snow Snows" • "Merry Pooh Year" • "Hunny, Not for Me" • "Auld Lang Syne"
The Tigger Movie: "Someone Like Me" • "Whoop-de-Dooper Bounce" • "Lull-a-Bee" • "Round My Family Tree" • "How to Be a Tigger" • "Your Heart Will Lead You Home"
Piglet's Big Movie: "If I Wasn't So Small" • "A Mother's Intuition" • "With a Few Good Friends" • "Sing-Ho (For the Life of a Bear)" • "The More It Snows (Tiddely-Pom)" • "The More I Look Inside" • "Comforting to Know"
Springtime With Roo: "We're Huntin' Eggs Today" • "Sniffley Sniff" • "Easter Day With You" • "The Way It Must Be Done"
Pooh's Heffalump Movie: "Little Mr. Roo" • "The Horribly Hazardous Heffalumps" • "The Name Game" • "Shoulder to Shoulder" • "In the Name of the Hundred Acre Wood/What Do You Do?"
Pooh's Heffalump Halloween Movie: "Trick 'R Treating With Our Friends" • "Brave Together"
Winnie the Pooh: "The Tummy Song" • "A Very Important Thing to Do" • "The Winner Song" • "The Backson Song" • "It's Gonna Be Great" • "Everything is Honey" • "Pooh's Finale"
Christopher Robin: "Goodbye, Farewell" • "Busy Doing Nothing" • "Christopher Robin"
Television Songs
Welcome to Pooh Corner: "Welcome to Pooh Corner Theme Song" • "Try a Little Something New" • "The Right Side" • "Yes, I Can" • "You're the Only You" • "I Hum to Myself" • "Please and Thank You" • "Responsible Persons" • "Welcome to Pooh Corner Ending Theme"
The New Adventures of Winnie the Pooh: "Pooh Bear" • "'Cause It's Make Believe" • "The Floating Song" • "Nothing's Too Good for a Friend" • "Under the Bed" • "I Don't Have A Name" • "King of the Beasties" • "The End" • "Pirates is What We'll Be" • "Tigger, the Private Ear is Here"
The Book of Pooh: "Everyone Knows He's Winnie the Pooh" • "Goodbye for Now" • "Your Best Wishes" • "On the Double" • "Who is Me" • "Think, Think, Think" • "What Piglets Are" • "I Watch for Signs" • "We're Making a Cake" • "If I Could Be Big" • "Isn't that Funny?" • "Find the X" • "Everyone Wants a Valentine" • "That's What We Do" • "Keep it Simple" • "Have You Got a Book For Me?" • "Give It a Try" • "On Your Way Back Home" • "The Birdbird Song" • "Nightmare Wranglers" • "Carry On" • "What's Your Name, River" • "Where Do Words Go?" • "Under a Spelling Bee's Spell" • "Adventure" • "Mental Altitude" • "I Want to Know Everything Now" • "Happy Tailiversary" • "Get Growin'" • "Tigger's Lullaby" • "Perfect Party" • "If We Were Talkin'" • "Someone New to Meet" • "My Hero" • "I Want To Be Scary" • "Broken Friendships" • "Do the Roo" • "Call Me Buck-a-Roo" • "At Chez Piglet" • "Nothing Ever Happens" • "Too Much Honey" • "Lost in a Book"
My Friends Tigger and Pooh: "A Few Simple Rules" • "Bouncin'" • "The Grass is Greenier" • "The Password Song" • "Underneath the Same Sky" • "One Big Happy Family" • "Think, Think, Think" • "The Question Song" • "Floating in a Cloud" • "Different Can Be Good" • "The Little Things You Do" • "There's a Party" • "No More Fun In the Snow" • "Butterflies" • "What Makes a Pony a Pony" • "When We Work Together" • "Christmas Comes Tomorrow" • "Time to Go (On a Trek Through the Snow)" • "Snowman Song"
Miscellaneous: "Luv-a-bye" • "Playtime Song" • "Learning Song" • "Friendship Song"

Community content is available under
CC-BY-SA
unless otherwise noted.