This article is about the comic book. For the main character, see Scrooge McDuck.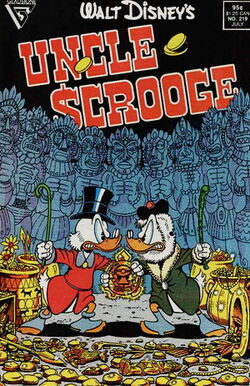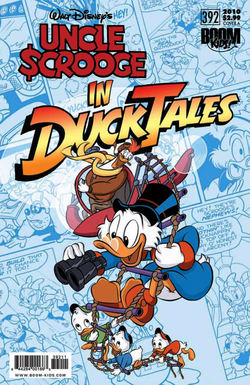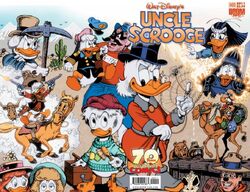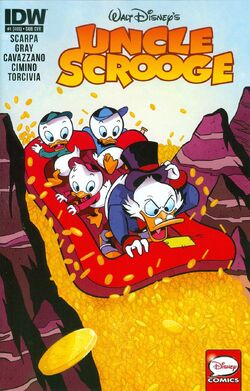 Uncle Scrooge (stylized as Uncle $crooge) is a long-running comic book series with the stingy Scrooge McDuck, "the richest duck in the world", as its main character. The series also features Donald Duck and his nephews as supporting characters.
Publishing history
By 1952, the popularity of Carl Barks' Scrooge McDuck character, introduced in "Christmas on Bear Mountain" (originally printed in Four Color Comics #178), had convinced publisher Dell Comics to give Scrooge a try-out as a lead character in the seminal "Only a Poor Old Man" in Four Color anthology series, a story Barks expert Michael Barrier has termed a masterpiece. After two further Four Color appearances, Scrooge was granted his own title starting with issue number #4 (counting the try-out issues as one through three). The first 70 issues mostly consisted of stories written and drawn by Carl Barks, the creator of Scrooge McDuck. The 71st issue had a story written by Barks and drawn by Tony Strobl. Subsequent issues often consisted of reprints of earlier classic Barks tales.
The series continued uninterrupted (though not always on a monthly schedule) until 1984, when Western Publishing (the parent company of Gold Key/Whitman, who were publishing the title at the time) withdrew from the comic book business. Western had held the Disney comic book license since the late 1930s, and their withdrawal left the license, and Uncle Scrooge, in limbo for two years, until Another Rainbow Publishing, who had begun publishing hardbound compilations of Carl Barks's work in 1983, acquired it and launched Gladstone Publishing, resuming the title where Whitman had left off. Under Gladstone, the title included new stories by American creators Don Rosa, John Lustig, Pat McGreal, Dave Rawson, Michael T. Gilbert, and William Van Horn along with translations of European Disney comics by creators, such as Daan Jippes, Fred Milton, and Romano Scarpa originally published by Oberon, Egmont, and Disney Italy/Mondadori. After the comic's first year under Gladstone, the comic switched to bimonthly publication while a companion book, Uncle Scrooge Adventures, filled its spot every other month.
Gladstone continued publishing Uncle Scrooge until their license expired in 1990. At that point, the series shifted over to Disney's newly-launched comics imprint, Disney Comics, with little change in editorial direction. It was one of the company's only monthly titles to survive the "Disney implosion" of October 1991 (the others being Walt Disney's Comics and Stories and Donald Duck Adventures), and continued to be published by Disney Comics until May 1993, when Disney Comics folded and the license was reacquired by Gladstone Publishing. However, Gladstone eventually went through an implosion of their own in 1998, and with its 309th issue, Uncle Scrooge was briefly converted into a double-sized (64 pages), "prestige" format series, before Gladstone ended publication entirely later that year.
No further issues were published until 2003, when Gemstone Publishing (whose editorial staff included several former employees of Gladstone) acquired the license and resumed publication of the "core four" Disney comics. Gemstone maintained the prestige format previously adopted by Gladstone, and continued to publish the series until November 2008, at which point financial difficulties at Gemstone ended its run.
The license to Uncle Scrooge was then acquired by Boom! Studios, who reverted the title to a 28-page format when they began publication in October 2009. Much of Boom!'s run of Uncle Scrooge included stories spanned across four issues, and later on, comic stories based on DuckTales, most of which had never before been printed in the United States. The Boom! issues, like the other Disney comic books they were publishing, initially had at least two different covers for each issue. However, likely due to it not helping sales, this practice stopped at issue #394, with the 400th issue being the only Boom! issue afterward to have multiple cover variants. Boom!'s run ended in June 2011, when the Walt Disney Company's acquisition of Marvel Entertainment, coupled with frustrations over The Incredibles comic having been cancelled on a cliffhanger, led to the consolidation of all Disney comics licenses under Marvel Comics (or so it seemed).
The series is currently being published by IDW Publishing, with each issue being 40 pages in length. IDW's issues of Uncle Scrooge use a dual-numbering system, which count both how many issues IDW itself has published and what number issue it is in total (for instance, IDW first issue's was billed as "#1 (#405)"). IDW's issues of Uncle Scrooge, as with all their Disney comics, also have at least two different covers per issue, one of which is based on a Disney theme park attraction.
Publishers chart
| Publisher | Run | Issues published |
| --- | --- | --- |
| Dell Comics | March 1952-September 1962 | Four Color Comics #386, 456, and 495; #4-39 |
| Gold Key Comics | January 1963-1984 | #40-209, last few under "Whitman" name |
| Gladstone Publishing (first run) | July 1986-January 19, 1990 | #210-242 |
| Disney Comics | April 1990-May 1993 | #243-280 |
| Gladstone Publishing (second run) | June 1993-December 1998 | #281-318 |
| Gemstone Publishing | June 2003-November 2008 | #319-383 |
| Boom! Studios | October 14, 2009-June 1, 2011 | #384-404 |
| IDW Publishing | April 22, 2015-present | #405- |
Issues
Note: This list is incomplete.
#
Date
Stories
Notes
1
1952
"Only a Poor Old Man" (Carl Barks)
Published as Four Color #386.
2
1953
"Back to the Klondike" (Carl Barks)
Published as Four Color #456.
3
1953
"The Horseradish Story" (Carl Barks)
Published as Four Color #495.
4
12/1953
"Ballet Evasions", "The Menehune Mystery", "The Cheapest Weigh", "Bum Steer" (all Carl Barks)
5
03/1954
"The Secret of Atlantis" (Carl Barks)
6
06/1954
"Tralla La" (Carl Barks)
7
1954
"Ye Olde Wishing Well"
8
1954
"The Mysterious Stone Ray" (Carl Barks)
9
1955
"The Lemming with the locket", "The Tuckered Tiger"
10
1955
"The Fabulous philosopher's stone", "Heirloom watch"
11
1955
"The Great steamboat race", "Riches, riches everywhere"
12
1955
"The Golden Fleecing" (Carl Barks)
13
1956
"Land Beneath the Ground!" (Carl Barks)
14
1956
"Luncheon Lament" gag, "The Lost Crown of Genghis Khan" (Carl Barks), Gyro Gearloose "Inventor of Anything", "Faulty Fortune", "Gold Rush" gag, "Fireflies are Free" gag
15
1956
"Buffo or Bust" gag, "The Second-Richest Duck" (Carl Barks), Gyro Gearloose "The Cat Box", "Migrating Millions", "Pound for Sound" gag
First appearance of Flintheart Glomgold
16
1/1957
"Fertile Assets" gag, "Back to Long Ago" (Carl Barks), Gyro Gearloose "Forecasting Follies", "The Colossalest Surprise Quiz Show", "Backyard Bonanza" gag
17
3/1957
"Early to Build" gag, "A Cold Bargain" (Carl Barks), Gyro Gearloose "Fishing Mystery", "The Eyes Have It" short, "China Shop Shakeup" gag
19
4/1957
"Dollar" short, "The Mines of King Solomon", Gyro Gearloose House story
21
2/1958
"Money Dream" short, "The Money Well", Gyro Gearloose Scarecrow story, "Dog" short, "Vault Door" short
23
4/1958
"Hay Wagon" short, "The Strange Shipwrecks", Gyro Gearloose Swimming Pool story, "The Fabulous Tycoon", "Roll" short, "Electric Rates" short
24
1/1959
"The Twenty-four Carat Moon", Gyro Gearloose Tornado story, "The Magic Ink"
25
2/1959
"Taxi Fare" short, "The Flying Dutchman", Gyro Gearloose Wishing Well story, Uncle Scrooge Pyramid story, "Butterfly" short, "Newspaper" short, "Kittens" short
26
3/1959
"The Prize of Pizarro", Gyro Gearloose "Krankenstein Gyro", Uncle Scrooge Ghost Town story
27
4/1959
"The Money Champ", Gyro Gearloose "The Firefly Tracker", "His Handy Andy", "Crawls for Cash" short
28
1/1960
"The Paul Bunyan Machine", Gyro Gearloose "The Inventors Contest", "The Witching Stick", "Money Hat" short
29
2/1960
"Island in the Sky", Gyro Gearloose "Oodles of Oomph", "Hound of the Whiskervilles"
30
3/1960
"Pipeline to Danger", Gyro Gearloose "War Paint", "Yoicks! The Fox!"
31
4/1960
"All at Sea", Gyro Gearloose "Fishy Warden", "Two-way Luck", "The Secret Book" short, "The Balmy Swami" short
32
1/1961
"That's No Fable", Gyro Gearloose "That Small Feeling", "Clothes Make the Duck", "The Homey Touch" short, "A Thrift Gift" short, "Turnabout" short
33
2/1961
"Tree Trick" short, "Billions in the Hole", Gyro Gearloose "You Can't Win", "Bongo on the Congo", "The Big Bobber" short, "Thumbs Up" short
34
3/1961
"Mythic Mystery", Gyro Gearloose "Wily Rival", "Chugwagon Derby"
35
4/1961
"Hurry Birds" short, "The Golden Nugget Boat", Gyro Gearloose "Fast Away Castaway", "Gift Lion", "Bird Bait" short
36
2/1962
"The Midas Touch", "Duckburg's Day of Peril", Gyro Gearloose "Money Bag Goat", "The Bends" short, "Green Stuff" short, "Memory Man" short
37
3/1962
"The Windy Story" (short), "Cave of Ali Baba", Gyro Gearloose "The Great Popup", "Deep Down Doings", "Cash-Cart", "Can't Take It with You", "Night Out", "Over Weight" (shorts)
41
3/1963
Toll Bridge short, "The Status Seeker", Gyro Gearloose "Snow Duster", "Typhoon Tycoon", Rocket Digger short
44
8/1963
"Crown of the Mayas", Gyro Gearloose "The Fizzle That Drizzled", "The Invisible Intruder"
51
8/1964
"How Green was my Lettuce", Ludwig Von Drake "Pigeon Panic", "Let Donald Do It"
55
2/1965
"McDuck of Arabia", Limousine short, Zoo short, Gyro Gearloose "Scientific Sleuth", Parrot short, Fight short
60
11/1965
"The Phantom of Notre Duck", Gyro Gearloose "The Drippy Diamonds", Uncle Scrooge Desert Outing short
68
3/1967
Antique short, "Hall of the Mermaid Queen", Gyro Gearloose "Hypno-Clock"
69
3/1967
"Yipi-Ki-Yay"
71
10/1967
"King Scrooge the First" (Carl Barks and Tony Strobl), "Outdoor Thinking" (Phil de Lara and Vic Lockman)
76
8/1968
"Bye, Bye Money Bin", Gyro Gearloose "The Hopeless Helper", "The Luck Tycoon"
92
4/1971
"The Magic Ink" (reprint), "Two Way Luck" (reprint), Gyro Gearloose "That Small Feeling", "Tattletale Dime"
113
8/1974
"Crown of the Mayas", Gyro Gearloose Cyclone short
161
2/1979
"The Lost Crown of Genghis Khan", Gyro Gearloose untitled short
172
1/1980
"The Magic Ink" (Carl Barks), "The Round Money Bin" (Carl Barks), "The Bad Bargain" (Kay Wright and Vic Lockman)
179
9/1980
"The Lemming with the Locket" (Carl Barks), "Wishful Excess" (Carl Barks), "Sidewalk of the Mind" (Carl Barks)
Very rare; fewer than 200 copies thought to exist
198
1982
"The Mini-Bin Vacation", "The Wreck of the Merry Lark", "The Collectibles", "The Educated Cane"
199
1982
"Jillions in Jeopardy", "Return of the Bin-Buster", "Payday Blues", "The Educated Cane"
204
1982
"The Magnetic Curse", "The Fragrant Vagrant", "The Double Diamond", "The Rare Stamp"
first story with personal computer
214
2/1987
"A Sticky Situation" (Gutenberghus Group), "The Tuckered Tiger" (Carl Barks), Uncle Scrooge short, "An Alarming Development", Uncle Scrooge short
217
5/1987
"The Seven Cities of Cibola" (Carl Barks)
219
7/1987
"The Son of the Sun" (Don Rosa), "Portrait of the Artist as a Duck Man", short article
221
9/1987
"Green Attack" (Gutenberghus Group), Uncle Scrooge untitled squirrel short, Uncle Scrooge untitled quiz show short
228
8/1988
"Chugwagon Derby" (Barks), Beagle Boys "The Pigeon Plot", "The Generosity Ray", Donald Duck short
238
10/1989
"Ducking the Press" (Netherlands), "A Witch in Crime" (Denmark), "Trouble Indemnity" (Carl Barks)
244
7/1990
"The Adventurers Club Award" (Avenell, Vicar, Foster, Clark, Daigle-Leach), "The Toothless Tiger Auction" (Anderson, Vicar, Foster, Clark, Daigle-Leach)
272
11/1992
"Canute the Brute's Battle Axe" (Anderson, Gabner, Vicar, Davidson, Daigle-Leach), "Fare Delay" short (Barks, Daigle-Leach), "Charity Donation" short (Barks, Daigle-Leach)
276
3/1993
"The Island at the Edge of Time" (Don Rosa), "Skywriting for Scrooge" (Carl Barks)
277
4/1993
"The Great Steamboat Race", "Immovable Miser", "Much Luck McDuck" (all Carl Barks)
278
5/1993
"North of the Yukon" (Carl Barks)
279
6/1993
"Back to Long Ago!", "Moola on the Move", "Long Distance Collision", "Classy Taxi" (all Carl Barks)
292
6/1995
"King of the Klondike", two Donald Duck untitled shorts, untitled Uncle Scrooge short
300
10/1996
"The Sunken Yacht" (Barks), "Coin of the Realm", "Go Slowly, Sands of Time", "Nobody's Business"
The raising of "The Sunken Yacht" using ping pong balls was confirmed as plausible by the Mythbusters in 2004.
302
2/1997
"Monkey Business" (Barks), "Barrel Bargains" (Gorm Transgaard and Torres), "The Telltale Hand" (Tony Strobl), "Beagle Boys meet Abner the Actor" (Tony Strobl), "Too Bee or Not to Bee" (Torres and Per Diemer)
357
9/2006
"Return to Xanadu" (Don Rosa), "Comet Get It!" (Kari Korhonen and Tino Santanach), "Dr. Invento" (Janet Gilbert and Marsal Bresco), "Through a Lens Darkly" (Frank Jonker and Bas Heymans)
Cover gallery
Main article: Uncle Scrooge/Cover Gallery
See also
DuckTales, 1980s cartoon television series based on the comic book
Other notable Disney comic titles in the USA:
External links
Community content is available under
CC-BY-SA
unless otherwise noted.