The underground laboratory is Ford Pines' laboratory located beneath the Mystery Shack in the television series Gravity Falls. The entrance to it is hidden behind a vending machine in the gift shop.
Background
Layout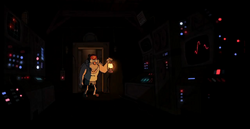 The lab has a design that appears both futuristic and rustic, as it is filled with retro-futuristic looking computers, gadgets, and machines, but the room itself is very worn over the thirty years it has been functioning. On the end of the room is a desk with many electronic devices and on the side it has the symbol that caused Stan's burn. The desk has a picture of Dipper and Mabel. Near the desk there is a door entering into a room containing the Universe Portal.
The lab also contains a surveillance room with a monitor sending video feed directly from the periscope inside the Totem pole of the shack. This is because the totem pole was initially an antenna tower that was enclosed into a totem pole when Stan converted the house into the Mystery Shack.
Role in the series
The entrance to the lab briefly appears in the end of the first episode "Tourist Trapped", when Stan is seen secretly entering the room behind the vending machine. This scene appears again in "Dreamscaperers" as a memory inside Stan's mind. The whole room is finally shown in the season 1 finale "Gideon Rises" after Stan collects all three journals Ford wrote (Journal 1, 2 and 3) and uses the writing codes from them to start up the Universe Portal.
In "Not What He Seems," Dipper finally discovers the lab and attempts to shut down the portal against Stan's wishes. However, during the event of a gravity anomaly, both Stan and Dipper are unable to reach the shutdown switch. When Mabel is close to it, Dipper urges Mabel to press the switch, but Stan convinces her not to. The portal then explodes, destroying most of the laboratory, but also brings Ford back to Gravity Falls.
After his return, Ford settles back into the laboratory to continue his research. The lab is seen several times afterward in Ford's appearances, including "Dungeons, Dungeons, & More Dungeons" when Ford comes out of the vending machine entrance wrangling a Cycloptopus, and where Ford stores the rift created from the dismantled Universe portal.
Trivia
The code to enter the lab through the vending machine is A-1-B-C-3.