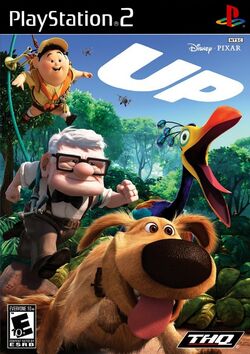 Up is a video game based on the Pixar film of the same name, released on May 26, 2009. The video game was produced by Disney Interactive Studios, Heavy Iron Studios and Pixar. Marc Vulcano who just left Sony Pictures Imageworks in which he was Senior Character Animator was Senior Animation Director for the video game.
Plot
The story centers on an elderly widower named Carl Fredricksen and an earnest young Wilderness Explorer named Russell who fly to South America in a house suspended by helium balloons.
Gameplay
Up follows the storyline of the film, featuring Carl, Russell, and Dug walking through the jungles of South America. All of the mentioned characters are playable in the game. The game contains multi-player gameplay and aerial combat in addition to the main game. The PlayStation 3 port of the game was the first game from Pixar to support the trophy system.
Rating
The Mac, PC, PS2, PSP, and DS versions of the game have received an E rating for Cartoon Violence, while the Wii, Xbox 360 and PS3 versions have an E10+ rating for Animated Blood and Mild Cartoon Violence.
Reception
Reception of Up was fairly positive, with a score of 7 out of 10 from both IGN and GameDaily.
Gallery