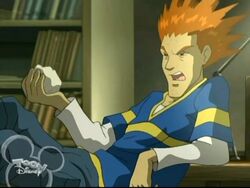 Uriah Dunn is a character and antagonist from the TV series W.I.T.C.H.. He is a troublemaking kid at school and is disliked by Elyon and Alchemy. He is voiced by Byrne Offutt.
History
He has a gang consisting of Kurt, Clubber and Nigel for a while. He skateboards and is occasionally put in detention. He likes X-Treme sports and competes in the X-Treme Sports competition every year. In season two he competes in the Battle of the Bands. He claims he can play the guitar but is really awful. He used to hang out with Nigel Ashcroft, but teased him about liking Taranee Cook, "the nerdy girl". After that Nigel stopped hanging out with him and his gang. Uriah has orange spiky hair and strangely shaped eye and head. He does sport reports in the K-Ship student radio during season 2. Although Uriah is unintelligent and mean, he has shown sometimes to be a good guy.
Gallery
Community content is available under
CC-BY-SA
unless otherwise noted.