Ursula's Necklace is an enchanted object featured in The Little Mermaid.
Appearances
In the original movie, the necklace is used to hold Ariel's voice when she sells it to Ursula in exchange for human legs.
During "Poor Unfortunate Souls", Ursula asks Ariel for her voice, saying that men only want silent and obedient women, but secretly in an attempt to make sure Eric won't be able to recognize her or fall in love with her, to which Ariel agrees, and signs a contract. Ursula commands Ariel to sing, as she summons up a pair of hands from her magic cauldron, which slowly approaches her as she sings, and her voice pulsates wildly in her throat. The hands then rip Ariel's voice from her throat, still singing, and proceed to place it inside the necklace, silencing it.
The necklace is then used later in the movie, during the night of the second day, to hypnotize Prince Eric into marrying Ursula, disguised as the beautiful maiden Vanessa. She approached him on the beach singing, as the necklace glowed goldenly, and bits of Ariel's voice enter Eric's eyes, keeping him under Ursula's control misdirecting him into forgetting about Ariel.
During the wedding of the third day, Vanessa's plans go awry when Scuttle and his army of birds and sea animal friends stormed the wedding ship. As Vanessa is soaking wet from dolphin spit, Scuttle approaches her and screams in her face, provoking her anger. She seizes his throat, trying to strangle him, and in retaliation he snatches her necklace up in his beak and starts yanking at it, trying to force her to let him go. The two are locked in a stalemate until Eric's dog Max breaks off his leash and bites Vanessa's bottom and thus, she is unable to grip Scuttle anymore. The necklace snaps off her neck, breaks on the deck, Eric is freed from Ursula's hypnosis, and Ariel's voice is set free allowing it to return to Ariel.
Although her necklace does not actually appear in the Musical version of The Little Mermaid, a similar item known as the Nautilus serves as a mixture between the necklace and her cauldron serving as a major plot point in the story. It was mentioned that Ursula inherited the Nautilus from her father Poseidon on his deathbed, and with it, she was granted enough power to rule half the sea. It was destroyed by Ariel and took Ursula with it.
In the revised book of the musical, Poseidon gave Ursula her shell out of guilt, due to his disgust and inability to love her. It was also given to her in an attempt to suppress her more sadistic nature, though failed to do so as she used it to kill her six older sisters, and heavily implied to commit patricide with it as well, and usurp the throne.
Its power versus the Trident was never stated, but Ursula exclaimed that she would use it to store items, and seeing as how its destruction killed Ursula, it's assumed that it was what gave Ursula all her powers.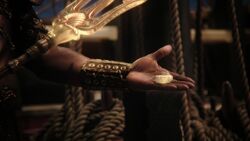 In Once Upon a Time, the seashell doesn't belong to Ursula, but her father Poseidon. When he learns of his daughter's plans to run away with the aid of Hook, he enchants a seashell so that she will have no reason to leave as it will remove her singing voice. He gives it to Hook in trade for magic squid ink which will help him defeat the Dark One. Hook tells Ursula of her father's plan, and she, in turn, gives Hook the magic squid ink. When Poseidon finds out that Ursula knows, he takes Hook's squid ink away who then retaliates by using the shell to take Ursula's singing voice.
After Hook sees Ursula, he tries to right his wrongs by returning her voice, however it fails. Ariel is then able to bring Poseidon who has the power to bring back her voice and he returns it to her.
At some point, Uma was given her mother's necklace and wore it during the events of the film. Uma's necklace glowed before she jumped in the water and transformed into a giant cecaelia.
Ursula's Necklace appears as part of the Wicked Nine, a collection of objects which have the potential to unleash unspeakable power if brought together.
In Return to Merroway Cove, the Necklace has been hidden in a chest in the Stormy Shipwreck. After Oona creates a sea twister, it carries the chest containing the Necklace away. But Sofia is able to retrieve the Necklace and then Nerissa takes it to the Mystic Isles for safe keeping.
Video games
Ursula's Necklace also appeared in the Kingdom Hearts series of games in which it appears on Ursula's neck.
In Kingdom Hearts II, the necklace played a major serves the same purpose as it did in the movie. Ariel gives her voice to Ursula in exchange for legs, and Ursula then uses the voice to hypnotize Eric as Vanessa.
In the end, it's the necklace which gives away Vanessa's identity, and in retaliation Sora uses his Keyblade to destroy it.
Printed media
Disney Princess Magazine
In an issue of Disney Princess magazine, while the necklace is not directly used, several seashells are used to perform a similar feature in capturing the voices of Ariel and her sisters. In capturing the voices, Ursula states that her desire is to have every sweet voice in the sea so she doesn't have to hear the music.
Ariel manages to defeat Ursula in the end and gives her sisters the shells, which returns their voices.
This issue also implies that all shells can do this, as King Triton stated, "The sound of the sea is captured in every single shell."
A Twisted Tale: Part of Your World
In A Twisted Tale: Part of Your World, the necklace is a key focus of Ursula's magic; while she has powers of her own, she requires the necklace to focus those energies, as well as contact with the sea. Ursula was able to use Ariel's voice as part of a hypnotic spell that allowed her to manipulate humans while on the surface, but these spells were strongly tied to Ariel's voice. As a result, after Ariel steals and breaks the necklace, she is able to reclaim her voice and break most of the hypnotic spells Ursula had cast on Eric, but Ursula remains in the appearance of Vanessa, albeit with her true voice restored (passing off the change to the rest of the court as her suffering from a cold).
Trivia
In the original book, the mermaid has her tongue cut off in exchange for legs. In the movie, this was changed to having her voice represented by a glowing orb, most likely to make the scene less violent but still just as intense for the audience.
In the original ending of the movie, the necklace isn't shattered until after Ursula is defeated.
In the comic adaptation, Vanessa is singing in her cabinet without the necklace, implying that she can still use Ariel's voice as long as the necklace is intact.
The nautilus has a brief cameo in the family portrait for Return to the Sea, where it was worn by Ursula. A similar nautilus was also seen being worn by her and Morgana's mother in the same portrait.
In Descendants 2, Ursula's Daughter Uma has it around her neck
Multiple times during the movie, the necklace will change size between shots. For example, when Ursula transformed into Vanessa, the necklace was big enough for her to cup in both of her hands. In the scene where Vanessa giggles at the necklace, it is small enough for one hand to wrap around it.
In the game Ariel's Story Studio, the necklace plays the same role as in the movie, only that after the wedding, where the necklace breaks, the necklace reappears again on Ursula's neck, even when she's become a giant.
In the Little Mermaid TV series, Ursula's necklace would often be miscolored. In the episode "Against the Tide", it was miscolored gray.
In the Broadway musical of the Little Mermaid, the magic shell pendent of the necklace is large, was an heirloom from her father and is connected to Ursula's life force. When Ariel destroyed the shell, in order to defeat the Sea Witch, Ursula dies with it.
Gallery
Community content is available under
CC-BY-SA
unless otherwise noted.