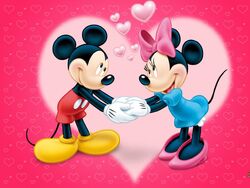 About Me
Hey there everyone, what's up? My name is Anthony. I'm from a small town of the United States, I'm keeping my town information private for safety. I share the same birthday as Donald Duck, June 9. But I also won't release my birth year because I want to keep my birth year information private as well. I raise chickens on my farm, I have big chicken and small chickens, I even collect and sell eggs in my hometown from my house. I am alway's in a good mood and I enjoy helping each other out and users on here when they need it, the only people I don't like putting up with are bullies. I don't like it when they, lie, blame, harass and other bad things they do. I've been bullied and harassed on other wiki sites and especially on Wikipedia too, but the real thing to do against a bully is, just ignore them and move on. That's what I alway's do, I don't put up with bullies.
Now, about this site and Disney. Yes, I love Disney, Disney has been my childhood as long as I can remember. Mickey and Minnie Mouse are my two favorite characters! I also have a big collection of Disney movies and video games. My favorite characters I like the most are Mickey Mouse, Minnie Mouse, Goofy, Donald Duck and more. You can also check out the list below of my other favorite character, Disney movies, actors and more.
Outside of Disney, I'm also a video game fan and collector. I play Nintendo, Sega, Sony, Xbox and many more. But mostly Mario games, I have almost every Mario game in my collection, you name it I have it, from Super Mario Bros, Mario Kart, Mario Party, Mario Golf, Mario Tennis, to Super Mario Odyssey. Railfan is also another hobby of mine. Trains have been another experience too me since I was young, love those old steam engines. If you check out my "likes" section in the box up above, I am also a film critic, I like to watch different films and give them ratings. I like tow atch good movies, not bad movies.
I am also a WWE fan, my favorite wrestlers are Big Show and Kane, I also have ever WWE championship belt in my collection, especially every WWE game too. I have them all; from SVR to 2K18, Day of Reckoning 1 & 2 and all the PS1 games too. I even have a lot of DVD collections of WWE too!
My goal here on Disney Wiki is to keep all the articles perfect with corrected information with sources too, and my goal is also to stop vandalism in articles as well. Someday if I do a great job on Disney Wiki, I might become an Admin on here someday in the future. Maybe. There was also several times I made somes mistakes on here while editin, but after an admin/user on here told me about what I did by accident, I learn from my mistakes and I always promise to never do the same mistake again.
If you guy's need any help finding pictures for articles or anthing else you need help editing with. Just ask me, I'm alway's happy too help anyone on here.
P.S. Also, you can come check out in youtube channel as well if you click the link above, that say's "My Website".
Note: Also a heads up, please do not edit or vandalize my user page as well. It's not allowed on this site and it's unacceptable, even I don't go around editing other user's pages. So I'm asking you all politely, please don't edit my user page.
Favorite Disney Characters
more will be added here soon!
List of my favorite Disney/Pixar movies
More will be added her soon when I get a chance.
Favorite voice actors/actors, voice actresses/actresses
More will be added her soon when I get a chance.
Community content is available under
CC-BY-SA
unless otherwise noted.