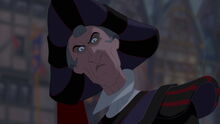 Hi! I'm Beethoven4ever, and it excites me to be part of this community. I'm sixteen years old and am male.
I have always liked Disney, and have seen most of their films. In fact, I am currently having a Disney marathon. Now it excites me to share my knowledge. Don't think me arrogant, but I think I may have a knack for editing articles, especially when they're a little short and informalized here (such as Wookieepedia and The One Wiki to Rule Them All, where there aren't as many opportunities). I'll admit that while I do my best on them, I might also fall short with this wiki's guidelines of categories, though I seem to be doing better, I guess? I don't mean to cause trouble, I only mean to help, and help I shall.
My favorite Disney villains are Kylo Ren (who was well-pressed to be another generic serial killer but turned out to be lovable, just like Thanos) and Ronan the Accuser a.k.a. the cutest blueberry in existence (oh wait, that's Nebula) and my favorite animated villain (and third, period) is Claude Frollo.
The best female villain has to be Gwen Grayson. Not only all-powerful but attractive as well. Nebula's pretty hot too, so is Ghost and Jane Foster and Hela, but not on the insane level of Scarlet Witch. But they all make Black Widow look hideous. Just saying...
My favorite pages
You Can Also Find Me On These Wikis
Administrator
Standard User
Pages I've Created
My Userstats
My Favorite Disney Movies
My Favorite Disney Characters (In Order)
Males
Females
Random thoughts about Disney
Every Disney hero/heroine is either an ideal or an atrocious role model. Pinocchio is a pathological liar. Mulan is a complete B.A. Every Disney villain is the very embodiment of something. The Wicked Queen is the definition of vain. The Horned King is the embodiment of cruelty. Shan Yu is the definition of a psychopath.
Top 10 Most Evil Disney Villains
I'm not including SW or MCU peeps 'cuz they would dominate this list with their psychopathy. They get their own list below.
Honorable mentions go to Lady Tremaine for being so easy to hate, The Evil Queen just because she's so mysterious, abusive, and swathed in the darkest of magic (if that ain't wickedness what is?), to Prince John mostly because I hate his guts, and to Yzma, for being an all-around jerk (even though I like her). Don't fire her. She'll turn you into a flea, or worse, a llama.
SW/MCU
The Horned King is easily the most evil Disney villain of all time along with Shan Yu and Judge Claude Frollo. I mean, so what if Cruella was going to kill puppies for coats, the Horned King was going to kill everything for no reason (that includes all the puppies in the world) and I'd rather have a sexy humanoid going around cursing babies than an unreasonably scary one killing every baby in Prydain. Scar killed his own brother, but as Gimli would say, "That still only counts as one!" Who has the Coachman or Lady Tremaine ever killed?
My Userboxes
Template:TheHunchbackofNotreDameFan
Template:HolesFan Template:SkyHighFan
Pixar
Star Wars
| | |
| --- | --- |
| | This is not the user you are looking for. |
Marvel
Community content is available under
CC-BY-SA
unless otherwise noted.