Hello boys and girls, or...whatever. My name is

.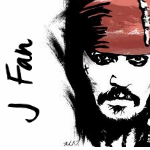 My username is basically an abbreviation of "Captain Jack Sparrow Fan", for obvious reasons. If ye'd like to know more about me...just look below or look at my userpage at POTC Wiki.
About me
Disney and Wiki
I have been a Disney fan forever. All my life, I've watched many Disney classics, like Pirates of the Caribbean(obviously), Aladdin, Beauty and the Beast, Alice in Wonderland(both old and new), Toy Story and many more Disney Movies(and yes, some of them are princess movies...unfortunately, in my case, lol). I've been to Disney World many times(but sadly, due to unforeseeable circumstances, I haven't been able to go for the past few years). And I love the world of Disney how anything can be made into a Disney film.
Johnny Depp
Although I do have many tastes in actors and actresses, I'm obviously a huge Johnny Depp-fan at this point, as you can see. I just love how Depp contributed greatly in 5 of Disney's most successful live-action Disney movies(Pirates of the Caribbean 1-4 and Alice in Wonderland). He is a talented and generous soul for doing these movies for reasons beyond a big paycheck. He loves playing his characters and does these movies for fun or, in POTC's case, for the fans. And for that, I am grateful that he is a true inspiration for many, including me. His characters are even more inspiring, particularly the Disney characters everyone oh so loves.
Captain Jack Sparrow
What can I say about Captain Jack?...Pirate. I could go on saying what I like about Jack or why I even like him. But to shorten this statement up, I'll just say that I feel a good connection with Jack. I feel as if we have some stuff in common...it's hard to explain(if you want to get the picture, please look at my intro to the KTTC forums and scroll to that point).
Mad Hatter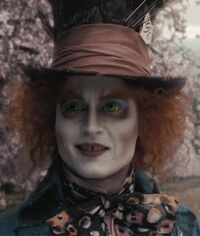 Like Captain Jack, I believe I have much in common with the Hatter. We're both outsiders who seem crazy to others, but are truly magnificent to the ones closest to you. Plus I gots the hat(lol)! Plus, he's a bit fun to act like, even though he is a bit too eccentric. But to be honest, I believe he is the symbol of Depp's Disney character-esque, as the Hatter's whimsical, funny, and magical, in a sense(though Captain Jack is obviously Jack's Disney symbol, lol).
My favorite pages
Community content is available under
CC-BY-SA
unless otherwise noted.