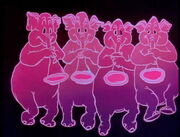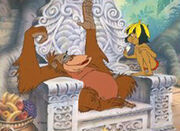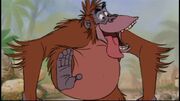 If any of you didn't know, I am a man (or man-cub), I am not an orangutan, I hope you are a man-cub or a man, if not, then that would be craaazzzzy! I am a HUGE fan of just about everything Disney, especially The Jungle Book and King Louie.
My favorite pages
About Me
I love to watch Disney movies, (basically any movie that was released before 2000), I try to find the diamond editions or platinum editions in stores, but if the one I specifically want to look for isn't in stores at the moment, either I'll go on eBay and look for a fairly priced platinum edition that's in good condition. If I don't like the prices or something, I can use my old video cassette player that I found with a whole bunch of old Disney movies on video cassette tapes and if all else fails, I'll try YouTube. If you want to get a platinum edition but aren't sure if you want to get it, leave a comment on my talk page and ask me about one, ususally I respond in less than a day, if I haven't seen it yet, but it wouldn't be likly if i haven't seen it yet though. I'm sure I would be happy to watch it myself, you can leave the title of the movie on my talk page, and in probably less than two days I'll leave a comment about my opinion of the movie. And also check my blog page for polls on Disney characters or movies! People I ask always say "Aren't you a little old for Disney?" To which I say, "No, no I'm not..." (Love Phineas and Ferb). I am a boy and I love Disney, whenever I can I will watch a Disney movie. I don't like the stuff they have on the Disney channel and Disney XD with the exception of phineas and ferb, I do like the old shows like The New Adventures of Winnie the Pooh, Jungle Cubs, 101 Dalmatians the series, Recess, Same with movies, I don't really like the new movies that come out again with be exception of Winnie the Pooh (2011). If there were to be a channel in the U.S. like Disney cimemagic, that would be the only channel I would watch. My very favorites are, well of course, The Jungle Book, Dumbo (especially the pink elephants scene), The Many Adventures of Winnie the Pooh (especially the heffalumps and woozles scene), Hercules (Hades is the best!),Peter Pan (Captain Hook!), The Nightmare Before Christmas (I love that strange creature called the Harlequin Demon, and my favorites are probably your favorites, Jack, the mayor, zero, and oogie), The Great Mouse Detective (Vincent Price as Ratigan is awesome, especially fighting against Basil), Aladdin (Genie!), Tarzan (Tantor and Terk are my favorites), and last but not least, The Sword In The Stone (love the wizard duel!). Sub favorites are The Aristocats, The Rescurers (I hope no one saw the one little clip when they are flying.....), The Lion King, and Pinocchio.
Pages I Created
Giant Floating Baby Head, I didn't do much to it, I basically just created it and made a short summary, two minutes later I checked back and it was HUGE. Congrats on making that article better Isabella and lego liker!
Harlequin Demon, I know a lot of people don't know who this character is, but he is one of the minor characters from The Nightmare Before Christmas, he is the one who is hiding in the trash can during the song this is Halloween, and the one who made the bat and rat hats. I don't know why i like him, maybe it's just because he has a cool design with the tentacles on his head, or his odd color choices, or just that he thinks that he is a genius because he made a rat into a hat, but he is defiantly one of my three to four favorite characters in the movie. He might even be my very favorite next to Jack, if he didn't have a lack of screen time, he probably be my absolute favorite. He is one of the few Nightmare Before Christmas figures I have.
Community content is available under
CC-BY-SA
unless otherwise noted.