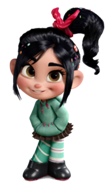 hey everyone!!!!!
" Creativity and Imagination never ends"
                  -Krystal

hi,I am krystal, and I have joined wiki to know more about Disney and share what I know. To be true I am not that well talented in editing, but I do like to read and know more.I am really glad to meet hundreds of Disney fans in here,who knows much more about Disney than me. I love Disney alot ever since when I was a kid and still I love it!! I don't have much to say about myself,other than this that I like disney alot.There's nothing that I hate in Disney ,I don't like some, but I still enjoys it in a wired way I goes around and watches most the Disney movies and I just  hate wainting for it. I like all the Disney Princess and Prince, except some...and I do also like most of the Disney pixar movies,And I'll never stop loving all these!!!
My Faves
 favuorite Movies
Actually there are a lot more,this is just a very short list
My Favourite characters
My Favourite T .V Series
I wanted to describe more of my favuorites , but as it is a very big list I had to make it small this way,I like mostly all the Disney and Disney Pixar characters,so its difficult to mention.
My Favourite Villains
Pages I Contributed
As I told before,I am not such a good contributer.So,Currently only these many pages.
My Gallery
My User boxe
==