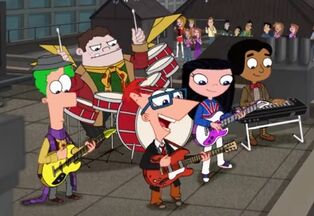 So... about me, huh? Well, I'm a little elusive when it comes to giving out too many personal details online, so I'll just say that I'm a male human who is older than... I probably should be. I'm a bit of a pack rat, both in the physical and digital worlds, and have collected quite a few books, pictures, DVD and a few other media that I might just get around to (re)viewing. My tastes in such media are somewhat eclectic, occasionally varying between picky or curious, and a little difficult for me to pin down which is why I hold off going into detail about a lot of it.
I'm open to trivia-gathering, researching, and nitpicking, although I don't channel that out loud very often since that get on some nerves. (Still tempted...) I'm less of a comic book fan that I was some years ago, way back when I worked on The Villains of Marvel Comics fan site. Still, I enjoy quite a bit of animation, be it action-adventure, super-heroes, and/or occasionally comedic. I'm also a "Weird Al" Yankovic fan, and those combined reasons led me to watch Milo Murphy's Law from the very beginning. Then that researching bug kicked in about the same time as some YouTube recommendations, leading to a bunch of musical clips from Phineas and Ferb which I had unfairly brushed off in its original run but caught up with during Disney XD reruns (mostly marathons) in the summer of '17. Still more not-quite-hardcore research led me to the Disney Wiki and the returning urge to correct and share (and correct again) trivia, as well as an appreciation for voice actors, certain creative teams and 'toons like the aforementioned as well as Gargoyles, The Weekenders, Kim Possible, Buzz Lightyear of Star Command, W.I.T.C.H., The Avengers: Earth's Mightiest Heroes and the more recent version of Ducktales. (I can only recall so much of the classic version, sorry.) This led me to contributing a lot more here than I likely did at Wikipedia, where my magnum opus would likely be fixing that table of who made what Godzilla DVD.
Maybe a little more later, but I'll add that some of my online peeves include my own dubious typing skills and on/off trouble with summarizing, as well as a few other things. (For instance, if you're editing something, at least try to say why you're editing it. Seriously, and thank you.)
My favorite pages
Add links to your favorite pages on the wiki here!
Favorite page #2
Favorite page #3
Community content is available under
CC-BY-SA
unless otherwise noted.