Hey what's up!? Big time Disney fan, ultimate member of the D23 club and frequent Orlando visitor!
I believe I was destined to be a mermaid. No lie.
If I had a superpower I would fly. It takes more than happy thoughts and fairy dust (aka glitter from my childhood art set).
If I was a Disney Character I would NEVER be Esmerelda. She's persued by a creeper and green eyes freak me out.
Despite what I said above Frollo is my FAVORITE Disney Villian.
I LOVE THE LITTLE MERMAID!!!!!!
Clopin and Genie are tied for my 2nd favorite charcters.
I am a firm believer that Tangled should have remained named Repunzle. I agree with whoever said that the change was like turning The Little Mermaid to Beached.
I am 22 and I proudly state that I have wall stickers of the disney princesses on my bedroom wall.
I saw Frozen 3 times and Saving Mr. Banks 2 times in the theater.
Favorite Quotes
"You son of a--" "Ah a
h ah, watch it. We're in a Church" -Esmerelda and Phoebus
"That's despicable. Hahaha! I love it!"- Monsieur D'Arqure
"Crazy old Maurice, hmmmm? Crazy old Maurice hmmmmm..."- Gaston
"So you wanna be a hero, Kid? Well whoopdie-doo. I have been around the block before with blockheads just like you!"- Phil
"What's her father gonnna say? He say he's gonna kill himself a crab, that's what he'd gonna say!"- Sebastian
"You've gotta bat your eyes, like 'dis. Then you pucker your lips, like 'dis"- Sebastain (That one may acctually be better to watch...)
"Give her some slack, then reel her in. Then give her some slack, then reel her in. Then give her some slack--" "She's a girl, you idiot, not a mackerel."- Lavern and Hugo
"I don't have a skull. Or bones."-Olaf
"Winter's a good time to stay in and cuddle, but put me in summer and I'll be a...HAPPY SNOWMAN!"-Olaf
Television and Film (Not just Disney)
What I'm currently watching on TV and waht I'm waiting to see in the movies
Television
ABC
Once Upon a Time (This one is my favorite!)
Marvel's Agents of SHIELD
Galavant
Agent Carter
Modern Family
Selfie
Manhattan Love Story
Castle
Forever
How To Get Away With Murder
CBS
How I Met Your Mother
2 Broke Girls
Mom
NCIS
Survivor
The Big Bang Theory
The Crazy Ones
Two and a Half Men
FOX
Gracepoint
Brooklyn 99
Glee
ABC Family
Switched At Birth
The Fosters
Young & Hungry
Nickelodeon
Yes, I do watch all of those. It is a complicated system involving two televisions, a DVR, and the internet.
Movies
The Hobbit: There and Back Again
Annie
Into the Woods
The Best Exotic Marigold Hotel 2
Cinderella
Avengers: Age of Ultron
Pitch Perfect 2
Tomorrowland
Inside Out
Ant-Man
Pan
Peanuts
Mockingjay Part 1
Star Wars Episode VII
Pages I've Added
Songs
Other
Fun Pics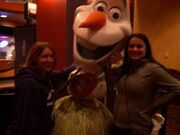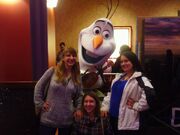 Community content is available under
CC-BY-SA
unless otherwise noted.