For love and justice, a cute editor in a red hat and green sweater, T.J. Detweiler! In the name of Disney, I shall punish you!
Hey, it's me, T.J. Detweiler. You can call me Teej. Disney has and still is my life, and my first Disney movies (on tape) were The Lion King, The Jungle Book, Fun and Fancy Free, Toy Story, Bambi, Alice in Wonderland, and Sleeping Beauty. Those were the ones I started with. I have a lot more...
Favorite Disney movies? Really hard. I love all of them (minus G-Force, Mars Needs Moms, and present-day Disney Channel (except Phineas & Ferb, I love that show)), and I can't even make a top five!
I also like a lot of Disney's TV shows (again, minus a lot of the new stuff on Disney Channel), and I really loved the One Saturday Morning block. As you can tell, Recess is one of my favorite Disney shows. I also love Doug, Pepper Ann, Lizzie McGuire, 101 Dalmatians: The Series, The New Adventures of Winnie the Pooh, Kim Possible, and a whole whompin` lot more.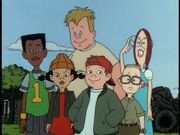 I love Disney World, even if I only went two times (once in January 2001; again in April 2011). We're planning on going again, but we don't know when. My favorite rides are Splash Mountain, Big Thunder Mountain Railroad, and Space Mountain. I have never been to Disneyland, however my parents have gone there on their honeymoon.
Oh! Now for some other whomp! My birthday is August 21, 1996. I'm a girl (yes, despite what my username is. Hey, he's my favorite character) with short blond hair with bangs, blue eyes (with glasses), and am very slender. I am somewhat of a geek, and I have asperger's syndrome. I have a puppy named Juno, who's a Beagle/Border Collie mix (i once owned three cats; all deceased). Aside from Disney, I also love anime, drawing, music, My Little Pony: Friendship is Magic, and '90s Nick. I'm a huge animation fan.
On a related note, I love to listen to the Spice Girls and Daria is singlehandedly one of the greatest cartoons ever made in my opinion.
My favorite Disney films
Animated canon
DisneyToon Studios
Pixar
My favorite Disney shows
My favorite animated shows which AREN'T from Disney
The Rocky and Bullwinkle Show
The Flinstones
Scooby Doo, Where Are You?
The Pink Panther Show
Josie and the Pussycats
Jabberjaw
The Charlie Brown and Snoopy Show
Alvin and the Chipmunks
Muppet Babies
Jem
Pound Puppies (H-B version)
A Pup Named Scooby Doo
Garfield and Friends
The Simpsons
Tiny Toon Adventures
Rugrats
The Ren and Stimpy Show
Beavis and Butt-Head
Animaniacs
Sonic the Hedgehog (Sonic SatAm)
Rocko's Modern Life
Aaahh!!! Real Monsters
The Magic School Bus
Pinky and The Brain
Dexter's Laboratory
Hey Arnold!
King of the Hill
Daria
The Angry Beavers
South Park
The Powerpuff Girls
The Wild Thornberrys
CatDog
Ed, Edd 'n Eddy
Sabrina: The Animated Series
SpongeBob Squarepants (Seasons one to three)
Courage, the Cowardly Dog
Sheep in the Big City
The Fairly Oddparents (Seasons one to four)
Invader Zim
Braceface
Grim and Evil
Codename: Kids Next Door
The Grim Adventures of Billy and Mandy
My Life as a Teenage Robot
Danny Phantom
Foster's Home for Imaginary Friends
Chowder
The Mighty B!
The Marvelous Misadventures of Flapjack
Adventure Time
Regular Show
My Little Pony: Friendship is Magic
Pound Puppies (2010)
The Amazing World of Gumball
My websites
Userboxes
| | |
| --- | --- |
| | This user is a fan of Pixar. |
| | |
| --- | --- |
| | This user had just seen an elephant fly in Dumbo. |
| | |
| --- | --- |
| | To this user, everyday is tender, like Recess. |
| | |
| --- | --- |
| | This user went to infinity and beyond in the Toy Story franchise. |
| | |
| --- | --- |
| | This user found their place in the circle of life in The Lion King. |
My favorite pages
Community content is available under
CC-BY-SA
unless otherwise noted.