Hey! What's up, everybody? It's athaggard157 again, and this time, I want to talk about my favorite Disney and/or Pixar characters, or any character Disney has EVER bought. If you don't like the character, that's OK, but please do NOT bash on me or the character. Anyway, on with the show...
I really like this guy, because he is fast, friendly, brave, heroic, and positive. He is my favorite
Pixar
character, since
Cars
is my favorite movie. I love his catchphrase "KACHOW!", as it really holds up, and it's easily one of
THE
best quotes I ever heard. His voice actor is the great
Owen Wilson
, and he is one of his most popular roles yet.
The only thing I do find facepalm-worthy about him is that he once refused to take pit stops so badly he got his tire blown out. He did learn a valuable lesson in friendship, and that's one of many things I love about him. I love the character development he got, when he turned from a kind-of-cocky kind of guy who cares about winning and racing to the guy who loves hanging out with his friends. I love how he got to travel across the world in the 2nd movie, and if it wasn't for the racing scenes for that one or the characters, it wouldn't have been a Cars movie. He is great friends with Mater and has a perfect romantic relationship with Sally. He learned tricks from Doc Hudson, who was a great mentor to him, and Mater, who is his best friend, taught him how to tip tractors, be a great friend, and drive backwards. He may not have won the race in California, but he did help The King cross the finish line, showing a strong sign of amazing sportsmanship.
His voice, bodily features, color, and character development are what I love the most about him and what easily makes him my favorite Pixar character of all-time.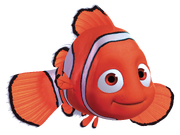 Who wouldn't love a little clownfish like Nemo? I would, because he is a great character kids can relate to, he is small but brave, polite, kind, sweet, and he is adventurous.
Finding Nemo
is basically my second favorite movie, and Nemo is probably one of the youngest characters I love.
It's quite amazing that he has an evolution of voice actors. First, Alexander Gould voiced him in the original movie, and now he is voiced by Hayden Rolence in the sequel. He has a good relationship with his dad, Marlin, even though he can be overprotective towards him at times, and because he learned of how brave he was. He is also a great leader when he led a school of fish to swim down to break the net that caught them, and he's also quite friendly to anyone he meets.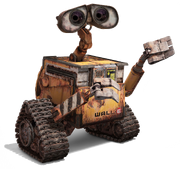 I love this guy so much! He is one of the cutest robots ever! His duty to clean up the earth is rather reasonable and useful, and his relationship with
EVE
is so dang cute. I love his adventures in outer space, and how he made friends with
M-O
, another awesome robot. I laugh so hard every time he rubs his tread on M-O's eyes, because of how hilarious it is. He is curious, friendly, lovable, fun-loving, and romantic towards
EVE
, who returns the favor as the movie progresses, which makes WALL-E the best romantic movie I ever saw. R2-D2 kinda reminds me of him because both he
AND
WALL-E have their voices supplied by the
same person
, which is really cool.

I was really upset by when he got hit to death by the holo-detector, but am glad he got fixed up back to life by EVE towards the end of the movie.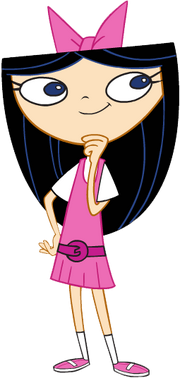 I flipping love this girl because she has a really cute and adorable voice! She's so cute. She is sweet, she's friendly, she's romantic towards Phineas. Not even the youngest girls in television can best her, especially not her cute design. Her catchphrase "Whatcha doin'?" never gets old, because she's, like, eleven years old, I think.
I love her singing voice as well, as she sings really wonderfully. She sings great songs like What'cha Doin? (which is based on her catchphrase), City of Love (which is emotional due to how sad she gets whenever Phineas only gets interested in airplane parts), and her birthday song, Isabella's Birthday Song. Whenever she gets sad, it's impossible for me not to feel bad for her, and I love that she's a very capable leader, as she leads the Fireside Girls, and she loves earning patches. Whenever Phineas needs help, Isabella will always be happy to be there for him. She wishes to have a romantic relationship with him someday, and that's another great quality for her.
Her obsession with horses is highly understandable, as I love watering horses. She really likes butterflies, too, and she loves learning and trying something new. I also like how competitive she is when Buford shows that he wants to win against girls, and I love it when it's always Isabella who wins. She also stars in three episodes: one where she gets the sap for Phineas, one where she tries to get a beekeeping patch, and one where she tries to stop Phineas from reading a letter she regretted writing. All three of those are some of my favorite episodes of the show, and her sweet and adorable personality is what makes her one of my favorite cartoon girls yet.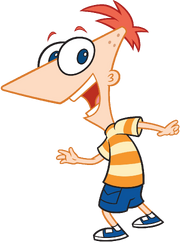 I find this guy really awesome, because he is optimistic, creative, imaginative, and open-minded, all personality traits with whom I share. He and his stepbrother,
Ferb
, who doesn't talk much, can create everything to make the most of every day, and can remain calm in any situation, and is slow to anger, and is happy most of the time.
His next-door neighbor and best friend, Isabella, has a big crush on him, though he is sometimes oblivious to it. However, he is always able to lighten up the mood of any depressing moment, and cares for those around him, and is never seen retaliating. I love how intelligent he is, which is proven by lots of his inventions, and he is a great thinker as well. He also sings greatly, like in Gitchee Gitchee Goo , and I find his design being what it is. He is a great Disney character, and a very awesome leader. He is also selfless, friendly, and cheerful. Most of his summer plans are because he wants to help someone. He helped Isabella, Candace, Buford, Baljeet, and Django.
He appears in every single episode of the show (as he and Ferb are the stars of it, and he appears to be able to work well. All of his great qualities make him one of the best characters in my entire life, and also one of my favorite Phineas and Ferb characters ever.
Who says all monsters are scary? Well, I don't. I'm scared of monsters that look too scary. Mike, on the other hand, is the best one-eyed dude out there! With a great voice thanks to
Billy Crystal
, he is easily one of my favorite Pixar characters in history.
He is funny, smart, courageous, kind, and charismatic, even if sometimes sarcastic. He has a positive outlook in situations that seem disappointing where he acts rather happy than disappointed it happened. Good thing he can look on the bright side by that time. I love it when he comes up with witty comebacks with Randall, and his origin was explained in Monsters University, where he and Sulley met; they weren't friends at first, they were rivals! But as the movie progresses, they become friends and overcome their differences. I love the short film, Mike's New Car, where he tries out the six-wheeled car he got... yet Sulley damaged the rear view mirror, which made Mike so mad that he kicked him out.
He and Sulley fight sometimes, although it is usually Sulley who annoys Mike first, but they get along well most of the time, not to brag. He is proud and confident, and has a romantic side towards his girlfriend, Celia. He may not be scary, but he is fearless, nonetheless. He is my favorite character from Monsters, Inc., and, like I said before, one of my favorite Pixar characters in general.
For a toy based on Westerns, Woody sure is a rootin', tootin', bad guy-punchin' genius! He is a great leader who is loyal, likable, and sticks with his friends no matter what happens. I love his relationship with Buzz, because that's what friends are for. Tom Hanks did an awesome job voicing him, and his sharp plans are very clever.
I have a pull-string toy of him, and he really works well. His relationship with Bo Peep is really cute. Woody is also brave, as he saved Wheezy from being sold at a yard sale, got Buzz saved from being blown to bits, and found the best ways out of Sunnyside.
His likable qualities and heroism are what makes him one of the most popular and best characters Pixar has ever created. He is also a major influence on cowboy movies and shows back in the 1950s, but I cannot tolerate his ego in the Black Friday Reel I'm so glad they removed it so that they could keep up with his normal personality.
Who says Ralph is just a bad guy who wrecks the building? Because he is not
just
one! That's only in his game. He is a good-natured guy outside his game, and he goes game-jumping, because he is through being a bad guy in his game. He is great friends with
Vanellope
, who wanted to be a racer, despite being a glitch, and helped him show his self-esteem.
He is shown to be at least intelligent, and wants to do what's for the better. I love the idea of him going to the Internet, but he caused a virus, yet he resolved it for the better. John C. Reilly does a mighty fantastic job of voicing him, and he is such a nice and well-meaning guy, who is very casual and somewhat laid-back. I really like his design, and he is one of my favorite Disney animated characters of all-time.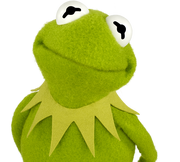 I love this green guy! He is my favorite Muppet of all-time. He is America's favorite frog, and he's the most humble celebrity you'll ever want to meet. He is the host of my favorite TV show next to
Phineas and Ferb
,
The Muppet Show
, where he treats the guest stars like great friends. He usually sets out to prove to everyone that even the smallest creatures can do great things. Despite things going wrong for him, he gets things done at the end of the day.
He is kind, loyal, goofy and naturally funny, but also acts as the leader of the other Muppets, when it comes to their goofy behaviors. He even gives good lectures about simple subjects, and has empathy for others. He even stars in all eight Muppet movies, and sings the song, "The Rainbow Connection", which is one of his greatest songs.
Remember, don't make it too easy being green, and he has a great nephew, Robin, who is kind and clever. I like their uncle-nephew relationship, and he even appears in countless shows, TV specials, and commercials. I really enjoyed his songs and TV appearances, mainly the Macy's Thanksgiving Day Parade nearly every Thanksgiving. He is always proven to be Jim Henson's best creation ever.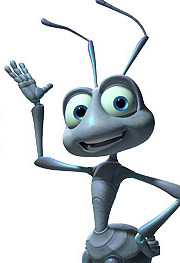 For a bug, this guy's design is completely harmless. He is a genius at inventing, and I like how he has strong feelings for Atta, even if she didn't return the favor until the movie progresses.
Well, there you have it. That so far wraps it up for my favorite Disney characters. If you want some character suggestions, you can comment down below. Or if you agree with the list, also let me know what you think of each character in the comments. I know you have great lists, so take care.
Community content is available under
CC-BY-SA
unless otherwise noted.