Hi guys. As some of you know, I recently wrote a blog about a few rides I wanted to see in Disney World. I am writing another blog about Disney World, but this time it's a different subject. We all know that Disney World closes down attractions here and there to update and make things fresh for new generations, but there are some attractions that were closed down that I just don't understand why. And that's what I'm going to talk about.
The Pizza Planet restaurant in Hollywood Studios

I thought it was impressive of Disney turning a fictional restaurant into a real one. The pizza was delicious and it was fun to play arcade games....er, despite not winning the crane game. However, last time I went to Disney World, I saw a wooden construction blockage in front of the building! I was shocked! Why would they get rid of something based on one of Disney's most famous films of all time?! It's not that I don't like the Pizza Rizzo place, but couldn't they just transfer the Pizza Planet restaurant into the Pixar section of Hollywood Studios? It's a creative idea bringing something out of a movie to life! I see no excuse for this closure!
The Magic of Disney Animation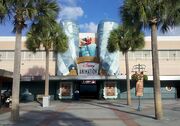 Although Disney is my entertainment "comfort zone", it annoys me when they focus more on commercial products rather than passion. And replacing this with the Star Wars Launch Bay is an example. Not that I don't like Stars Wars-I do-but that's not what Disney was initially famous for! It was famous for creating animation! Snow White, Lion King, you name it! We got a funny presentation of our host arguing with Mushu about how animation is made, sneak peeks at the newest Disney animated film, voice over recordings with Ursula, seeing which character you are with Lumire, and coloring with Kronk. Disney seriously threw all this away for an expanded part of the Star Wars stuff?! I think if Disney really wanted to make Star Wars attractions, maybe it should be its own separate theme park. I don't hate the Star Wars additions like I hated Jetix taking over Toon Disney, but I still like it better when Disney focuses more on their beloved work rather than "cool money" stuff.
Mickey's Sorcerer Hat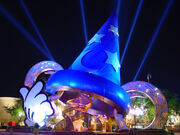 I don't get it. Sorceror Mickey's one of Mickey Mouse's most famous roles. Why did they get rid of this hat? Yeah, there wasn't must to do there, but come on! I love Sorcerer Mickey hat! It's a great hat to wear! I bought one from Disney World when I was 13! I think it's a great symbol for Hollywood Studios!
Mickey's Toontown Fair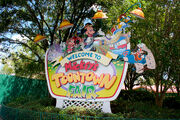 Speaking of Mickey, here's a similar closure that I found odd. Mickey Mouse was the first famous cartoon character in Disney history (that wasn't stolen that is)! He and his friends are practically the mascots of Disney World, let alone Disney in general! Why get rid of this? Maybe it's because there wasn't much for guests to actually do there. There is Storybrooke Circus part of New Fantasyland, but it doesn't have a lot to do with Mickey, more Circus stuff and Dumbo-not that I dislike New Fantasyland either. It just doesn't seem right to get rid of something to do with pracically the most iconic cartoon characters of all time.

Whoof! Sorry if I sounded like I was ranting. I just don't get some of these closures. They just feel like Disney is trying to change its identities. Are there any you think I missed?
Community content is available under
CC-BY-SA
unless otherwise noted.