Hello readers. Since it is June the month of epic summer blockbusters, I have waited until now to write a blog about superheroes. This blog is about the superheroes I have enjoyed watching the most. They are epic, fight crime, and bravely battle villains to save the day (except for one in particular who is probably more appropriate for little kids but still). At first, I thought all superheroes had to wear capes and follow the classic tradition, etc. But a couple in particular changed my perspective. I will start with the Disney ones first, since this is a Disney Wiki then I will do the non-Disney ones next. So let's get on with it. 
The Incredibles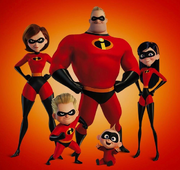 I wanted to wait until after I saw The Incredibles 2 to write about this blog. At first, I thought The Incredibles was going to be an average superhero movie, but once I saw that it was a family of superheroes, that made things even better. Sure, the movie had a lot of time with Mr. Incredible, but he is the protagonist, and the movie did had to work through his personal problems before realizing that family is truly most important to him. You get a lot of family cliches; the father working in a difficult office job, the mother doing housework, the siblings fighting, and the cute little baby. This family has NOTHING in common-until the world is in danger of destruction by the evil Syndrome! Most of the super powers are classic and traditional, like Violet's invisibility, Dash's speed, and Mr. Incredible's super Hercules strength. I also really love how Edna forbade capes and how the movie showed the dangers of capes. I thought every superhero had to wear capes before this movie came along. The comedy in the sequel is often centered around the discovery of Jack-Jack's powers, especially when he fought with the raccoon. Speaking of sequel, I do admit I like a lot of it for the most part. There are emotional problems within the family that still need to be worked out and it's GREAT to see the Incredibles themselves again. However, kinda like Teen Titans: Trouble In Tokyo, there's a rather weak and disappointing twist involving uncovering the real villain, compared to the other great superhero aspects. A possibility I was hoping for was Elastigirl finding the last of the superheroes like an "endangered species" sort of thing. I mean c'mon! Syndrome murdered a boat load of supers heroes in the last film! Mr. Incredible's discovery of that was a shocker! We could have seen more of that! Plus, I was hoping for more of a Lord Shen or Kai (from the Kung Fu Panda sequels) kind of villain so we'd have something greatly dramatic. I thought the politicians would be grateful to the supers for saving their lives from the Omnidroid and that supers would be legal again by then, but no. But then again, this me talking about what I want rather than what I get. The Incredibles are still great superheroes, regardless. A family of superheroes is rare, so I'll take them.
Big Hero 6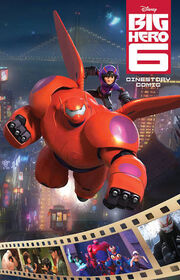 I have to confess, I initially wasn't greatly excited for Big Hero 6 when I first heard it was coming out. Not that I was dreading it like I was with Lilo and Stitch, but I did not approve of Disney taking over Marvel and I didn't think it was going to be anything that spectacular as superheroes go. I still don't think it's the greatest superhero novelty I have known, but the story involving emotion and grief managed to capture my attention. That and of course Baymax himself. The story is not the traditional one where the characters are outcasts, they band together and use their talents to prove themselves worthy to the world. No, this one is about tracing down a masked mastermind indirectly killing Hiro's brother in a science fiction world. The characters aren't greatly memorable, but they're good enough. You got the scaredy cat, the goof off, and the stick in the mud and so forth. The powers are also pretty well too. I admit they are not the first super powers I tend to think of, but they are new. I'd say I like Honey Lemon's chemical power the best. And like I said, it's the emotions of the movie that managed to capture me. I have to confess, when I watch the scenes of Hiro breaking down when trying to remove Baymax's health care chip and Baymax's sacrifice, I still feel like I'm going to cry. Also, I'm glad Hiro's relationship with Baymax isn't that kind where a boy makes friends with a different creature, the rest of the world thinks its dangerous, ecetera ecestera. That kind has gotten a little too common for me as a kid. It takes a particularly memorable character like Baymax and dramatic emotions to pull of an enjoyable superhero film like Big Hero 6.
Pajama Sam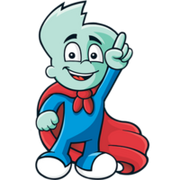 From here on out, this is where I will include the non-Disney superheroes. Now this one is definelty a different superhero than you would expect. He doesn't have super powers, never fights dangers, or even battles an evil villain. But hey, he wears a cape, his favorite fictional idol is a superhero, he still helps people so I'll count him. Besides, parents need to rely on at least one superhero who isn't violent. You know how some parents tend to complain that superheroes are violent, leading to children playing too roughly, complaining about violence, blah blah blah. Like the other Humongous Entertainment series, Pajama Sam provides puzzling challenges for kids and teach very important lessons, although I don't think this series is quite on par with oh say, Freddi Fish. Anyway, the settings are in fantasy worlds involving talking objects like Alice In Wonderland meets Beauty and the Beast sort of deal. In fact, in the first game, there is a grandfather clock and 3 candlesticks who look pretty similar to Cogsworth and Lumiere. Superheroes are meant to help people, and Pajama Sam always helps the new characters he meets. For example, in the third game he stops a major political crisis in the land of food. The food groups are at war with the sweets and you gotta find the representatives of the food groups. It's also HE's way of teaching kids to eat healthy. Sadly though, I prefer sweets over vegetables like most people do. So Pajama Sam may not be full of action like the superheroes you normally think of like Spiderman or Batman, but he is a superhero in his own kid friendly way.
Teen Titans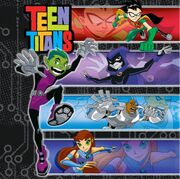 Of course, I have saved the best for last. These Teen Titans are my personal favorite superheroes and one of my special animated interests other than Disney films. These superheroes were different than I'd expected but in a fantastic way. Their episodes were not centered on glory and they didn't have secret identities. The episodes were centered on serious or dramatic adventures also mixed in with personal problems of their own. And of course, they threw in some laughs at appropriate times and did not do overdo the comedy (unlike that OTHER SHOW OF GARBAGE !!!) An example of one of the how's personal problems was when Robin got focused, serious, and determined alot, especially when it came to Slade in the first season. The characters are memorable and really likable. Starfire is a lot of fun, especially when it comes to her bizarre Tameranian culture and vocabulary, Cyborg saying Boo-yah, Raven being a gloomy one, and of course Beast Boy being the goof off. I also really loved their superpowers. Cyborg does robotic stuff, Raven uses magic, Starfire shoots laser bolts from her hand and eyes, Robin uses tools, and my personal favorite-Beast Boy transforms into animals (albeit all green). I also found the drama really engaging in the 4th season. One example is the episode where Val-Yor bullies Starfire by calling her "Troq", which is a racist insult. The emotion of the racism in the episode made it very adult, which is also why I got engaged with Zootopia. Starfire says there are cruel people who mistreat other because of difference and their minds can't be changed. But there are kind-hearted people who don't judge people by appearances, and those are the people whose words truly matter. I think that is by far Starfire's strongest character pont in the entire show. Another major example is the story arc involving Raven's dark destiny of destroying the world. Just the build-up and intensity of it all gets me glued. And like any superhero novelty, the show provides some cool villains; Mumbo Jumbo, Control Freak, Dr. Light, Slade, The Brotherhood of Evil, and more. I love this show so much, I got every episode on DVD. Even as years go by, this will always be my own personal superhero classic.
And that was my superhero blog. I hope you thought it was super. See ya next time
Community content is available under
CC-BY-SA
unless otherwise noted.