Welcome
Hi, welcome to The Unofficial DisneyWiki! Thanks for your edit to the Bruno page.
Please leave a message on my talk page if I can help with anything! -- Lyght (Talk) 18:25, February 25, 2010
Hey1234
Hello its me Hey1234 Disney Wikia's number 1 editor and it's great that you love Kingdom Hearts I like it too but can you not put KH pics on pages if ther is nowhere to put them. Pages such as White Rabbit and Cheshire Cat. Pages like Belle has lots of space so it will be nice to put one there but you don't have to put it in the KH sections and when you put the pics in can you make them a little smaller.

- Thanks and Welcome to the Family.
Sorry about it, but l love all Disney characters pictures on the every Disney characters. I'm a Disney lover.
stop ruining my changes to Kaa
Your New Pal
Thanks Im glad you like. Your a great editor too your pictures are always fantastic. Thanks
- Hey1234
I like that too
Awww Shucks. Your welcome.
The trouble with my edits
I believe there is something you and Hey1234 need to realize. The edits I have been making to articles such as Huey, Dewey and Louie and Timon are to add facts that need to be mentioned, because, you know, this is a Wiki about the Disney company. You and Hey1234 and anyone else who undoes my edits need to give a good reason as to why you don't want these facts mentioned. Also, if it's because you think my edits are sloppy, you're obviously not looking at them hard enough; I make sure my edits are not sloppy. --JeremyCreek 04:22, April 22, 2010 (UTC)
HELP!!!!!!
There is a vandal on this wiki right now who created Dragon's Lair and All Dogs go to Heaven, and others. Can you help me with tagging them for deletion? Thanks! 69.228.89.220 01:25, May 19, 2010 (UTC)
HEY1234
It's alright if you use them. I'm glad you like them.
DTierney30
it's alright, but who deleted the other one anyway? that goes to you too
DTierney30
Oh! don't get me wrong I really do, but I just wanted to try something new. It's not permanenet, Trust Me.
Hey1234
sure
Hey1234
You tell me first are you a boy or girl?
Hey1234
Sorry I didn't say anything after that Boy or Girl thing.
Hey1234
No problem.
Kaa from Roger Rabbit
I can't seem to find Kaa in the final scene of Who Framed Roger Rabbit, but if you do know where he is, then could you please describe him that?--Jrstarwars22 04:46, June 23, 2010 (UTC)
Hey1234
Thank you for finding a Meeko picture.
Jrstarwars22
As I downloaded this picture, maybe you can find Kaa just between the 2 Fantasia animals (the ostrich and the hippo) when the other Toons all gasp in shock right after Roger tricks Eddie with Acme's joybuzzer, then circle him and let me know.--Jrstarwars22 17:07, June 23, 2010 (UTC)
Charlotte and Big Daddy
Can you put some more images on Eli "Big Daddy" La Bouff and Charlotte La Bouff? I'd do it but I don't know how and yours are always awesome! Someguy66 05:28, June 24, 2010 (UTC)
Jrstarwars22
Is Kaa's head pink in the Toontown background during the last scene of Roger Rabbit or does Kaa look like a charater with glasses?--Jrstarwars22 06:39, June 24, 2010 (UTC)
Hey1234
I think you're right, thanks
did what?
Hey1234
I've seen it and don't worry about that ridiculous Creek character. He's nothing but a jerk.
Hey1234
You are definetly not an idiot DTierney30
House of Mouse
I don't really know. Sorry
Jrstarwars22
It's simple! Well, this morning, to screencap them, I place my "Make Mine Music" DVD in the DVD-ROM drive to use my "Corel WinDVD", so I could screencap them, then upload them.
Jrstarwars22
There are no pictures in a website, but I screencaptured them from the "Corel WinDVD", remember?
Gallery fail
The gallery option is not working, as all pictures are not being shown. Just wanted to let you know. To clear it up, use "File:(Picture)|thumb|left (or right)|caption" instead. Mouseinphilly 1:55 AM US EDT Aug 6 2010.
Hi
Hi, Dtierney30 What is/are your favorite character(s), song(s), and, episode(s) from that show? Isabella and Lego Liker 04:00, September 10, 2010 (UTC)
Can you get an adminstrator to block Dalmationplantation101 for cussing on my userpage? Please/? He placed the b-word on it!!!!!!!!!!!!!! Isabella and Lego Liker 15:24, September 14, 2010 (UTC)
A New Friend
Hello! Oh wow! You...are...awesome! And I`m hoping that you and I can be best buds on here! Even though this isn't a social network. I know I`m kinda the new guy here, but any gargantuan epic sized humongous (alot of other words that mean huge) Disney fan is a friend of mine! I could live on this wiki. I really could. But I hope to hear from you. See ya real soon!
Hey1234
Hey pal im trying to get an administator for a new pic for the wiki what to you think of this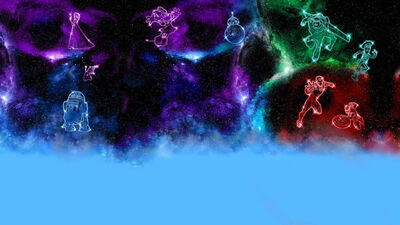 Hey1234
It's just a background Disney made and i'm trying to get it as the wiki's background
thanks
hi DTierney, thank you for helping me with the editing! i appreciate it! :)
Bruno's not in Cinderella III
Will you please stop adding the Cinderella III subheading to Bruno's page? He's not in that movie, so it is utterly pointless to have a subheading about it on his page. Please stop reinstating it. --JeremyCreek 01:00, December 5, 2010 (UTC)
We need an admin!
Lloydhackl has vandalized the Firebird page by adding nonsense enemies like Cnadace Flynn, Jeremy Johnson, and other jibberish. Isabella and Lego Liker 04:24, January 11, 2011 (UTC)
lol
I was wondering if I was the only editor left on the wiki. Isabella and Lego Liker 18:43, January 20, 2011 (UTC)
I need help
I need help
These categories need the pages swept up so they can be deleted:
Category:Slender characters
Category:Slender characters
Category:Characters from Video Games
Category:Singing Characters
A total of 983 in all. Can you help me out on this with Hey1234? I suggest we check categories #-H for you, I can do I-R, and Hey1234 can do S-Z. Isabella and Lego Liker 16:24, January 24, 2011 (UTC)
Congrtats!
You made your 10,000th edit a little while and I'm congratulating you for it. Isabella and Lego Liker 04:02, January 28, 2011 (UTC)
Hey!
Hey, man. You into Kingdom Hearts as well? -- Ammon Ah Wong 9:03pm, February 8, 2011 (UTC)
Jrstarwars22
Can you get Lyght ASAP to block him? He is constantly getting his nonsense categories on pages. Stupid was reverted 6 times alone for the info. Whatcha Doin'? Looking at the talk page! 19:02, February 8, 2011 (UTC)
Hey, DTierney30
Do you think you can help me block any user? I really don't know how, but can you give me some instructions, so I'll be able to do it? I appreciate it!--Jrstarwars22 20:24, February 8, 2011 (UTC)