Violetta is an Argentinean teen soap opera that first aired on the Disney Channel on May 14, 2012. The show is a co-production between Disney Channel Latin America, Disney Channel Europe, Disney Channel Middle East, Disney Channel Africa, and Pol-ka Producciones. Violetta features a multinational cast, and tells the story of "Violetta", a musically talented teenager who returns to her hometown to "find love", and explore her passion for music and meets new friends.
Premise
Violetta tells the story of a lonely and very talented teenager who, after living many years in "old continent", returns to Buenos Aires, her hometown. In her new life, she finds true friends and love, as she discovers her innate talent and passion for music and, in turn, builds and faces the great and interesting experience of growing up.
History
Shooting began in September 2011 in Buenos Aires, Argentina, and lasted about seven months. The series became the first co-production that took place between Latin America, Europe, Middle East, and Africa. The series was filmed entirely in high definition. On December 31, 2011, Disney Channel Latin America broadcast a New Year's television special entitled Celebratón, where Martina Stoessel performed the song Tu Resplandor (Disney Princesses). Disney Channel announced that the series will premiere in 2012. The cast was first introduced on December 22, 2011. As of early March 2012, Disney Channel had not announced any release date for Violetta only stating that the series will premier "soon". However, in mid-March 2012 Disney Channel began to broadcast commercials and promotions for the series, but these state that the program "coming soon".
In early April 2012, a music video for "En Mi Mundo", sung by Martina Stoessel, was uploaded to the official website of Disney Channel Latin America as part of the series soundtrack, and was later released on April 5, 2012 on Disney Channel Latin America's Zapping Zone. The Mexican newspaper La Cronica de Hoy announced on April 4, 2012 that Violetta would be released on May 2012. The same newspaper announced a week later that the series would premiere on May 14, 2012.
Cast and characters
Main cast
Martina Stoessel portrays Violetta Castillo, is a bright girl and full of life, but lonely and overprotected by her father. She has a unique voice she inherited from her mother, but still does not know. From her father he inherited a love of reading and great intelligence. Violetta is spontaneous and sincere when it comes to speaking her mind. She just wants to find her place in the world.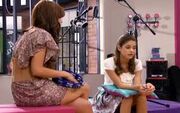 Pablo Espinosa portrays Tomás Heredia, is attractive, simple, confident, and sometimes a bit aloof. He plays guitar and sings. His songs reflect his personality and his quest as an artist. He attends to Studio 21, a scholarship from the teacher Beto, who hired him as his assistant. He was born in Spain but moved to Buenos Aires with his mother to care for her grandmother.
Jorge Blanco portrays León Vargas. He is arrogant and somewhat vain. Despite this, León has a good heart, but when he is with Ludmilla are enhanced and can look bad. Unlike Tomás, comes from a wealthy family and never had to work. León takes classes at Studio 21, and also has great potential as an artist.
Lodovica Comello portrays Francesca Caviglia. She is intelligent, self-sacrificing, and a good friend. She is aware of the effort made by her family to go to Studio 21. Born in Italy, like her brother Luca, who is who runs the family business of the Restó Bar.
Mercedes Lambre portrays Ludmilla Ferro. She comes from an upper class family. The girl is cool and glamorous at Studio 21, which makes it the ideal girlfriend for León. But what is a diva, so is a liar, manipulative, and arrogant. Despite being totally different to Tomás, is attracted to him. But Thomas ignores her because he is in love with Violetta, which unleashes her jealousy and obsession.
Candelaria Molfese portrays Camila Torres. She loves she loved to inspire her with the dress and always wore crazy autfits. Later realized that he was great as she did and that she did not need to change herself. She was a good friend with a Francesca and Maxi, later she became friend with Violetta when she came to their studio.
Diego Ramos portrays Germán Castillo, who is the father of Violetta. He's a brilliant engineer, owner of a construction company that does international public and private works of great caliber. He is strict and demanding. Since the death of his wife has overprotected her daughter, but behind his rigidity hides a big heart.
Clara Alonso portrays Ángeles "Angie". She is cheerful, funny, charismatic, lover of music and art, Angie is a free spirit that radiates light around. She is the sister of who was the wife of Germán, but Violetta is unknown that's her aunt. After the death of her sister, Angie tried to contact her niece on several occasions, but without success. So when Violetta returns to Buenos Aires, she poses as the new governess to approach her.
Secondary cast
Facundo Gambandé portrays Maximiliano "Maxi" Ponte
Alba Rico Navarro portrays Natalia "Naty" Vidal
Nicolás Garnier portrays Andrés
Simone Lijoi portrays Luca Caviglia
Samuel Nascimento portrays Broduey
Florencia Benítez portrays Jade LaFontaine
Joaquín Berthold as Matías LaFontaine
Mirta Wons portrays Olga
Alfredo Allende portrays Lisandro Ramallo
Ezequiel Rodríguez portrays Pablo Galindo
Rodrigo Pedreira portrays Gregorio Casal
Pablo Sultani portrays Roberto "Beto" Benvenuto
Alberto Fernández de Rosa portrays Antonio Fernández Vallejo
Recurring cast
Germán Tripel portrays Rafael "Rafa" Palmer
Nilda Raggi portrays Angélica
Lucía Gil portrays Helena "Lena"
Ruggero Pasquarelli portrays Federico
Rodrigo Velilla portrays Napoleón "Napo"
Artur Logunov portrays Braco
Diego Domínguez portrays Diego
Xabiani Ponce De León portrays Marco
Gerardo Velazquez portrays DJ
Valeria Baroni portrays Lara
Carla Pandolfi portrays Esmeralda
Valentina Frione portrays Jackie
Gallery
External links
v - e -

d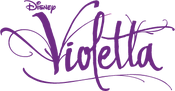 Media
Violetta •

Tini: The Movie
Characters
Violetta Castillo

• Tomás Heredia •

Ludmilla Ferro

• León Vargas •

Francesca Caviglia

• Germán Castillo • Ángeles Carrará • Camila Torres • Maximiliano Ponte • Natalia Vidal • Andrés • Luca Caviglia • Broduey • Jade LaFontaine • Matías LaFontaine • Olga Peña • Lisandro Ramallo • Pablo Galindo • Gregorio Casal • Roberto Benvenuto • Antonio Fernández • Rafael Palmer • Angélica Carrará • Helena Vidal • Federico • Napoleón • Braco • Diego Hernández • Marco Tavelli • Dionisio Juárez • Lara • Esmeralda di Pietro • Jacqueline Saenz