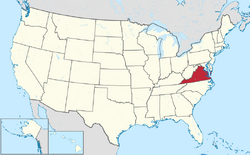 Virginia, officially the Commonwealth of Virginia, is a U.S. state located in the Southeastern and Middle Atlantic regions of the United States. Virginia is nicknamed the "Old Dominion" and sometimes the "Mother of Presidents" after the eight U.S. presidents born there. The geography and climate of the Commonwealth are shaped by the Blue Ridge Mountains and the Chesapeake Bay, which provide habitat for much of its flora and fauna. The capital of the Commonwealth is Richmond, and Virginia Beach is the most populous city. Fairfax County is the most populous political subdivision. The Commonwealth's population is over eight million. Virginia is bordered by North Carolina to the South, Tennessee to the far Southwest, Kentucky to the West, West Virginia to the West and Northwest, and Maryland to the North and East
The area's history begins with several indigenous groups, including the Powhatan. In 1607, the London Company established the Colony of Virginia as the first permanent New World English colony. Slave labor and the land acquired from displaced Native American tribes each played a significant role in the colony's early politics and plantation economy. Virginia was one of the 13 Colonies in the American Revolution and joined the Confederacy in the American Civil War, during which Richmond was made the Confederate capital and Virginia's northwestern counties separated to form the state of West Virginia. Although the Commonwealth was under the conservative single-party rule for nearly a century following Reconstruction, both major national parties are competitive in modern Virginia.
Films and Shows
Cities and Locations
Jamestown
Alexandria
Virginia Beach
Richmond
Williamsburg
Arlington
Charlottesville
Actors/Actresses and Crew born in Virginia
Gallery
Community content is available under
CC-BY-SA
unless otherwise noted.