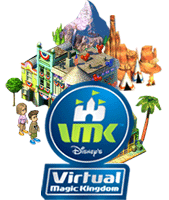 Virtual Magic Kingdom, also known as VMK, was a massively multiplayer online game by Disney, created as part of the Happiest Homecoming on Earth promotion, in celebration of Disneyland's 50th anniversary. The beta version was released on May 23, 2005. The lands online at the time of launch were Main Street, USA, Adventureland, and Fantasyland, while Tomorrowland, Frontierland, and New Orleans Square opened later. It was in operation daily between 10:00am and 1:00am EST. It shut down on May 21, 2008.
In the game, players could chat and play together in a virtual version of Disneyland.
The game was developed by Sulake Corporation with Macromedia Shockwave.
A new player began the game by registering an account at VMK.com. The player then set up a character (an avatar) and selected the character's gender and appearance (shirt, shoes, pants, hair, hat, face, and colors for skin and hair). The player typed in a name, but until the VMK staff approved the name they requested, their name would be Guest, followed by the number of player that they are (E.x. Guest7402548). If the name was not approved the VMK staff would let them create another name.
A player could also choose from a list of randomly-selected adjective-adjective-noun names presented to him or her; if he chose one of these names, it required no approval from VMK staff.
The player also selected a "guest room", his or her own themed area which could be decorated with furniture, posters, game items, or other material. One room was provided for free, and additional rooms could be purchased later with in-game credits.
The player could enter a few lines of text, known as a "(signature)", which would be displayed in the character's publicly-visible profile. The character was then given a few tradeable items (mostly T-shirts), and was placed in the game.
Disneyland and Magic Kingdom visitors were able to create accounts at special VMK kiosks located in those parks.
Games
The following minigames were available to play throughout the lands in the Virtual Magic Kingdom:
Magic Checkers: A game of checkers with he ability to use magic tricks to help you win.
Pirates of the Caribbean: Features two separate games.

Capture the Flag: Bring the opposing team's flag to your base before the other team takes yours.
Ship Battle: Blast opponent ships with cannon balls.

Jungle Cruise Photo Safari: Take photographs of animals you see. The better your aim, the more points you receive.
Castle Fireworks Remixed:
Street Party Music: Members perform music mixes they created. Themed to Pleasure Island at Downtown Disney at Walt Disney World.
The Haunted Mansion: Catch more ghosts then the other team and receive credits for each one caught.
Tomorrowland Arcade
Airlock Escape: Similar to the Sega Dreamcast game Chu Chu Rocket!, players must help a diver get through a series of obstacles. If a player completes all 15 levels, they win a diving suit, but without the matching helmet.
Blast in Space: Similar to the Atari arcade game Asteroids, players can pilot either a Flying Saucer, Astro Orbitor, or StarSpeeder 3000. If the player completes all 16 levels, they win a space suit.
Hyperspace Mountain: Collect parts to fix your spaceship. Scores of 25,000 points will award a Space Mountain guest room
Player-created games
Members could create their own games in their guest rooms, such as mazes, races, "falling furniture," and trivia game shows.
Items
In VMK, you could purchase furniture and posters for your guest room, and pins to trade with other members. For a list of all the items DisneyWiki members have found, go to List of VMK items.
Most items were found in shops. There were six shops in the game:
Emporium: Main Street, USA
VMK Central: Main Street, USA
Main Street Magic Shop: Main Street, USA
Shrunken Ned's: Adventureland
Golden Horseshoe Mercantile: Frontierland
"it's a small world" Imports: Fantasyland
Inner-Space Shop: Tomorrowland
Magic Pins
Magic Pins were pins that players could buy in shops, win from games or events. For a list of all the items DisneyWiki members have found, go to List of VMK pins.
Pirate Costume Pin: Kelloggs Cereal Box Code
Buried in Treasure Pin: Kelloggs Cereal Box Code
Cursed Storm Pin: Kelloggs Cereal Box Code
Invisibility Magic Pin: Pirates of the Caribbean game/VMK Insider Tour
Teleportation Magic Pin: Tomorrowland In-Park Quest
Magic Carpet magic Pin: So far unknown
Fireworks Magic Pin: Fireworks Game
Dance Inferno Magic Pin: VMK Giveaway
Snowman Magic Pin: On sale in the Emporium
Gallery