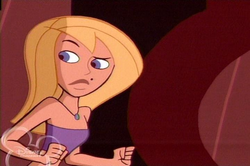 Dr. Vivian Francis Porter, or V.F.P. for short, is a beautiful rocket-scientist who appears in the Kim Possible episode "Grudge Match". She is voiced by Shawnee Smith.
History
The current leading expert in robotics, Vivian found it difficult to be taken seriously as a scientist when she looked like a supermodel.
She worked with Dr Fenn designing a lunar exploration probe, which she took once she found out he was going to take the credit for it since. Fenn reported the robot as his stolen property to hide his own failures in robotics. In the end she is offered a job at the Middleton Space Center by Dr. James Timothy Possible.
Skills
Vivian is a very intelligent and beautiful woman, who has designed robots for the Middleton Space Center. These robots were equipped with advanced technology, such as artificial intelligence (the robot learning as it goes) and self-preservation (sensing danger and defending itself). It can be assumed that she turned out be an asset to the Middleton Space Center, when Dr. Fenn was arrested.
Gallery
Community content is available under
CC-BY-SA
unless otherwise noted.