Vlurgen is Rippen's sister. Their parents favored Vlurgen over Rippen, giving her things like a car, a different magical scepter for every day of the week, and competent henchmen. She was first mentioned in Cereal Criminals and first debuted in Mr. Rippen.
Appearance
She has pale green skin and short greenish black hair tipped with several greenish-gray stripes (Like a skunk and her brother's hair). It has yellow eyes and red pupils with purple eyeshadow and pointed ears, plus uses red glasses and pink lipstick. Use a suit with 2 different types of green with 2 belts, one on your hip and one from your right shoulder, and your suit does not cover your shoulders and at the end of your sleeves has a dark gray armband on each arm. And it has big black boots with vinotinto color.
He has been seen with a large thick gray collar with a black skull and a suit with skirt with 2 different greens and black and a black belt like boots, gloves and ribbons that he has on his wrists.
Trivia
Sam Levine was the one who confirmed in his tumblr that she was the older sister of Rippen.
v - e - d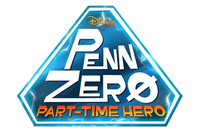 Locations
Middleburg • Middleburg Central High • The Odyssey • Fish Stick on a Stick • North Pole • Knight World • Superhero World • Arabian World • Plush Toy World • Clown World • Dinosaur Cowboy World • Cereal World • Old English World • Giant Monster World • Zombie World • Space World • Ocean World • Color World • Musical Fairy Tale World • Caveman Spy World • Future Barbarian World • Ultrahyperball World • Demon World • Alien World • Galaxy World • Temple World • Dragon World • Gothic Mystery World • Plant World • Animal Barbarian World • Toy World • Outer Space Court World • Robot World • Pirate World • Fairymania World • Steampunk World • Ball World • Ghost World • Rock, Paper, Scissor World • Beast World • Anime World • Sitcom World • Nothingness • Most Dangerous World Imaginable • Least Dangerous World Imaginable
Objects
Multi-Universe Hologram Uplink • Multi-Universe Transprojector • Pigoilet • The QPC Unit • Vortex Tops • Specs
Community content is available under
CC-BY-SA
unless otherwise noted.