| | |
| --- | --- |
| | Voyage to the Crystal Grotto is a featured article, which means that it has been identified as one of the best articles produced by the Disney Wiki community. If you see a way this page can be updated or improved without compromising previous work, please feel free to contribute. |
Voyage to the Crystal Grotto is a water-based dark ride that is currently operating at Shanghai Disneyland. The ride is the first ride to take riders inside Enchanted Storybook Castle[2] and opened along with the rest of the park on June 16, 2016.
Ride Experience
The ride is described officially as "an enchanting excursion that travels the waters of Fantasyland. Fanciful fountains and sculptures line the water's edge, celebrating classic tales of magic and imagination. At journey's end, guests will glide beneath Enchanted Storybook Castle, into a secret, underground chamber in which fountains of light will leap and dance in shimmering pools, surrounding guests with magic, music and color. The experience is sure to inspire the dreams and imaginations of all who make this wondrous voyage."
The boat takes riders past sculpture gardens featuring characters from Disney movies such as Beauty and the Beast, Aladdin, The Sorcerer's Apprentice from Fantasia, Tangled, Mulan, and The Little Mermaid.[3] Afterwards, the boat glides into an chamber underneath the Enchanted Storybook Castle, which has "fountains of light", music, and water effects.[4]
Stories
Beauty and the Beast
Based on the 1991 animated film, this blockbuster Disney animated feature—and worldwide theatrical hit—showed us how love and kindness can overcome hatred, and that what we feel in our hearts is more important than what we see with our eyes.
Featured song: "Be Our Guest"
Aladdin
Based on the 1992 animated film, this delightful Disney feature proves that, no matter where you start out, there's no limit to where you can end up. With wit, courage and some Genie magic, Aladdin overcomes Jafar and wins Jasmine's heart to rise from 'street rat' to Sultan.
Featured song: "Friend Like Me"
The Sorcerer's Apprentice
This enchanting vignette from the Disney classic Fantasia is a vivid reminder of the power of imagination. When Sorcerer Mickey dons his master's magical cap, he has the power to bring Magic Brooms to life to do his chores. But when he can't control his creation, the results are alarming and hilarious!
Featured song: "The Sorcerer's Apprentice"
Tangled
The Brothers Grimm's Rapunzel legend is retold in a story that empowers us all to break away from what holds us back. Like our courageous heroine and the daring Flynn Rider, we must follow our hearts and dreams to realize our true potential.
Featured song: "I See the Light"
Mulan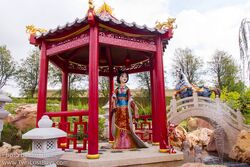 Based on the 1998 animated film, this endearing film marked the first time that Disney animation brought a Chinese legend to life. Fa Mulan is a young woman who poses as a soldier to take her father's place in the army. By defying her culture, she helps save her nation. An uplifting tale of loyalty, courage and honor, Mulan proves there's a hero inside all of us.
Featured song: "Reflection"
The Little Mermaid
In a fun-filled, musical version of Hans Christian Andersen's timeless tale, Ariel is ready to give up everything she has to become part of our human world. For all of us who yearn for something more, The Little Mermaid shows us that 'happily ever after' is never out of reach—even if it's a world away.
Featured song: "Under the Sea" and "Part of Your World"
Gallery
See also
References