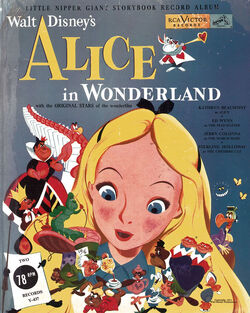 Walt Disney's Alice in Wonderland (Little Nipper Giant Storybook Record Album with the Original Stars of the Wonderfilm) is a 1951 RCA Little Nipper record album based on Alice in Wonderland.
Imagine an oversized Big Golden Book with a heavy shellac 78 rpm record tucked into the inside covers and you'll have an idea of the scope of this, perhaps the most elaborate book and record package of its day. Like so many adaptations of this kind, the production moves at a fast clip, with Kathryn Beaumont sounding out of breath at times. The only song presented in full is "In a World of My Own," while the other songs get only a few bars each, but of course, all of this had to fit into four segments of less than four minutes each.
Even though RCA released the records, they were licensed and produced in cooperation with Disney, right down to the script by Disney story artist (and narrator of the True-Life Adventures) Winston Hibler. Steve Carlin, later the executive producer of TV's The Mighty Hercules (with "iron in his thighs"), produced Alice and many other kids' records for RCA. Some dialogue most likely was recorded in New York, based on the presence of Jackson Beck, Frank Milano and other New York actors, while that of Holloway, Wynn, Colonna and Beaumont was likely done in LA.
When this album was released on LP, it was slightly edited, pieced together and paired with Disney's Peter Pan. Unlike other RCA/Disney LP's with Disney character art, this particular LP depicts a generic, non-Disney Peter Pan and no Alice images at all. To add running time to the LP, several additional renditions of Alice and Peter songs by Joe Reisman's Chorus and Orchestra were also included. My suggestion when seeking out the LP is too look for the early mono "CAL" release, as the later mono and simulated stereo versions have reverb added.
What was neat about having this album during the baby boom era was that it was the only one with so many of the original cast members of Alice in Wonderland. Disneyland Records released the superb (but non-soundtrack) Camarata/Darlene Gillespie LP in 1957, but it wasn't until 1988 that the full score from the soundtrack was released on CD (Thank you, Randy Thornton!).
GIVE A LITTLE LISTEN
Rabbit Hole sequences from "Alice in Wonderland" and "Alice and the White Rabbit" As an example of how the Storybook Album differed from the three single records, you can hear variations in script, character and music. Alice's sister appears only on the single, and for some reason, Kathryn Beaumont pronounces the word "says" differently on each of the versions.
Credits
RCA Little Nipper Record Album Y-437 (Book and two 10" 78 rpm Discs / Two 7" 45 rpm Discs / Mono)
RCA Camden CAL/CAS-1009 (12" LP with Peter Pan on Side One / no book)
Released in 1951. Producer: Steven R. Carlin. Film Adaptation: Winston Hibler. Musical Direction: Norman Leyden. Vocal Direction: Jimmy Leyden. Sound Effects: Ralph Curtis. Illustrations: Mel Crawford. Running Time: 18 minutes.
Voices: Kathryn Beaumont (Alice); Ed Wynn (Mad Hatter); Jerry Colonna (March Hare); Sterling Holloway (Cheshire Cat); Glenn Riggs (Narrator); Arnold Stang (White Rabbit); Jackson Beck (Doorknob, Tweedle Dum); J. Pat O'Malley (Tweedle Dee); Frank Milano (Dodo); Naomi Lewis (Caterpillar); Jan Tyroler (Queen of Hearts).
Songs and Melodies: "In a World of My Own," "I'm Late," "The Caucus Race," "How D'ye Do and Shake Hands," "The Walrus and the Carpenter," "All in the Golden Afternoon," "'Twas Brillig," "The Unbirthday Song," "Very Good Advice," "Painting the Roses Red," "In a World of My Own (Reprise)."
Instrumentals: "Alice in Wonderland," "A-E-I-O-U," "March of the Cards."
Community content is available under
CC-BY-SA
unless otherwise noted.